On October 19, Netmarble kindly invited us to a digital showcase of its exciting upcoming MMORPG, A3: Still Alive. In case you haven't heard of it yet, this stunning dark fantasy MMORPG features everything you love about the genre (grinding, dungeons, and collectable heroes) along with a one-of-a-kind battle royale mode that allows you and up to 29 other players fight for survival in a PvP format.
On a particularly blunt note, we didn't see much in A3 that we hadn't seen before. In fact, place screenshots of Black Desert Mobile or Lineage 2: Revolution side-by-side and you might struggle to figure out which game is which. All three feature a dark fantasy visual style, isometric perspective, autoplay, and gender-locked characters. In 2020.
Character customisation, a big part of why people play MMORPGs in the first place, is limited to a few different hair styles, colours, and tweaking the sizes of different body parts. While we didn't get the chance to put it to the test, it didn't appear to provide an option to create a particularly outlandish character.
The character classes are also pretty uninspiring. You've got the tanky Templar, fire-flinging Wizard, brawns-over-brains Berserker, scaredy-cat Archer, and stealthy Assassin. Similarly, the gameplay seems to consist primarily of automatically running between enemies and hitting them until they're dead, and intermittently flitting between NPCs to hand in quests and gain all of the experience.
In all fairness though, the Soul Linkers system was particularly interesting. Soul Linkers are recruitable NPC heroes, which, much like Pokémon, you can bring into battle with you. There are three different types: attack, defence, and support, and you can swap between them at will. The different Soul Linkers are good against different enemies, so you will definitely want to swap them out at times.
However, this is all background music to the real reason to play A3: Still Alive: the battle royale mode. Again, we didn't get a chance to go hands-on with it, but the demo we experienced looked like a lot of fun.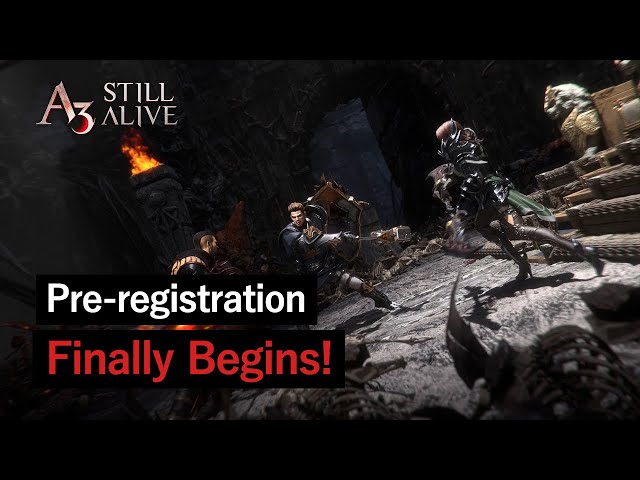 Rather than bring your own character into battle, you can swap between the various different weapon types available, allowing you to vary up the playstyle. Also, given that everyone starts on a level playing field, it shouldn't be gear-dependent like PvP modes in other mobile MMORPGs, which should avoid nasty stuff like pay-to-win accusations.
It also directly feeds into the core game. If you win, you get rare and exclusive loot. We'd much rather that than a simple chicken dinner.
We'll have to wait and see what the full experience is like before we comment from a critical perspective, but if Netmarble can get the battle royale experience right, A3 could well be a mobile MMORPG worth checking out.