AFK Arena's latest campaign isn't a crossover with a game or a movie, but a series of ads starring Lord of the Rings actor Elijah Wood. The 'Cheat on your RPG' campaign shows Wood rejecting his previous RPG timesink for something altogether more casual – AFK Arena. In the first ad of the series, he seems to be enjoying the quick progression and easy-to-learn combat of Lilith Games' idle RPG, much to the disappointment of orc Uzgahk the Horrid.
Uzgahk also happens to be the physical manifestation of Wood's previous favourite RPG. And if this first ad is anything to go by, you can likely expect to see their relationship deteriorate over the next few weeks as more videos arrive.
Uzgahk will try his best to regain Elijah's affection, but will his desperate attempts be in vain? Given that the whole point of the campaign is to promote AFK Arena, I don't think the odds are quite in old Uzgahk's favour. Nevertheless, it'll be interesting to see how this strange little tale progresses from here, and it's always nice to see Elijah Wood in anything.
Check out the TV spot right here: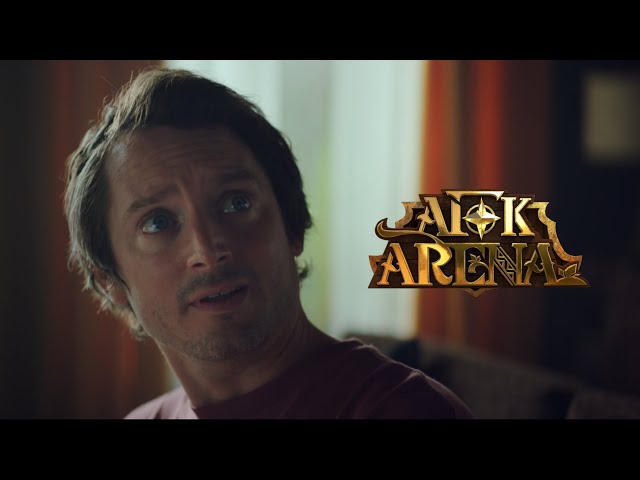 Wood has previously lent his voice to a number of video games and even acted as a producer on the trippy Transference. "Just when I thought I wouldn't encounter another orc… here I am playing a version of myself that's stuck in a love triangle between a needy orc and a casual mobile RPG game, AFK Arena. Surprisingly not the weirdest thing that's happened this year," said Wood.
AFK Arena has recently held crossover events with the likes of Assassin's Creed, though the 'Cheat on your RPG' campaign is something new for Lillith Games' hit. If you've yet to give it a go, you'll find AFK Arena up for download from the App Store and Google Play. Oh, and be sure to check out our AFK Arena tier list and collection of AFK Arena codes while you're at it.