Lilith Games has just announced the latest epic crossover event for AFK Arena (grab it on mobile), which brings fan-favourite Persona 5 characters, Joker and Queen, to the mix. On December 30, you can temporarily add these characters to your lineup for free, and, if you like them, you have plenty of time to grab them permanently from the in-game store until March 15, 2021.
Joker and Queen each bring something new to the combat table in AFK Arena. Joker summons his persona, Arsene, who's an AoE powerhouse, capable of delivering powerful attacks to the opposition and punishing crowd control. Meanwhile, Queen summons persona Johanna, a mighty motorcycle that can both dish the damage to her enemies and heal and shield her teammates.
The Persona 5 crossover event doesn't end with the new characters though. The New Year update will also feature a Phantom Thieves-themed PvE dungeon, which challenges you to pick Queen or Joker and battle your way through a maze to earn XP and various other rewards.
Joker and Queen's arrival rounds out a busy year for Lilith Games, which has already held AFK Arena crossovers with Assassin's Creed, Samurai Shodown, and Overlord. In total, eight new characters joined the roster this year, including Ezio Auditore, Ukyo Tachibana, Ainz Ooal Gown, and Albedo.
Outside of the game, AFK Arena picked up two million new downloads, was the inspiration for a new music track by Don Diablo, and saw massive YouTuber Markiplier join as an NPC. Also, The Elijah Wood starred in a series of commercials, which doubtless contributed to more than a few of those downloads.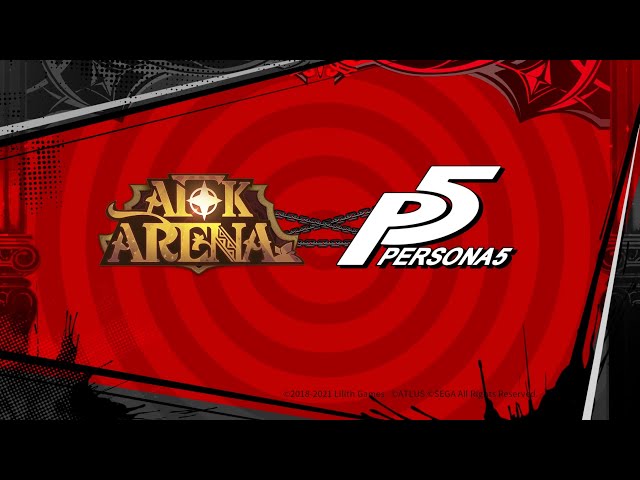 To give you a taste of what to expect from Queen and Joker, here's a breakdown of their skills:
Joker
Maeigaon
Joker summons Arsene, who deals damage to all enemy targets.
Adverse Reaction
Joker temporarily gains a factional advantage against the opponent directly opposite him at the start of battle, unless this enemy belongs to a non-dimensional faction. When Joker deals damage to an enemy he has an advantage against, he knocks them down and weakens them.
Concentrated Fire
After a select few attacks, Joker will deal additional damage to his target with his gun.
All-Out Attack
When a select number of enemies are under control effects, you deal damage to all enemies.
Widespread Attack
After using his ultimate ability, Joker's AoE range and damage is increased for several seconds.
Leader's Enlightenment
While under control effects, Joker has a chance of removing them every few seconds.This chance is raised further if Queen is on the battlefield.
Queen
Stationary Drifter
Queen deals AoE damage several times, with the final dealing increased damage. She can't be attacked while performing this ability.
Freidyne
Deals AoE damage to all enemies and grants them the nuclear effect for several seconds. If the enemy suffers a select number of critical strikes while the effect is active, they are stunned for several seconds.
Attack & Defend
Queen's critical hit and defence ratings increase by a select percentage each few seconds, and this ability can stack.
Ms. Post-Apocalyptic Raider
Deals damage multiple times, with the final hit knocking back all enemies and stunning them for several seconds.
Edge of Death
Each time Queen summons Johanna, she gains a shield temporarily, which scales on a percentage of her max health.
High Morale
When Queen attacks an enemy that is being controlled, all nearby allies, including Queen, are healed for a percentage of the attack's damage value.
Queen and Joker will arrive in AFK Arena on December 30, along with the New Year's update when you can try them out for free. You can grab the smash hit idle RPG right now on mobile in anticipation.