In space, no one can hear you scream. And this is probably a good thing seeing as we predict many of you will scream when Alien Isolation lands on iOS and Android devices next month. That's right, courtesy of a tweet from Feral Interactive, we know that the survival horror game that Sega published in 2014 is hitting the small screen, and we certainly can't wait.
Fortunately, you don't have long to wait for the Alien Isolation mobile release date, as it's just weeks away. Chances are you're already aware of what awaits you aboard the Nostromo. Still, we'll give you the deets anyway – we're nothing if not informative. We'd hate for you to blame us if you're expecting a peaceful spacewalk only to get eaten by a Xenomorph.
You take control of Amanda Ripley, who's still trying to find answers as to what became of her mother years prior. Of course, anybody who's watched Ridley Scott's horror classic can tell her. Or, just let her go on this harrowing journey and find those answers herself. The game takes place aboard the Nostromo, which, as you might guess, has a terrifying and somewhat moody alien patrolling it. The Xenomorph can pop up anywhere, anytime, enter this ship at your own risk.
Alien Isolation features a narrative that keeps you hooked from start to finish, while also having a crafting system that serves as a good reminder of how you're trying to fight for survival. Oh, and keep an eye out for humans and androids. It really is survival of the fittest out there.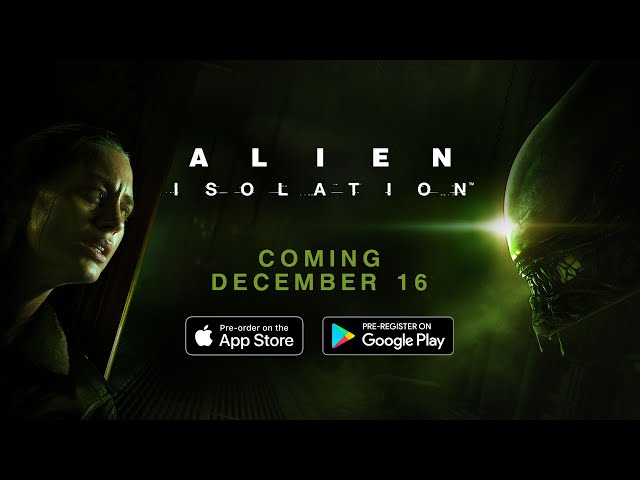 When is the Alien Isolation mobile release date?
You can have a grand old time starting from December 16. You can pre-order on iOS devices now, with Android pre-registration opening at a later date.
How much is Alien Isolation on iOS and Android?
The game includes the original campaign, and all of its DLC for £13.99 or $14.99.
If you simply can't wait that long to experience the terror, you should check out our picks for the best mobile horror games on iOS and Android.