Innersloth announced yesterday with a five-minute reveal trailer that Among Us has received an update with a huge amount of new content. The title is adding new roles for players to assume, new cosmetics, and a store where you can buy new items for your character. The new roles change how both crewmates and the imposter are played, and add an extra level of strategy to the game.
Innersloth also revealed an account system so players can move saves between devices, and the integration of an achievement system. This massive update went live the moment it was announced and you can download it right now.
For regular players, Among Us now also has a progression system tied to Cosmicubes and a currency called beans. You can earn beans in-game and swap them for cosmetic items, Innersloth also introduced stars and these fulfil a similar role, except they are purchased with real money. For a full explanation of the new features, check out our guide below.
Among Us new roles guide
Crewmate roles
Scientist: Access vitals at any time. Complete tasks to recharge your battery
Engineer: Can use the vents
Guardian Angel: Cast a protection shield around the remaining crewmates
Impostor role
Shapeshifter: Disguise yourself by morphing into any other crewmate
🚨 ROLES & COSMICUBES – OUT NOW 🚨

Our biggest update just dropped. A whole new level of deception in v2021.11.9 with:
⭐️ Roles: Shapeshifter, Guardian Angel, Engineer, Scientist
⭐️ New unlockable cosmetics & Cosmicubes
⭐️ Achievements
⭐️ More!

All info: https://t.co/WV8KJLr6z6 pic.twitter.com/4u7zg0ngVr

— Among Us (@AmongUsGame) November 9, 2021
Among Us progression and customisation
There are some brand new customisation options – both free and paid. Visor cosmetics and special nameplates make it even more fun to change up your look, plus additional pets, hats, and skins.
Cosmicubes and unlockable cosmetics
Even more themed items are now unlockable via the new branching Cosmicube system. Play the game, gather resources, and reap the rewards of your tasks. There are both paid and free varieties, and it's worth noting, all cosmetics are purely visual and don't have any effect on gameplay or gameplay options.
Cosmicubes
These cosmetic cubes have themed items you unlock via a branching path. They tend to be more special or detailed. You can purchase different cubes using beans or stars, but they can only be unlocked by earning pods through gameplay.
Beans
This resource is awarded through normal online gameplay! Use it to redeem cosmetics and some Cosmicubes in the store. Free and very bean-shaped.
Stars
This is the new premium currency that you can purchase with real money. You can buy these in-game and use them to purchase special items and cosmicubes.
Pods
You can only gather these through gameplay if you have a Cosmicube activated. Each Cosmicube has a different type of pod associated with it, and pods cannot be transferred between cosmicubes.
You can watch the full reveal trailer below for all the details on the many new changes added to Among Us.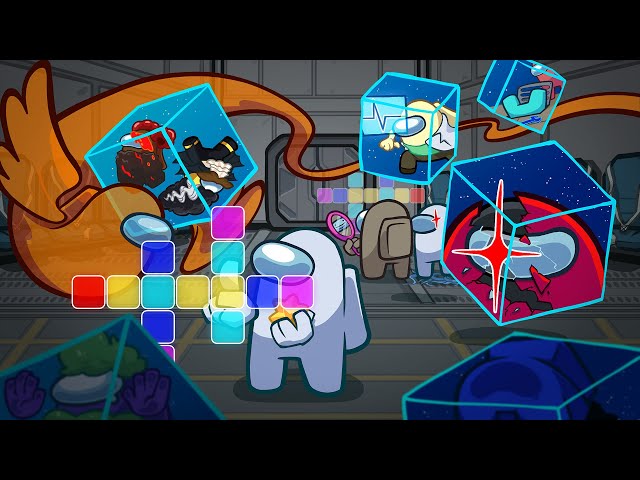 Further information can be found on the Innersloth website. Then be sure to check our Among Us imposter guide to be the best murderer you can be.