I know we all want this year to be over already, but Nintendo has put a stop to time traveling in Animal Crossing: New Horizons. Upcoming events celebrate "Turkey Day" and "Toy Day" – making sure to stay true to the capitalist origins of Christmas without any religion needing to be mentioned – but players won't be able to attend these events before the big day.
The winter update for Animal Crossing: New Horizons went live recently, meaning the events are in the game's code and ready to be unlocked when the day comes. However, some players enjoy time traveling to experience such events early. This is a hotly-debated process that involves changing your console's clock to the date you want to travel to, but be warned: arguments among the Animal Crossing community can get ugly.
When the game first released earlier this year, events were "locked", meaning you couldn't simply time travel to the day they were due to take place and earn all the rewards early. Bunny Day (not-Easter) was one such event that was locked, so even if you traveled to a date between April 1 and April 12, you wouldn't be able to get any limited-time eggs. Not that many people would have wanted to…
Of course, you could still skip between seasons to catch a shark when it should have been migrating south for the winter, or to grow a certain flower out of season, but events were a no-go. However, over the past few months, Nintendo – whether intentionally or not – has eased the restrictions from events. But they are back for the holiday season.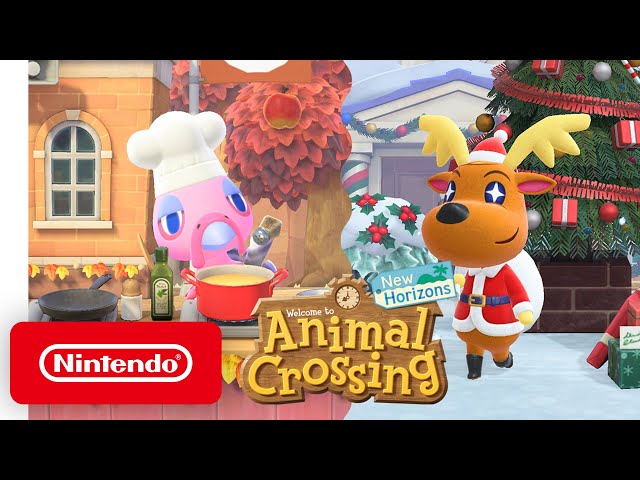 Think about it, time traveling to Christmas (while it's something we can all wish for this year) is like opening your presents a month early – assuming they had already been wrapped and placed under your tree. It just spoils the fun! Yes, not everyone will be able to play on the big day – least of all Father Christmas himself – but most Animal Crossing events last for around a week, giving you plenty of time to chow down on your roast without worrying about collecting enough candy canes to make an event-exclusive bed or whatnot.
Of course, players who love to time travel can still go to the big day – there'll just be nothing special going on. Which is marginally better than a lump of coal, I guess.