'Tis always the season to get spooky, and though Nintendo Switch is often cast aside as a family friendly platform, there's plenty of creepy treats to keep you up at night. Whether you're looking for zombies, ghosts, demons, or mind-bending psychological scares, you're bound to find something in this banquet of horror.
In our list of the best Switch horror games, you'll find spooky vibes for the easily spooked, creepy classics crawling out of the crypt, a myriad of jarring J-horror, and a collection of the best horror experiences to keep you on the edge of your seat. So, grab your pillow and turn off the lights, it's about to get scary.
If you're a lover of all things horror, check out our personal favourites in our list of the best Halloween games. If you need a palate cleanser after all that ghostly goodness, head over to our list of the best Switch platformers. Or, if you want to upgrade your on-the-go experience, check out our best portable gaming consoles guide for all the latest and greatest.
The best Switch horror games
Spooky vibes for the easily spooked
Let's start with an appetiser. These are some great spooky-themed games that will let you dip your toes into the genre without turning your hair white in terror.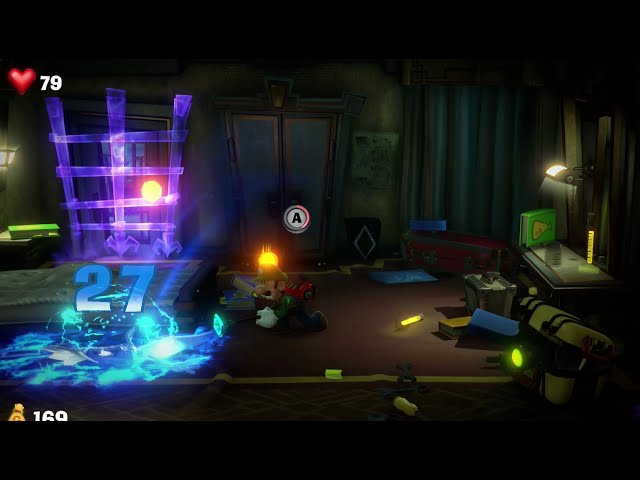 Luigi's Mansion 3
Take Luigi on a (not so) relaxing getaway to Last Resort, and embark on a ghostly, gooey quest to save Mario from the clutches of a haunted hotel. With heaps of creepy capers and madcap fun, this is an accessible spookfest that can be played by the whole family in local or online co-op.
Hello Neighbour
Traverse traps and hide from the horrors of your creepy neighbour, as you attempt to uncover the mysterious secrets hidden in his basement. With an advanced AI quick to learn your every move, you have to be smart and switch up your tactics if you want to succeed.
Little Nightmares Complete Edition and Little Nightmares II
The Little Nightmares games are eerie, yet whimsical, tales that take you on an adventure through childhood fears. Featuring puzzle platform elements and plenty of ominous enemies, the art and sound design is truly creepy, keeping you in a constant state of suspense.
Among the Sleep – Enhanced Edition
In this surreal, sinister, first-person horror adventure, you slip on the jim-jams of a brave little two-year-old. Your mother is missing, and there are spooky secrets to be unveiled – luckily you have your trusty teddy by your side, right?
Creepy Classics
For every genre, there are those games that just can't be ignored. These creepy classics have taken the world by storm, visited iconic faces of terror, or risen from the grave in fantastic, fear-inducing remasters.
White Day: A Labyrinth Named School
A cult-classic survival horror, White Day: A Labyrinth Named School finally made its way to Switch this year, and it didn't disappoint. You find yourself in the shoes of a Korean transfer student called Hui-Min Lee, who has a crush on a beautiful girl called Han So-Young. He follows her into the school one night in hopes of both returning her lost diary and giving her a White Day gift, only to find himself entangled in a series of supernatural events.
From the spooky stories you uncover in the dark corners of the school, to the menacing, murderous janitor that chases you around relentlessly, this one's a real scream. Find out more in our White Day: A Labyrinth Named School review.
Resident Evil series
Resident Evil is a series that needs no introduction, and we simply can't choose one game for this list – we love all of them! Relive the nightmare with the classic ports or delve into the horror of Revelations, in these truly terrifying survival horror gems.
Alien: Isolation
In this outstanding return to the world of Alien, you find yourself in the shoes of Ripley's daughter. Trapped on a desolate spacecraft, you have to use everything at your disposal to avoid the terrifying Xenomorph and uncover the secret of your mother's disappearance – and, oh you know, survive.
Dead by Daylight
In this epic 1v4 horror survival experience, you must choose between playing an unstoppable killer and one of four survivors. As a killer, you have nine options to choose from, including sadistic slashers and fearsome phantoms. As a survivor, you get to pick from ten characters, then it's up to you how to play – will you help your teammates, or will you save yourself by throwing them under the chainsaw? No matter what, it's sure to be bloody good fun.
Friday the 13th: Ultimate Slasher Edition
Friday the 13th the game has had a pretty tragic history (Matt McMuscles did a brilliant What Happened video on the topic) and due to a lot of legal drama, new content has unfortunately halted. However, if you can overlook the lack of polish in some areas, you'll uncover a treasure trove of details that speak to a real passion for the movies. Dedicated servers are no longer available, but you can still have some slashing fun with good old Jason down by Crystal Cove through peer-to-peer servers. It's a true ode to the horror classics, and hopefully one day we'll see it revived once again.
Outlast: Bundle of Terror
Outlast is another outstanding entry into the survival horror genre, with an unmissable atmosphere full of foreboding frights. As an investigative journalist exploring a remote asylum in Colorado, you find yourself walking the terrifying line between religion, science, and something truly otherworldly. Running and hiding are your only tools, as you desperately hope to make it out alive.
Amnesia: Collection
No horror game collection is complete without Amnesia. As the phenomenon that kick-started the 'Let's Play' craze, the Amnesia series has become an important staple in the genre. With such a haunting atmosphere and so many spooks, it traumatised an entire generation. Immerse yourself in a waking nightmare of horror survival, as you explore the eerie, desolate castle, where every little scrape and groan has you hiding behind the sofa.
Dying Light: Platinum Edition
Who doesn't love a good zombie flick? Fight your way through flesh-hungry zombies in this epic, first-person action survival game set in a post-apocalyptic open world. The platinum edition has recently hit the Switch, and we described it as "a game to die for". Find out more in our Dying Light: Platinum Edition Switch review.
Best Switch J-horror
It's safe to say that Japanese horror movies have had a massive impact on the film world over the past few decades, with the early 2000's being dominated by monstrous masterpieces from the east (along with some pretty underwhelming western remakes). Well, the same can be said for horror games. J-Horror games often hold a unique sense of tension and foreboding that is hard to replicate – or shake, for that matter. Here are some of our favourites for the Switch.
Fatal Frame: Maiden of Black Water
Koei Tecmo's Fatal Frame series has been a classic for a while now, with the first game coming out way back in 2001. Set in 1980's Japan, these horror survival gems have you shooting snaps of ghosts in locations plagued by supernatural events. Fatal Frame: Maiden of Black Water originally came out in Japan on WiiU in 2014, but is finally set for a worldwide release this month. Keep an eye out for our upcoming review!
Yomawari: The Long Night Edition
Don't let the adorable characters fool you – Yomawari: The Long Night Edition is a short but sweet 2D horror game full of ghastly ghouls. Take the role of a young girl in search of her sister, as you traverse a haunting, rural Japanese town, hiding from the creatures that lurk in the night.
Spirit Hunter: Death Mark and Spirit Hunter: NG
The Spirit Hunter games are enveloping visual novel adventures, where you uncover clues, team up with suspicious and shady characters, and make dangerous decisions to survive. The two games are independent of each other, telling very different stories, so it doesn't matter what order you play them in. Either way, you can count on plenty of chilling apparitions at every turn.
Deadly Premonition Origins
It's clunky, it's funky, it's spunky – it's Deadly Premonition Origins. After being released for Xbox 360 back in 2010, it's gathered quite the reputation, along with a loving fanbase. Essentially a B-movie as a videogame, (i.e. perfectly imperfect horror junk food), you take the role of Zach, an FBI agent who set out to catch a serial killer in a small town in North America. The game has plenty of flaws and bugs, and isn't for everyone. But what it lacks in polish, it makes up for in spirit and charm.
Corpse Party
Ain't no party like a Corpse Party! This game has become an indie cult classic over the years, and this version is updated for the current generation, with two extra chapters and two new characters. After a ritual goes wrong, a group of students and their homeroom teacher find themselves trapped in a haunted school. As they split up, it's your job to ensure their survival, with a fine mix of point and click, battleless RPG, and visual novel elements.
The Switch Horror Experience
This section is dedicated to the games that take you on a unique journey of terror, offering an experience unlike any other. Whether you're wandering through the distorted mansion of a sick artist's mind, or you're facing the fears of the past, they aim to get under your skin in a way you just can't shake.
Madison
A chilling psychological horror with a suffocating atmosphere, disorientating puzzles, an intriguing narrative, and an overbearing sense of dread, Madison is an absolutely frightful delight. Slowly creeping around an eerie building armed with nothing but a polaroid camera, you must piece together a horrific tale of murder, demons, and possession, and work out how it all ties back to you. We loved this one's palpable sense of tension, painful pacing, and the morbid mysteries beneath. Find out more in our Madison review.
Layers of Fear: Legacy
The first time I picked up Layers of Fear was because a friend had bought it, but found themselves too scared to play it on their own. What ensued was my housemates hiding behind cushions as I slowly crept around the creaking, distorted house, all of us jumping out of our skin every time the phone rang or a window smashed. This, to me, is a perfect example of the true joy of horror. Layers of Fear is a walking simulator with no combat, but its narrative, eerie sense of foreboding, and wonderful references to classic literature and art make for a great experience.
Detention
Detention is a beautifully haunting game with roots deep in Taiwanese-Chinese folklore and myth, along with the oppressive horror of the White Terror and martial law. As you traverse the 1960s high school, rendered in gorgeous yet macabre 2D, you find yourself immersed in a world of hostile supernatural events, as well as a deep fear of the monsters within us all. It touches on some heavy subjects, and may cut close to the bone for some, but if you think you can handle it, it is a truly artful little gem.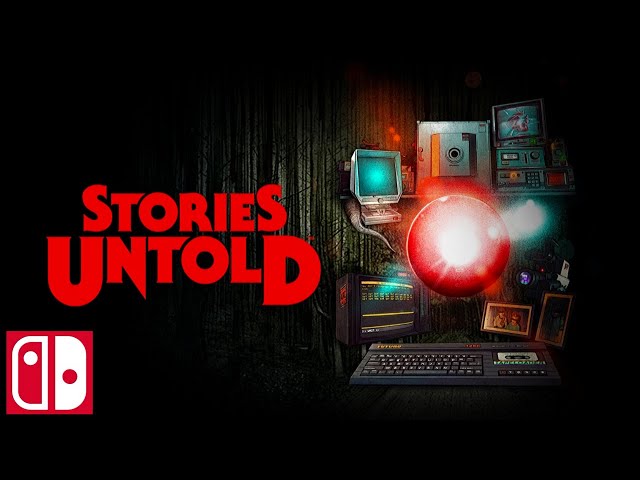 Stories Untold
Stories Untold is a weird one, but with Devolver's name slapped on it, you can't really expect anything less. If you're a fan of movies like V/H/S, or analogue horror (web series like Local58, The Walton Files, or Gemini Home Entertainment), then this one is for you. This episodic horror collects four different stories, all with unique settings, gameplay, and mechanics, and ties them together with a retro, text-based bow – and some awesome synthwave music to boot.
And there you have it – some of the best Switch horror games to snuggle down in the dark with. If you're looking for a spook to fit in your pocket, you can head over to our list of the best mobile horror games to find something new.