What are the best Nintendo Switch RPGs? That's a question we aim to answer in our definitive list. But before we get onto that, we should address the elephant in the room: how do you define an RPG and is The Legend of Zelda: Breath of the Wild one?
It may sound like a silly question, particularly if you've played many of them, but when you actually break it down it's pretty complicated. Because the reality is, there are so many facets that determine whether a game is an RPG. So, to be clear, we consider an RPG to be, primarily, tied to three basic tenets: an explorable world, deep character progression, and a strong sense of narrative.
Here's our list of the best Switch RPGs on the Nintendo console.
The Legend of Zelda: Tears of the Kingdom
There's a reason our Zelda: Tears of the Kingdom review is a 10/10. This massive RPG takes everything from the first game and polishes it while adding plenty of new touches to keep things fresh. Link is a bit of a builder now, creating vehicles with the ultrahand ability and weapons with the fuse ability on his mission to save the princess
Tears of the Kingdom's Hyrule makes that from Breath of the Wild look like child's play, with enormous dungeons, more shrines than before, and a lot more enemy variety. Sure, an evil spirit breaks the Master Sword apart within the first few minutes of gameplay, but it's never been so much fun picking up the pieces.
For some tips and tricks to keep you happy in Hyrule, check out our guides to Zelda: Tears of the Kingdom gleeoks, Zelda: Tears of the Kingdom shrines, Zelda: Tears of the Kingdom depths, and Zelda: Tears of the Kingdom old maps.
The Elder Scrolls V: Skyrim
Arguably one of the finest RPGs to ever grace our planet, Skyrim is available on Nintendo Switch. It's got an enormous open world to explore and you can build any character imaginable. If building your own character from scratch is your primary goal when playing an RPG, you can't do better than Skyrim.
We have some wonderful guides to help you on your journey too, take a look at our Skyrim werewolf, Skyrim races, and Skyrim dragon guides. Or, head on over to our games like Skyrim guide for more titles like this.
Octopath Traveler
3D meets 2D in Octopath Traveler, which is simultaneously inspired by the classics and rather progressive in its gameplay. You recruit a team of very different characters, each of which has its own personality and fighting style, and explore an intriguing world full of adventure.
We also recommend the second game in the series and think you should read our Octopath Traveler 2 review to learn all about it.
Xenoblade Chronicles 2
If you like the sound of a game that combines an angsty, drama-ridden JRPG story and an open world that stands up next to Breath of the Wild, Xenoblade Chronicles 2 is the game for you. It's a terrific adventure with a combat system that feels ripped right out of an MMORPG.
We also recommend the third game in the series, so make sure you head over to our Xenoblade Chronicles 3 review as well.
Dragon Quest XI
The latest entry in the long-running JRPG series may have come to Switch late, but it arrived in a definitive edition that allowed you to play the entire game in classic, SNES-era visuals. It's a love letter to RPG titles of old but is full of so much charm, energy, and fantastic presentation, it still feels fresh.
You'll get a lot of bang for your buck with this nearly 60-hour game (as well as the amazing post-game), but if you want a more traditional experience to sit and unwind with, this is one of the very best RPG games you'll ever play on your Switch.
The Witcher III: Wild Hunt
Arguably the finest RPG in the past decade, The Witcher III found a comfortable home on Switch. It might not be the best-looking version, but it's the most portable. It also supports cross-saves with the PC version, so there's that.
Check out our Witcher 3 Geralt, Witcher 3 Triss, and Witcher 3 characters guides. Then head on over to our games like The Witcher 3 list for similar titles.
Final Fantasy XII
You can swap this for any entry of Final Fantasy that's currently available on Nintendo Switch, as they're all great. We think XII is the best of the ports though, at least, and holds up well today thanks to its intriguing combat system.
Pocket Tactics is full of FF fans, so naturally, we have more content you should check out. Head over to our Final Fantasy 9 remake speculation page, Final Fantasy 7: Ever Crisis tier list, and Final Fantasy 7 Remake Switch guide before heading over to our list of the best Final Fantasy games.
Ni no Kuni: Wrath of the White Witch
We don't think there will come a day when Ni No Kuni doesn't blow us away with its visuals. That's a testament to the ability of Studio Ghibli, the beloved animation studio that helped create this wonderful adventure.
Check out our Ni No Kuni II: Revenant Kingdom Switch review for our thoughts on the sequel.
Dark Souls: Remastered
If you love a challenge, you'll get a kick out of Dark Souls: Remastered. This spruced-up version of the first entry arguably remains the series' finest hour. Slash your way through this fantasy, facing tough enemies around every corner, oh, and be prepared to die, die, and die again on your adventure.
We have a lot of Dark Souls guides to help you out though, check out our Dark Souls bosses, Dark Souls rings, and Dark Souls Sif guides if you need a helping hand.
Tales of Vesperia
The Tales of series surprisingly only has a few entries on Nintendo Switch, so it's a good thing that Tales of Vesperia is one of them. Fans will debate long into the night which Tales game is best, but this regularly appears at the top of lists, and for good reason.
In this game, you take on the role of Yuri Lowell, a former Imperial soldier, who forms a guild that explores the world. On your journey, you take part in action-oriented combat and unravel an intriguing story, while occasionally triggering skits amongst the characters.
Bravely Default 2
Don't let the number scare you, this is a standalone entry in the franchise and a spectacular HD debut to boot. While it doesn't do many new things, this is a really solid JRPG that builds on typical elements like different jobs and classes, while giving them all some really smart quality-of-life improvements and delivering a heartfelt, funny, and surprisingly dark story.
You can bet we have a Bravely Default 2 review for you to browse as well.
NEO: The World Ends With You
Making a sequel to the cult DS game The World Ends With You was always going to be tough. So the fact we got Neo: The World Ends With You so many years later, and one without the trademark touch controls, left a few fans uneasy.
Luckily Square Enix delivered a stylish RPG experience that keeps the character of the originals but stuffs it with fresh ideas and gorgeous visuals. You can check out our full thoughts in our Neo: The World Ends With You review, but anyone who enjoyed the original or is up for an action-packed romp through Tokyo, definitely needs to check this one out.
Shin Megami Tensei V
Another long-awaited sequel, Atlus finally unleashed hell when Shin Megami Tensei V arrived on Switch. A traditional turn-based RPG that takes no prisoners, players act as the blue-haired Nahabino to uncover the mysteries of a fight between the forces of the underworld and god's army of angels.
It pulls it all off with a dark comic twist, alongside incredibly rich and satisfying gameplay that rewards thoughts over pure brute force. Maybe not for everyone, but more difficulty options have been added since launch to make things a touch easier. Check out our full Shin Megami Tensei V review to see why we think it's easily one of the best RPG games on the Switch.
The Legend of Zelda: Breath of the Wild
Link's initial Switch outing trades the gloomy dungeons for a beautiful, wide-open world full of enemies to battle, puzzles to solve, and surprises to uncover. If you can only afford one game on this list, make sure it's Breath of the Wild.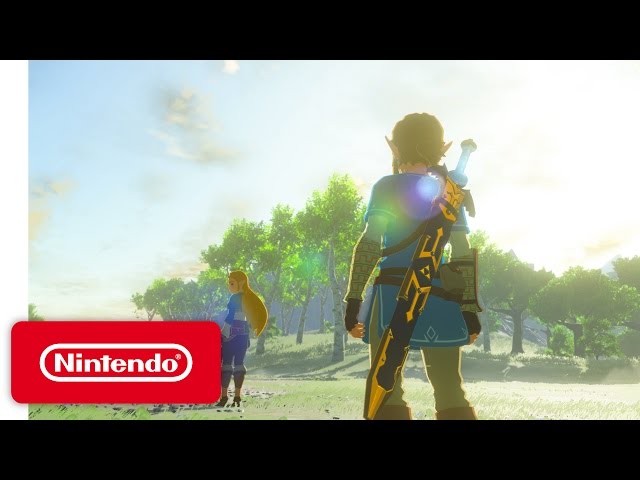 We're sure Tears of the Kingdom will also soon make this list if our Zelda: Tears of the Kingdom review is anything to go by, but until then, take a look at our Zelda: Tears of the Kingdom fusion, Zelda: Tears of the Kingdom enemies, Zelda: Tears of the Kingdom trailer breakdown, and Zelda: Tears of the Kingdom Zonai guides.
Pokémon Legends: Arceus
I think even the most fairweather Pokémon fan has commented on the formula getting a tad stale, so what a refreshing breath of fresh air Pokémon Legends: Arceus is. Set in the land of Hisui centuries before it became known as Sinnoh, explore open areas and catch Pokémon as they roam, in some of the best gameplay a Pokémon game has ever had to offer.
Just being able to see Pokémon minding their business and throwing a Pokéball is so refreshing. The game also brings some other great features and streamlines some classic ones to boot. Yeah, it could look a little better, but it reinvigorated our love for the franchise.
Xenoblade Chronicles: Definitive Edition
It's weird to think now but back when the original Xenoblade Chronicles came out on Wii fans had to petition Nintendo to get it released in the West, in something called Operation Rainfall. Well, thank god they did, because Nintendo eventually buckled and more gamers were graced with one of the best JRPG games ever made. An epic story, with interesting battle mechanics, gorgeous locales, and so much more.
The Switch version takes everything good about the original and sharpens its edges, making this truly the definitive way to experience one of the best JRPG titles ever made. It's an absolute stunner on the Switch, finally finding hardware that can bring its lands to life with justice. There's even an additional chapter called Future Connected, so even players who've experienced it before have something new to check out here.
Triangle Strategy
Following hot on the heels of Octopath Traveller, Square Enix's Team Asano has returned with another gorgeous HD-2D RPG, this time attacking the world of tactics-based titles with Triangle Strategy. If you've enjoyed Fire Emblem, you'll be right at home here. Three warring countries battle it out over resources in this tense political thriller, where every decision you make influences both your party and the world around you.
We're not kidding either, every decision matters, and how you conduct yourself in battle will even sway your party when you vote on tactical decisions later. If you're a ruthless commander your team may not vote so altruistically later, and these decisions carry weight right to the end of the game. We absolutely loved it in our full Triangle Strategy review, and with its amazing battle mechanics and branching story paths, this is a game you can play repeatedly and enjoy every playthrough.
Live a Live
Previously a Japan-only release for the Super Nintendo, Team Asano chose to give this forgotten gem the full HD-2D treatment and we are so glad they did. Eight different stories set over vastly different time periods and places, with each one having its own interesting story, all come together to deliver one of the most interesting RPGs you can ever play. In case you need convincing, read just how much we adored this title in our Live A Live review.
That's it for our list of the best Nintendo Switch RPGs, take a look at our best mobile RPG guide for even more exciting handheld adventures. Or, if you're already looking toward the future, here's everything we know about the Nintendo Switch 2.