Riot is going all-out to celebrate the recent release of Arcane, an animated show based on League of Legends. It's exclusive to Netflix and is split into three parts, with the first arc releasing on November 6. Riot is teaming up with Epic Games to mark the occasion and is bringing popular LoL champion Jinx to Fortnite.
The Fortnite Jinx collaboration is a first for Riot Games as none of its characters have featured in any title outside of its own library. Naturally, there are plenty of Jinx-themed items for you to get your hands on, including her Arcane outfit, the pow pow crusher pickaxe, jinxed spray, Jinx's dream monkey back bling, playground lobby track, wreaking havoc loading screen, and a katchoo loading screen.
"Fortnite has executed high profile collaborations and entertainment experiences while remaining committed to bringing players content that enriches their experience both in and out of game, a dedication we share and admire," Riot Games cross-product experience and partnerships lead Brandon Miao says. " We hope fans will enjoy seeing Jinx, one of our most iconic League of Legends champions, in Fortnite to celebrate the launch of Arcane."
Oh, and if you happen to be a PC player as well as mobile, it might interest you to know that the partnership between Riot and Epic goes beyond Fortnite, with the former bringing League of Legends, Teamfight Tactics, Valorant, and Legends of Runeterra to the Epic Games Store.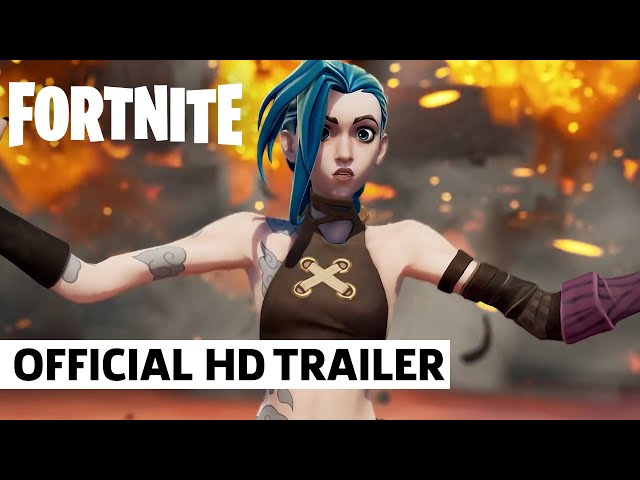 When does Jinx land in Fortnite?
She's already there, so jump on in and cause some mayhem with one of the most popular LoL champions.
What is the League of Legends Arcane release date?
The first arc is now available on Netflix, with the next two parts following later this month.
If the new show has got you in the mood for some LoL, we offer a range of guides such as a League of Legends: Wild Rift tier list ranking all available champions. Or, if you need a break from the carnage, you could check out our picks for the best mobile platformers for iOS and Android.