League of Legends fans worldwide got quite the surprise this week when Hextech Mayhem: A League of Legends Story hit Nintendo Switch, Steam, GOG.com, and the Epic Games Store, with mobile players getting in on the action at a later date when the game releases on the Netflix app. Many thought they would hear more news on Ruined King before any new titles, but Ziggs' adventure is already proving to be a hit.
Hextech Mayhem: A League of Legends Story is a rhythm runner developed by Choice Provisions. It certainly offers a fresh opportunity to those of you who are used to taking part in competitive play. Be it through the MOBA's – League of Legends and Wild Rift – or deck building in Legends of Runeterra. Others get a kick out of the auto-chess battler Teamfight Tactics. The one thing all these games share is PvP – that, and not being on Nintendo Switch.
In this new game, you take on the role of champion Ziggs, leading him through various levels full of obstacles and enemies for you to avoid or blow up. The latter is certainly the more fun option. Of course, you do all of this in time to some beats, putting a fun spin on the explosive action found inside. The game also heavily features Heimerdinger, playing up the playful rivalry and friendship the two champions share.
What Choice Provisions has done is create an all-new experience, in a way not yet familiar to the popular franchise. Of course, given the developer behind Hextech, it being a rhythm runner isn't all too surprising. In fact, we spoke to Choice Provisions co-founder and Hextech creative director, Mike Roush who describes the genre as being "in our blood at this point." We also caught up with Choice Provisions co-founder and Hextech Mayhem Design director Alex Neuse and the game's narrative designer Dant Rambo.
So, kick back, relax, and read on to discover what challenges Choice Provisions faced when working with such a high-profile IP, how fans are reacting to the game, and what changes the experienced development team made to put a twist on the genre.
Pocket Tactics: What made you decide to do a rhythm runner?
Mike Roush: Our studio is widely known for rhythm-runners. It's in our blood at this point. We knew we wanted to make a runner with the League IP, but we also wanted to put a twist on it. We wanted to make a truly unique experience within our own sub-genre of the rhythm-music runners. As much as Hextech Mayhem looks like a traditional runner, it has a core system that is more in line with a Guitar Hero or even DDR. This was really refreshing to our studio, and I think both League and Choice Provisions fans will enjoy this unique experience.
Is it your hope to entice new players to the LoL universe?
MR: The League universe has so much to offer. The depth of the lore was so impressive to us as we started development, that it was hard to just focus on Ziggs and Piltover. We wanted to have a story that was not just focused towards people with a lot of League knowledge or experience. We wanted to make a game for everyone to be able to dive into and enjoy. Putting our own brand of silliness and humour into Ziggs and Heimerdinger was so much fun that I cannot imagine it not drawing people in.
What are the main challenges you face when working with an IP as big as League of Legends?
MR: League is so polished in every way. We knew we had a high bar to hit. This was very scary to us when we first signed the project. Could we even do a game that would honour what the fans are used to and would expect? This was a lot of pressure at first, but after a while, we decided to use it as an opportunity to get better at our craft and push the studio to a higher level. Once we hit that level, we had to maintain and even at times push past the bar we set for ourselves. The byproduct of pushing ourselves to the limit is that we have a fantastic product and have grown as a studio.
Were there many challenges when it came to designing a game for this genre?
Alex Neuse: We've been working in the rhythm-music genre since our studio was founded (BIT.TRIP and Runner series), so we've sorted out many of the challenges inherent to it. With Hextech Mayhem, however, we wanted to build upon our expertise and try to bring something new to the table. Unlike our previous rhythm-runner games, we wanted Hextech Mayhem to be more musically explicit, and developing that system did raise some challenges.
We wanted to offer players essentially two difficulties at once: one for the player who wants to play the game and have a reasonable difficulty progression, and one for the player who really wants to be pushed to the limit. Layering gameplay like this in a music game was a puzzle that took us a long time to solve. Eventually, we landed on a "language" for the game that's consistent throughout. If the player is able to identify this language and play to it, they will uncover a whole new layer of musical mayhem.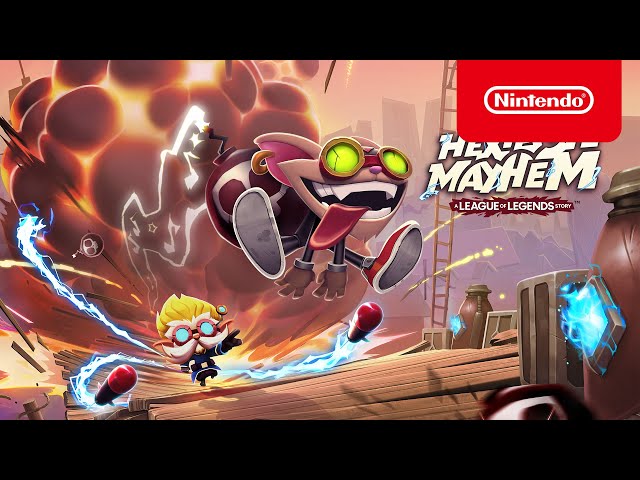 Hextech Mayhem is available on Nintendo Switch. Any chance of it coming to other consoles too?
AN: Hextech Mayhem is available on Nintendo Switch, Steam, Epic Game Store, GOG, and will be coming to mobile via Netflix Games soon. There are no current plans to bring the game to other consoles.
LoL is filled with many champions. What is it about Ziggs that made him the best choice for his own game?
Dant Rambo: We knew early on we wanted to have our game set in the city of Piltover. The dynamic between it and the city of Zaun beneath it was far too interesting to pass up! The more we learned about this region of Runeterra, the more we realised we wanted to see a Zaun-based character wreaking havoc in the affluent city of Piltover. This narrowed down the decision considerably, and from there, we came to the conclusion that Ziggs and Heimerdinger have the perfect friend-slash-rival friendship for the sort of silly game we were wanting to make.
It was a fun challenge to take these two characters who aren't overtly rivals but who find themselves at odds with one another through the specific circumstances laid out in the game. The way we tried to think about their relationship is that they're not antagonists. They're antagon-ish.
Since you announced the game, what has fan reception been like?
DR: The reception has been nothing short of fantastic. We joked in our first tweet about Hextech Mayhem that it's hard to keep a secret in the game industry – but there's a lot of truth to that! There was a collective sigh of relief once we realised we'd made it to the finish line without any sort of leak occurring before then. And then to see the positive reactions on social media… It was such a wonderful moment for us! It's hard to know how the Internet is going to react to a game announcement, and then there's the added nail-biting that comes with that announcement being based on an existing (and very popular!) IP.
We're so proud of the game we've made and so pleased to know that people are not only surprised by the announcement of it, but also excited to play it!
There you have it! If you want to try out the new rhythm runner for yourself, you can grab it on the Nintendo eShop here.
Or, if that's not enough League of Legends action for you, perhaps you should give League of Legends: Wild Rift a try. We have plenty of guides to help you out, including a League of Legends: Wild Rift tier list ranking all the champions. Alternatively, you can look at our picks for the best Switch platformers and best mobile puzzle games if you're after something different.