The Kingdom Rush games are beloved for their colourful fantasy characters and top-tier tower defence action. It's a series that has grown and changed over the years, though Ironhide Game Studio's latest entry is easily its most radical departure to date, delivering a fresh experience that should still please both old and new Kingdom Rush fans alike.
Legends of Kingdom Rush is an Apple Arcade exclusive that moves away from the tower defence template laid out by its predecessors to focus on tactical RPG action. Its world and wild characters may seem familiar, but the moment-to-moment gameplay here is something altogether different.
The story kicks off with the realm of Kingdom Rush in great peril, as an unprecedented foe has appeared – one who you simply won't be able to defeat alone. As such, you'll embark on an epic quest across varied landscapes while building up your crew, getting caught up in adventures, and even contending with the odd roguelike element.
Basically, this is a meaty RPG quest that is packed full of surprises, many of which come in the form of the game's 100+ narrative events. While you're out and about exploring the overworld, you'll regularly have to make tricky decisions. What do you do if a giant wall of ice is blocking your path? If you're strong enough, you could perhaps scale it by hand. Are you an adept magic user? Then a quick fireball might do the trick. Or, just maybe, that rope tucked away in your backpack could come in handy. Whatever you choose, the outcome can have knock-on effects on your journey, making no two games quite the same.
You'll see a similar level of variety in the game's world, which spans lush forests, deadly mountains, and monster-filled wastelands – all rendered in a charming cartoon art style. Wherever you are, you're sure to find unique enemies to fell and quests to undertake, which brings us to Legends of Kingdom Rush's combat.
The idea is that you'll assemble and lead a party of heroes into the fray using a battle system that is said to be easy to learn but hard to master. Fights play out on a hex-based grid, meaning you'll have to think strategically at every turn in order to outwit your foes. That said, the best approach is always to bring the ideal team for the task at hand, which is something you'll have to prep for before the battle has even begun.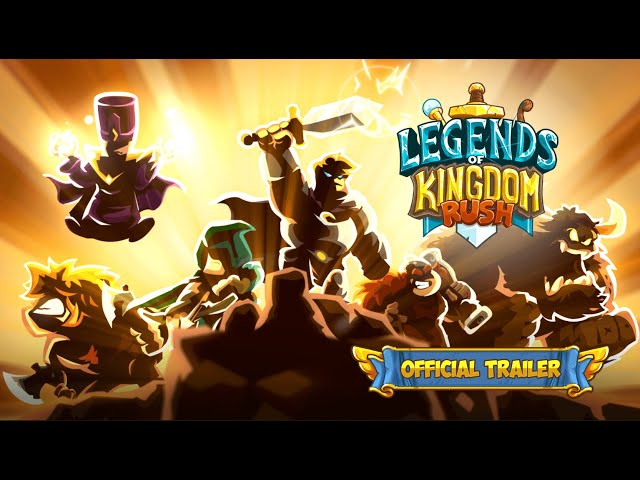 There are five legendary heroes to choose from in total, including the shadow assassin Asra Daggerfall and the mighty paladin Gerald Lightseeker. Your party is also composed of companion heroes, each with their own special skills and powers. For example, there's the mysterious dark knight, resourceful forest ranger, and somewhat temperamental dwarven bombardier. They all have their roles to play in the wider team and can prove invaluable when it comes time to experiment with creative synergies.
Legends of Kingdom Rush clearly isn't one to miss if you're a long-time fan of the series or a lover of epic RPG adventures. It's set to launch on June 11 for iOS, macOS, and tvOS on the App Store as an Apple Arcade exclusive, which means that you won't have to deal with any pesky IAPs or paid timers while venturing through the game's fantastical world. If you want to give it a try, you can subscribe to Apple Arcade today for $4.99/£4.99 a month.