Capcom has announced that a limited-time Monster Hunter Rise demo will, depending on your region, launch later today/early morning Friday and run until February 1. The news arrived during a livestream broadcast on Monster Hunter's official Twitch and YouTube channels, which featured plenty of fresh gameplay footage, as well as appearances from director Yasunori Ichinose and producer Ryozo Tsujimoto.
The demo features four playable quests, all set in the Shrine Ruins region. You'll be able to test out all 14 Monster Hunter Rise weapons, plus the game's online and local multiplayer modes. Beyond that, you'll have a chance to start acquainting yourself with the game's new dog companions, known as Palamutes.
Today's broadcast also showed off the Frost Islands, a land that once housed a nest of dragons. It boasts a creepy atmosphere and bountiful wildlife, including monster Goss Harag, which uses blades of ice formed with its own breath to decimate its foes. We also got our first look at one of the game's all-new features: wyvern riding. As the name suggests, this allows you to take control of monsters for a limited time and even pit them against other foes.
Capcom previously revealed Monster Hunter Rise's new Flooded Forest area. This, as the name suggests, is a water-logged and overgrown space that could prove rather treacherous for inexperienced hunters. Thankfully, you'll have your trusty Wirebug grapple hook to help you traverse the terrain with relative style and grace.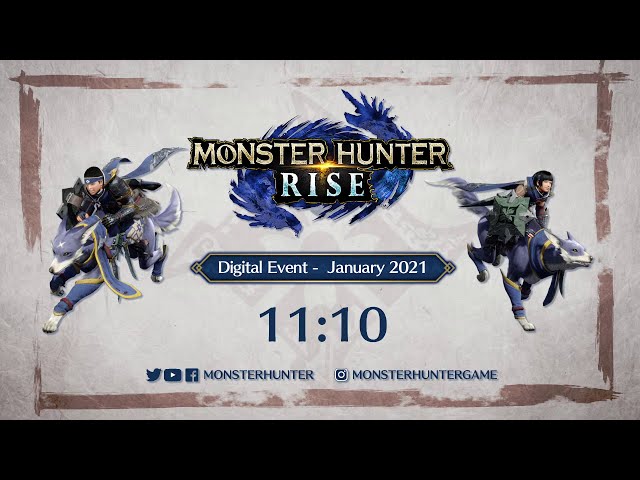 With the Monster Hunter Rise release date set for March 26, it's fair to say that we still have a bit of a wait on our hands. That said, the new demo should help to tide over impatient fans for the time being. If your hype levels are already stratospheric, our first impressions are that this could be the best Monster Hunter game to date.