If you're a fan of Tetris, but complain that it's too slow, then you really ought to check out PuzzelNite. Not only does it expect you to break the speed of light if you want to actually win a game, but you can also turn a sure loss into a breakout win with clever block placement or a pinch of luck.
You're scored as you play, but really it means nothing until the game is actually over. We've had rounds where we've utterly dominated an opponent, only for them to hit a lucky streak of matches and end the game in seconds. You've really got to keep your wits about you in PuzzelNite.
So here's how it works: as in Puyo Puyo, you're positioning multi-coloured pairs that drop from the sky into a position where they can match with others of the same colour. Match three or more together, and they'll disappear, providing points and creating precious space in the process.
Because if your little box of blocks completely fills up, it's game over. However, you're not just competing against yourself, but an actual flesh-and-blood opponent in real-time multiplayer. Each time they get a match, or even worse (for you) a series of matches, you get a bunch of blocks dumped on you.
Before you even try and conceive this as a positive move that could trigger a chain reaction of matches, don't. You need to wait five moves for these blocks to activate. At that point, they could very well set up a devastating chain reaction, but you have to survive those five rounds first, and hope that your opponent doesn't continue adding to the pile.
That's why you really have to move quickly in PuzzelNite. If you don't keep clearing blocks, and at a rapid pace, you're almost certainly going to lose. We say almost certainly because you do have a trick up your sleeve in the form of power-ups. They're the perfect antidote to a sticky situation.
These include Edgar, a power-up that removes the columns on either side of your grid, Blast, which removes every other column, and – our personal favourite – Skull, which turns every other row into skeletons and removes them after a set period of time.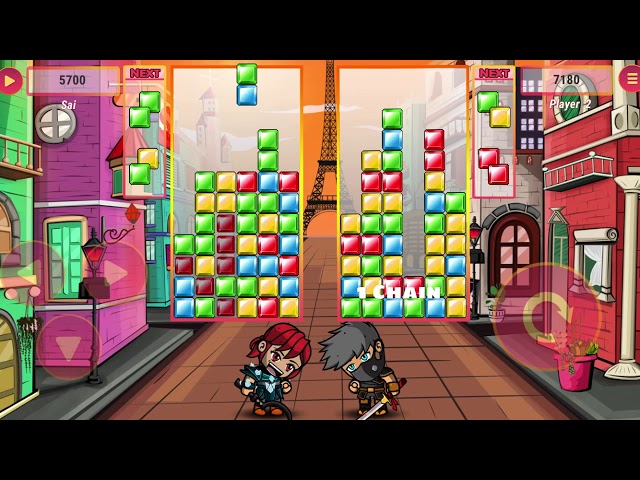 Those who aren't confident in their abilities need not worry though, as you don't actually have to play it online.There's a ranked mode, which does require you to go online and beat real players to grow your rank, but there's also an offline score attack mode. This does include leaderboards, so there is a competitive edge, but you won't feel the pressure of having to beat a live opponent.
The best part of PuzzelNite, for our money, has to be the character customisation though. Sure, we love a good Tetris-like, but we love dressing up characters more, and there are a wealth of options on offer here. You can tweak your hair, equip a new weapon, or don a set of armour. There are also pets, accessories, cloaks, tattoos, and more. You can easily customise your character in your image, copy your favourite character from a movie, or whatever you want really.
You can earn these entirely for free just by playing PuzzelNite. Each time you complete a match, you open a chest, which contains diamonds. Save these up, and you can purchase the cosmetic of your choice. It will take a while to earn them, for sure, but if you're impatient you can just buy them outright with real cash. That's the fastest option, but it's nice to know that you can earn them for free if you're willing to put in the time.
Looking forward, developer Gamut Technology Enterprise is committed to expand PuzzelNite with more modes and cosmetics as time goes on. Take a glance at the update schedule so far, and you can see that it is not a bluff. Since launching in October last year, PuzzelNite has received a steady stream of sizable updates every month.
Given that the update cadence doesn't look like slowing down any time soon, now is the best time to get started. You can do so by grabbing PuzzelNite for free on your mobile store of choice.