The Razer Kishi couldn't have picked a better time to make its arrival on the mobile games scene. This nifty little snap-on, snap-off controller is perfectly poised to take advantage of the games streaming rage that's almost certainly going to dominate this decade. Google Stadia kicked things off with its debut last year and full launch this year, and now Microsoft has thrown its hat in the ring with Xbox Game Pass Ultimate, launching this month on Android.
That's all without mentioning a little something called Apple Arcade, which may not utilise streaming but provides a 'Netflix for games' solution that many gamers have been crying out for years for, complete with controller and Apple TV support. If you own both of the latter, you've effectively got a Nintendo Switch-like gaming solution, albeit a much more expensive and fiddly one.
Back to the Kishi, though. This controller has clearly been designed with care, which is what you'd expect from Razer. However, it should also look familiar to many a mobile gamer, as it's based on the popular Gamevice family of controllers that took iOS and Android by storm during the mid '00s. If this latest entry hadn't gone under the Kishi moniker, we'd have been tempted to refer to it as the 'Gamevice Ultimate', as that's, in a nutshell, what it is.
For those unfamiliar with the Gamevice family, this was a series of controllers that clipped onto either side of your phone like a vice, which is where it got its name from. Your phone would connect directly with the device via a Lighting or USB port, which reduces latency, and the range was known for having a snug fit, which made the controllers really feel like they were attached to your phone all along. Gamevice supported the entire range of iOS devices, including iPads, and Android.
The Razer Kishi is laser-focused on phones, which makes sense given that tablets have a much smaller market share. There are also separate models for iOS and Android, given that the former still uses Lightning for its range of iPhones. Aside from that slight difference, the Android and iOS versions of the Kishi are near-identical.
As we mentioned earlier, the design borrows heavily from the Gamevice of old, though it's much more refined in its current iteration. When you're not using it, the two sides clip together firmly, allowing you to chuck it into a bag or pocket (you'll need a big pocket) for later. You can then simply unlock the two sides, pop the lightning or USB connector into your phone, and slide the other side into the grip and you're good to go.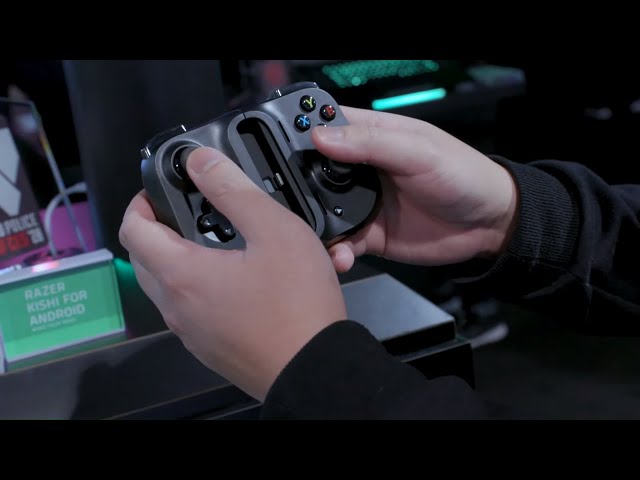 The Kishi doesn't support cases though; even Razer's own Arctech, which is a bit disappointing. As a result, it can be a bit more fiddly to get the Kishi set up than it is to slide your Joy-Cons into your Switch, but there's little Razer could really do about that. Besides, it doesn't really matter provided that the Kishi provides a comfortable controller experience, and it absolutely does.
Once clipped onto your phone, the Kishi feels very comfortable. It's more Xbox controller than DualShock 4, though noticeably less premium-feeling than both. The triggers, in particular, are a bit naff and feel quite sponge-y, though we had no trouble when actually using them. One incredibly welcome addition, and the primary difference between the Kishi and the Gamevice, is the introduction of clickable joysticks. It's a surprisingly satisfying click, and the joysticks feel robust enough to survive long playing sessions or being chucked, and forgotten, in your bag.
The face buttons and d-pad do suffer from the similar sponge-y feeling as the shoulder buttons, but, again, don't cause any issues when you actually play with them. L1 and R1 feel surprisingly robust, though, and the home, menu, and triple dot button (whatever that is) share the clickiness of the joysticks, and really are an, errr, joy to behold.
Another big difference between the Kishi and Gamevice is in how snugly it fits your device. We'd argue that the Gamevice was a better fit, though given the modern day phone screens take up the entire device, the Kishi has less space to work with. As a result, there is some flex, though you actually have to make an effort to notice it. We certainly had no issues during general use.
The only real issue we have with the Razer Kishi is its price, as we feel like that's what will prevent it from being an item that everyone owns. As it currently stands, the Kishi is $99.99/£99.99, which is considerably more than you'd spend on a Dualshock 4 or Xbox One controller, which many of us already own. So it's either pennies for a controller clamp or the Razer Kishi.
Now, it's obvious which of the two provides a better experience. The Razer Kishi is absolutely the best and most comfortable mobile gaming controller around. But will that be enough to entice gamers to opt for it over the cheap clamps? We're not so sure.
Without a doubt the Razer Kishi is the best and most comfortable mobile gaming controller around, though it doesn't quite live up to its premium price point.