If you've ever wanted to get to know the fictional stars of Splatoon 3, now's your chance, as Shiver, Frye, and Big Man – all members of Deep Cut – share details about their squiddy lives in a new interview shared by Nintendo.
Of course, it's just a bit of fun, but as always with the world of Splatoon 3, Deep Cut's interview wonderfully deepens the wacky universe. It's an adapted version of one released in the Nintendo Magazine for Winter 2022 in Japan.
Shiver is mystical, Frye is loose, and, as always, Big Man just says 'ay' a lot, with a wonderful translation available in brackets. We've skimmed through the interview to find our favourite bits, but you can read it in full on the Nintendo website.
Splatoon 3 Deep Cute interview best bits
The Splatoon 3 Deep Cut interview has a lot of gems, like when the band talks about their supposed close friendship as kids. Big Man says, as always, "Ay. Ay? Ay. (I wouldn't say friends. Friendly? We knew each other. We knew OF each other.)"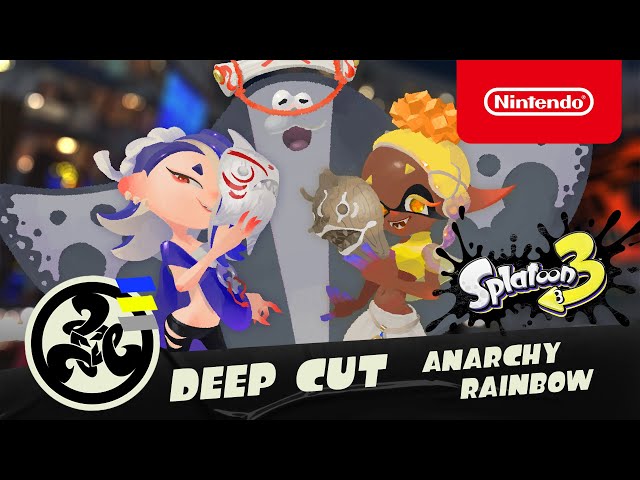 "It's true. We sort of just said "hi" in passing", followed up Shiver, before Frye says, "I don't know about y'all, but I was WAY too busy with dance lessons and eel training and stuff like that to have, like, real friends." This leaves the interviewer embarrassed, "Huh! I guess my research failed me. I thought you were all lifelong friends."
There's lots of fun stuff like this, with the band sharing details of their time in middle school and song inspirations, the latter giving us this gem from Big Man regarding Anarchy Rainbow: "Ay! Ay. (Actually, the inspiration for that song came from Frye! We were eating at a food cart when she looked up, mouth FULL of okonomiyaki, and shouted, "I'm a genius!".)" Wonderful stuff.
Anyway, once you've read up on the Splatoon 3 Deep Cut interview, check out our Splatoon 3 weapons, Splatoon 3 idols, Splatoon characters, and Splatoon 3 gear guides.