Things are getting crazy in State of Survival. So crazy, that the Clown Prince of Crime himself is keen to get in on the zombie-slaying madness. That's right, FunPlus is teaming with Warner Bros. Interactive Entertainment to bring beloved DC supervillain, The Joker, to the post-apocalyptic mobile game.
State of Survival's Joker is finally here, and he brings an all-new campaign with him. Unfortunately, the settlement is under attack by a new breed of zombie, one that laughs maniacally – nope, try as we might, the image of a laughing zombie sounds funny to us. However, for the settlers, it's a waking nightmare, that's until a stranger drops by in his dapper purple suit. This man claims he can help the survivors. Of course, given we know him to be The Joker, we'd wager his idea of helping is strapping dynamite to a survivor before throwing them to the hordes.
"Welcoming a notorious supervillain like The Joker to State of Survival and working with an entertainment powerhouse like DC is a huge honour," FunPlus CBO Chris Petrovic says. "We are excited to deliver this blockbuster collaboration to our existing players and look forward to welcoming DC fans to check out our post-apocalyptic world in the game."
To get your hands on Mr J, you must complete the campaign and do it quickly. Time is of the essence. Should you succeed, the murderous, psychopathic lunatic is yours to keep forever – or until he stabs you in the back, whichever comes first.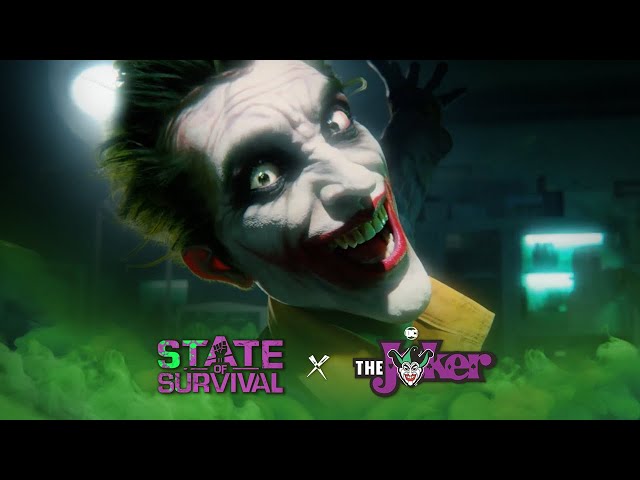 When is the State of Survival Joker release date?
He's here! So what are you waiting for? Get out there and team up with the maniac.
If you need a helping hand in surviving this harsh world, we suggest checking out our State of Survival codes list to grab some useful freebies. We also have a State of Survival Plasma guide detailing various requirements, upgrades, and how to get plasma cores.
Or, if you prefer to be in the company of the living, why not check out our picks for the best mobile puzzle games and best mobile RPGs on iOS and Android.