Classes in MMORPGs are so last decade. Nowadays, to have the best MMO experience, you need to have the freedom to swap between weapons and classes whenever you want, rather than locking yourself into one playstyle for the entire game. Throw some dynamic, over-the-top combat in there and you've got yourself a heck of a game, guaranteed.
Enter Traha Global, the Western release of Moai Games' formerly Korea-only MMORPG, Traha. In Traha Global, you don't create a class at the start of the game, and are instead free to use whichever weapons you want whenever you please, swapping freely between them as you explore the enormous world of Listania.
It's a game of epic battles and spectacular moment-to-moment fights, even against common enemies in the overworld. You can even take some time out to focus on crafting, fishing, and other more leisurely pursuits, with all these feeding back into combat by providing buffs and boosts that will prove invaluable in late-game encounters. Here's a quick rundown of what to expect when you jump into Traha Global.
A world of chaos
Traha Global focuses on the long, endless war between the Naiads and the Vulcans. This war isn't as simple as good versus evil – the Naiads may claim to bring justice, but their methods can be brutal. Similarly, the Vulcans might come across as hotheaded and domineering, but they are also a people trying to survive and find a home for themselves in Listania.
On either side of the conflict are the Traha (short for Transcend Human Ability), near-supernatural humans who have unlocked inner strength beyond what mere mortals can hope to achieve. And though you'll always be a Traha, the side you choose will have huge ramifications for how you progress through the game, and how you engage in the epic Realm versus Realm combat to come.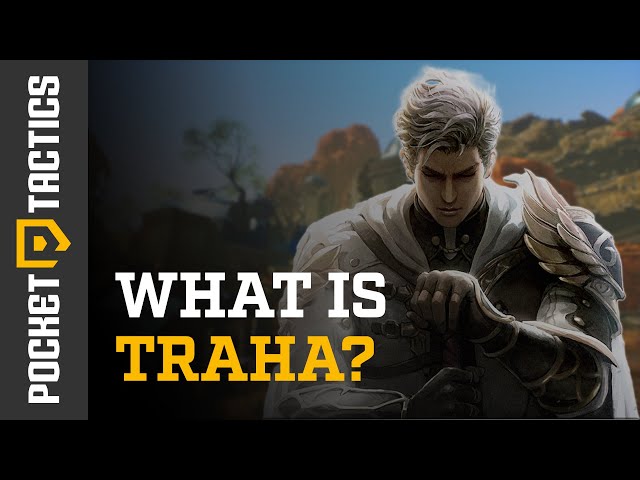 But that's getting a bit ahead of ourselves. First you need to actually make your character. Traha Global has an in-depth character creator, so you can spend hours fine-tuning your in-game avatar exactly to your liking. But you might also notice something missing – an option to pick your class.
The Infinity Class
Indeed, there are no classes in Traha Global. Instead, there's what's known as the Infinity Class system – the ability to switch between weapons and archetypes at will to suit the situation or to satisfy your whims.
There are seven weapon types to wield in Traha Global – Greatsword, Dual Blade, Shield, Staff, Knuckles, Scythe, and Bow. Each one has its own strengths and weaknesses, and each one has a range of skills to unlock and customise to create your perfect loadout.
The range of skills on offer allow you to create vastly different builds that you can switch between whenever you feel like it. Want to be a solo-healing Bow-user? It's an option! Prefer to unleash huge area-of-effect skills with a Greatsword? Go for it! There are plenty more options beyond these to choose from, and with the ability to reset your skills at any time, you'll be able to mix up your playstyle whenever you desire.
Creative combat
Combat itself isn't just a case of targeting an enemy and waiting for it to die. While normal attacks will suffice on weaker enemies, you'll need to make the most of all of your skills to really thrive in Traha Global.
Different skills will have different activations, as well as secondary skills that you can chain into. Some skills might require you to hold them down to unleash its full power, while others require perfect timing when activating them. On top of that, you may unlock skills that can be used as a follow up to your base skills in certain conditions – Bow users will unlock a skill that leaps back while doing huge damage, but only when they're taking melee damage, for example.
And each weapon handles differently to boot. Dual Blades, for example, require you to use certain skills to build up Energy before you can unleash the heavier-hitting abilities. The Greatsword, meanwhile, fills an Energy bar through standard attacks which is then burned to improve the power of certain skills. Understanding how each of these weapons and skills work is an essential skill of its own.
A truly epic war
Your battles won't just be restricted to taking down creatures throughout the world. As promised, you'll also be engaging in Realm v Realm combat against the opposing faction, with a range of PvP activities to take part in. These can be small, such as the 1v1 ranked arena, to the larger 8v8 battles, all the way up to 200v200 wars that break out in the Conquest Battles. If you like PvP, you're going to love this.
And if you need a break from all the fighting, there are plenty of more relaxed activities to take part in. Crafting is a major part of Traha Global, with separate skill trees for gathering, fishing, cooking, and more, offering you the chance to create and use items and equipment you might not otherwise get your hands on.
But there's more to it than just having a chillout session. These skill trees also boost your other stats for combat, making them even more worthwhile pursuing. If you really want to make your character the best around, you're going to need to get your fishing rod ready.
We've barely even scratched the surface of what's offered in Traha Global – there really is that much to uncover in the game. Find out for yourself when it launches for free on PC and mobile in November.
And make sure to pre-register for the game now to unlock some extremely useful items such as Pet & Riding, which will be very useful when the game launches.