A3: Still Alive is a dark fantasy genre splice that mixes together RPG elements and intense battle royale action. It's based on Netmarble's popular PC game, simply known as A3, and it casts you into a world of "strife, conflict, and turmoil." Sounds familiar.
A3 aims to draw in players by doing a bit of everything. It's said to offer a layered RPG experience, loot aplenty, engaging open-world exploration, and an extensive PvP component, which includes castle sieges and tricky world bosses. There's clearly a lot going on with this one, and its willingness to experiment with different ideas and genres could prove to be its greatest strength.
According to Netmarble Executive Producer Joong Sun Chang, the global version will "complement the Korean build to provide more high-quality features and services." The latest version will also boast console-quality visuals thanks to the team's optimisation of the Unity Engine. If your interest has been piqued, know that A3: Still Alive has now opened for pre-registration on iOS and Android, with a host of rewards up for grabs to those who get in early.
Here's a trailer: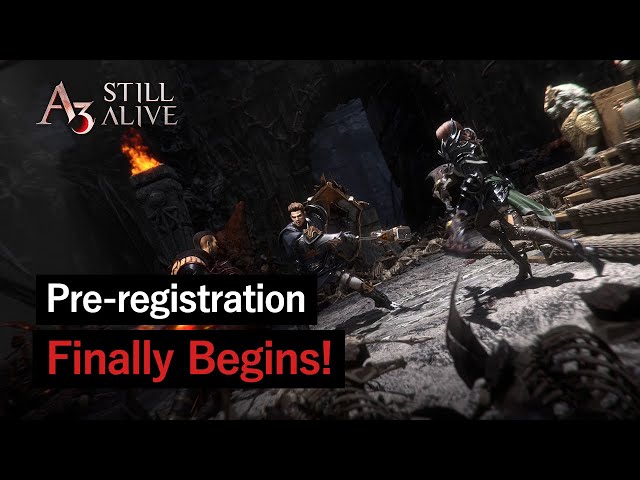 And here are some of the pre-registration milestones and their corresponding rewards:
200,000 registrations: 200,000 Gold
400,000 registrations: 100,000 Mana Stones
600,000: 60 Topazes
800,000: 3-star Hannemorin Soulstar x1
1,000,000: Level 60 Hero Armor x1
Pre-registering will automatically net you 100,000 Gold and 50 Blue Diamonds, and there are even some platform-specific rewards, with iOS users getting Silvadu's Ring and Android users getting Errel's Ring.
Netmarble has also launched a separate campaign on its official site. You can earn points by, for example, pre-registering or sharing promo material via your social media. These can then be redeemed to earn in-game and even real-world rewards. Some of the in-game items up for grabs include a Soulstar, Brilliant Soulstar, and a Brilliant Accessory Chest. And, last but not least, one lucky player will win themselves a Macbook Pro.
A3: Still Alive is now up for pre-registration from both the App Store and Google Play. The App Store currently lists its expected launch date as November 30th, though this is obviously subject to change. While you're here, you'd be wise to check out our list of the best mobile RPGs.