The ultimate mobile survival shooter, Free Fire, has been delighting players with fast-paced, no-holds-barred, battle royale action since its launch on iOS and Android back in 2017, and since then the game has grown exponentially.
Developer Garena has been working hard to improve the game by adding new content and features to keep players engaged, allowing players to express their individuality through in-game fashion, music, and gameplay style. This was exemplified in the Battle in Style event which took place in Fall 2021, which saw in-game musical group T.R.A.P. put on a spectacularly unique performance to celebrate the arrival of a new playable character. Now, one of the biggest additions yet has brought a whole new dimension of creativity to the game.
Craftland is among the latest features that allows players to create their own maps, battle, and socialise with their friends in their own way. Players can choose to create on their own or invite friends into a room to play and create together. Creators can then share their creations and receive recognition via likes and subscriptions from other players – create something unique enough and you might just see your map added to the official recommendation page!
For the most imaginative players, racking up likes and subs can be a game unto itself, but for others, Craftland can simply be a way to have casual fun outside of the intense firefights found in the main game modes. No matter which way you choose to approach Craftland, you're sure to find new ways to play in this innovative mode.
How to use Craftland
Getting hands-on with Craftland couldn't be simpler. In Free Fire's lobby, enter the mode selection menu where you'll see Craftland as one of the main options. Here, you'll see recommended maps which you can play with instantly. To start creating your own map, hit the Craftland button to get started. You can also join an existing room via the Room tab.
Before you start editing your map, there are tons of game mode options to consider, such as game speed, number of rounds, prep time, Danger Zone, respawns and more. You can make your game a traditional battle royale, a race, an obstacle course, or even a deathmatch. For smaller maps, we recommend going for one of the latter options, but the choice is yours. What toys will you offer your players? Choose to add weapons and equipment to your map to up the ante, or make it a friendly playground.
Now comes the fun part – editing your map. Every map should contain a spawn point, while in Parkour mode, a checkpoint and a finishing point are also needed. Besides that, you can let your creativity run wild. Various elements can be placed on your map – blocks (which can be regular items such as cars, shrubs, crates etc.), barriers, and triggers are the main building blocks of your map, so peruse the items on offer and choose carefully which ones to use.
Exploring players' maps
Do you want to get some ideas about what's possible with Free Fire's Craftland? Or perhaps you don't have a creative bone in your body and just want to have some fun with other players' creations? Well luckily, it's super easy to check out and give other players' created maps a whirl!.
Just as before, head to Free Fire's lobby and open up the mode selection menu, then tap on Craftland to view the list of recommended player-created maps and take your pick of which you want to play. You can try out these maps instantly, either solo, with friends, or with other players from around the world. You can also subscribe to or source specific maps made by other players by entering their map code under the "subscription" tab.
There are already some great maps available through Craftland, including RushHour, which sees you racing across high walls and shipping containers to reach checkpoints. This one's for masters of platforming in Free Fire, and it'll seriously put your 4v4 skills to the test.
Play for Free

Free Fire Craftland map designed by players – RushHour
Similarly, one of our favourites is one of the created Parkour maps in Free Fire – this map is an intricate platforming gauntlet, cobbled together with a variety of unlikely objects including wooden crates, pipes, swinging pendulums, and campervans!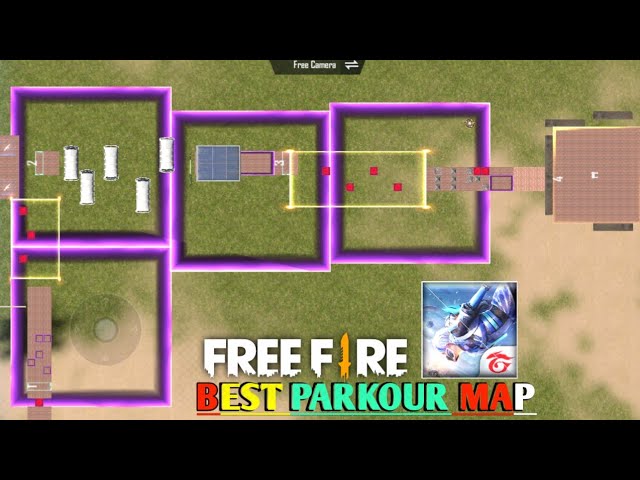 If you prefer a bit of whimsy with your parkouring, then HappyRunning is another popular map you should try. It's got a huge variety of obstacles to navigate, including giant dice and a giant wheel that you'll need to navigate to reach the top of its tower.

Free Fire Craftland map designed by players – HappyRunning
If you're more combat-focused, check out FateCross, a small but densely packed arena with buildings and shipping containers to contend with, and two enormous torii gates bookending the arena. This is a map destined for intense PvP action, so grab some friends and dive in.

Free Fire Craftland map designed by players – FateCross
Some of our talented players have even managed to create some magnificent musical maps for players to enjoy. Using objects in Craftland, players can place piano keys that when walked over, play the corresponding note. Will you create a chart-topping hit in the world of Free Fire?
Between Craftland, creative events like Battle in Style, and the many customisation options available, Free Fire has become one of the most creative and original battle royale games around. Download it today on Android or iOS and start crafting your own perfect experience.