Heroes of Crown is here, and from the moment you put your eyes on it, you may already be in love. This gorgeous idle RPG features detailed, varied heroes to collect, epic battles against enormous monsters, and plenty of gear and loot to get your hands on.
Better yet, you get to choose how engaged in each battle you are. You can watch each fight intently, or drop in and out using the Battle Cut feature to take your squad into multiple battles at once. You'll still want to stick around and admire the beauty of each battle though, with explosive spells and huge attacks keeping every fight interesting.
How you play is up to you, but don't be lulled into a false sense of security – you'll still need to keep an eye on your team's level and equipment if you want to succeed. And whether you're battling in the PvP Arena or progressing through the epic story, you'll want to be at the top of your game at all times to avoid a crushing defeat.
One of the first things you'll notice about Heroes of Crown is the art. The game boasts impressive full-screen, 3D battle animations that show off the cool skills and stunning character art. Outside of battle, you can get a closer look at your squad and interact with their models with full 360-degree views to check out every minor detail.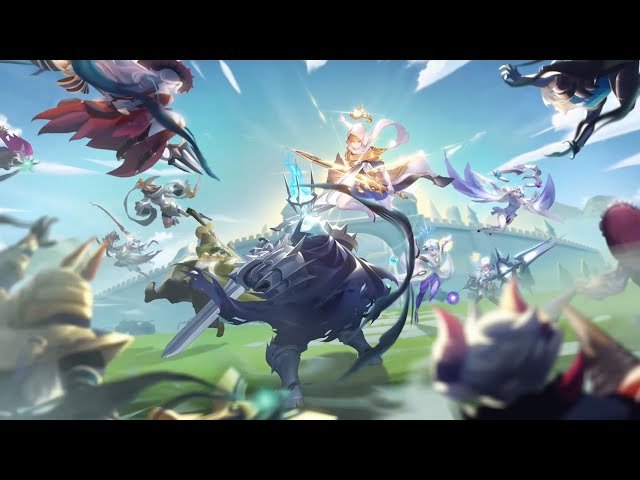 Each hero is inspired by different eras of history and uses different skills, so you'll need to balance your squad with different elements to take down the enemies in your path. Certain heroes also come with additional lore to get stuck into, like Veya, a valiant warrior with a long spear and a mischievous look in her eye, and Sakai, a heroic sword-user who complements Veya's skills perfectly.
Then there are the environments themselves. Even when you're not actively fighting, your party will always be running through a variety of biomes, defeating random monsters as they go to add to your idle rewards pile. Each biome is vastly different from the last, from the creepy caves you start out in, to the wide open spaces of Breezy Plains. It's very easy to lose a few minutes just watching the worlds go by as your heroes race through them in search of adventure.
Idle action is where Heroes of Crown excels. You won't have a direct impact on combat – the heroes are perfectly capable of fighting without you – and you can drop out to enter another battle whenever you please with the Battle Cut feature, with no limit to the number of battles you can enter.
Heroes of Crown isn't just about solo combat, however. You can also join a guild to work together with others to complete quests and earn even more rewards. And with the Arena, you can prove your might against players from around the world and show off your incredible team of heroes.
There's more to Arena battles however, as you can even bet on other player's battles and win big if you guess correctly who's going to come out on top. And there are even more cross-server activities available, so no matter which server you choose to play on, you won't be limited to only engaging with other players on your server. You can also add other players as friends through playing the PvP modes and work together with them, or team up with your friends in the real world too.
There's so much more to uncover in Heroes of Crown, and now you can go out and discover it. Developer Woobest are also offering multiple gifts for all players – log in and enter the codes "hero777", "hero888", and "hero999" to earn five-star water hero Siren and a heap of Ascension Stones, advanced Recruit Vouchers, and coupons for collectible skins. You can also keep an eye on the official Facebook page for more surprises, and join the Discord to chat to fellow players. The Open Beta is available right now in the US, Canada, Australia, and New Zealand on both Android and iOS, so if you're able, go and download Heroes of Crown right now, and check out the official website for more info.