Immortals Fenyx Rising isn't even out yet, but Ubisoft is already announcing its plans for post-launch content in its mythological open-world RPG. And there's a lot of it. As well as a Season Pass chock full of extra content, there is also plenty for non-subscribing players to enjoy.
As a part of the Season Pass, there will be three huge expansions: A New God, Myths of the Eastern Realm, and The Lost Gods. The first part will see the titular Fenyx head to Olympos (that's Mount Olympus to you and I). We'll decline from listing any major spoilers at this point, but this first DLC pits you against the trials of the gods themselves.
Earn the favours of Aphrodite, Athena, Ares, Hephaistos, and Hermes to challenge Zeus and ascend to the inner circle of the Pantheon. The second DLC leaves Fenyx and Ash behind as we head east. This DLC is inspired by Chinese mythology, and sees a new hero, Ku, set out to save humanity from the fallout of a war between Heaven and Earth.
Encounter new deities and monsters and team up with the Goddess Nuwa to save humanity. The third DLC returns to an unbalanced Olympos to reunite the scattered gods. But Fenyx enlists the help of Ash, a humble temple sweeper, to travel to the Pyrite Islands and convince Poseidon, Hades, Hestia, Demeter, and Boreas to return.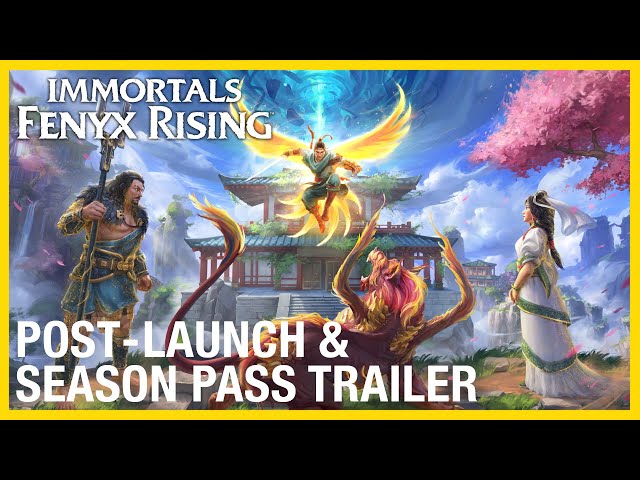 Ash will also have access to a brand new skill-based upgrade system which sees her grow in strength, Fenyx and Athena by her side. Season Pass owners will also get access to a bonus quest: When the Road Gets Rocky, which sees you join with Hermes on a brand new adventure.
All players, regardless of whether they buy the Season Pass or not, will have access to daily & weekly quests, community contests, vault challenges, cosmetics, and more. If you can't wait until Immortals Fenyx Rising's December 3 release date, we recommend checking out the best Switch RPGs to tide you over.