As an immersive space strategy game, you won't get far in Infinite Lagrange without a powerful fleet backing you up. With such a large range of models and an intricate blueprint and upgrade system, enhancing a worthy group of ships can seem a little intimidating to beginners. But don't worry, we've got you covered. In this guide, we will help you understand the different kinds of ships, the best picks for beginners, how to upgrade them, and heaps more.
There are two main types of unit – utility ships and battleships. Utility ships are used for mining and gathering resources, and come in small, medium, and large. You should always aim to choose the largest of these where possible. Battle ships are split into frigates, destroyers, escort corvettes, cruisers, fighter aircrafts, battlecruisers, and carriers, each with their own unique roles and benefits.
If you're just starting in the engaging and complex universe of Infinite Lagrange and want to find out more about the game's features and mechanics, we have an in-depth Infinite Lagrange Base upgrade guide, as well as an Infinite Lagrange resource gathering guide to help you on your new adventure.
What are the best ships for beginners?
When taking on daily missions, utility ships are deployed for mining. It's best to pick ones with a fast cruising speed and large storage for transportation tasks. On the other hand, ships with powerful anti-ship fire, defence, and HP are the best for annihilation missions. In the early stages of the game, utility ships should be constructed as a priority so you can mine those valuable resources needed to upgrade your base and build more ships. As a general rule, it's best to ensure your fleet is mostly balanced. Always put high armour units in the front, and high attack in the back for the best results, and teaming up a frigate with a destroyer is a great line-up to start with.
Here are some of the different ships you can grab as a beginner, and a couple of tips to get you on your way.
FG300 Frigate
Three types of FG300 are offered in the starter pack. Their focuses are different, and they are all affordable for new players.
FG300 – Multi-role frigate
Weapon system: FG300-SD-1150*3
Armor system: AC-20 generic light armour
Power system: Curative-EC-120, generic-EN-100
This model is the most cost-effective warship in the early stages of the game, and the best choice for progression and transitions. It has the highest standard attack damage out of the beginner options, and we recommend you build this ship at the start. It's a good choice to stick with until air defence features come into play later in the game, at which point this ship should be retired.
FG300 – Armoured frigate
Weapon system: FG300-SG-1150*2, SG-3308 near-defense cannon*2
Armour system: AS-35 reinforced light armour
Power system: Curative-EC-120, generic-EN-100
This model is a great tank for the frontline due to it having the defence of a destroyer, as well as enhanced anti-air capacity – this is useful in the early game stages but weak late game. As you won't have many powerful frontline warships when you start out, building six to seven of these is a good option. Once you've gathered enough tech points for your multi-role type weapons, you can upgrade the armoured type systems, which should help you easily blast through the early game stages.
FG300 – Recon frigate
Weapon system: FG300-SG-1150*1, SG-3308 near-defense cannon*2
Armour system: AC-20 generic light armour
Power system: Curative-EC-120, general-EN-100, EN-1148 (evasion)
This model has an additional power engine system equipped, which increases evasion – but only up to 16%, so it's still vulnerable, even at max attributes. However, it has 220 storage and 1,100 speed, so it's a great choice for delivering cargo in the early stages (until you get AC721), exploring the map, docking trading stations, and expanding the curvature in the late game. As a supporting ship, it has outstanding recon ability for its low price, so it's a good idea to have two or three on standby.
AC721 Destroyer
AC721 comes in two model types, and is a destroyer that can be acquired directly from initial chests. They both offer some great utility right off the bat, with the generic type being the best in the world of transport, and the aircraft type providing strong air defence in early to mid game.
AC721 – Heavy logistics destroyer (generic type)
Weapon system: AC721-SG-2275C*3, SG-3308/D air defense artillery*4
Armour system: AC-20 generic light armour
Power system: Curative-EC-200, generic-EN-180 (no evasion)
The strength of this model is its high storage capacity – which starts at 15,000, but can be increased to 22,200 with tech enhancement, making it comparable to a cruiser. It's not particularly useful during combat, but is the best choice for transporting cargo, as one unit alone is capable of carrying out two to three transport missions simultaneously. The resources gained from these missions can be used in upgrading other ships quickly. It's a good idea to have five or six of these ships. As they play a more supporting role, you shouldn't invest too many of your hard-earned tech points into them.
AC71 – Heavy dual-purpose assault ship (aircraft type)
Weapon system: AC721-SG-2275C*1, SG-1120*2
Armour system: AC-40 medium generic armour
Destroyer defense system: corvette
Though it doesn't have the most outstanding defence stats, this model is able to carry two escort corvettes. If you're lacking options in early to mid game air defence, but do have anti-aircraft escort corvettes on your hands, you can send this destroyer out fully equipped. Aim to spend most of your tech points on your anti-aircraft capability by increasing the attack efficiency of the UAV. If you're unable to draw other anti-aircraft ships later in the game, investing your tech points into this unit can make up for inadequate air defense. It's a good idea to have a couple of these sufficiently upgraded beauties in your base, as air defense is extremely important in PVP gameplay.
CAS066 Cruiser
The CAS066 is the only free cruiser available to new players straight away. It's a good thing, then, that this neat little model solves most beginner problems.
CAS066 – Generic cruiser
Weapon system: ST-8-610 heavy torpedo launching system, MK4-SG-2550 thunderbolt anti-ship battery*2, SG-1120B generic cannon*4
Armour system: AC-60 generic heavy armour
Power system: (no evasion)
This model is the only cruiser in the starter pack, and is the new players' best friend. It has a strong attack system which can easily deal with medium and large enemy ships in the early stages of the game, and its high defensive and offensive stats make it very versatile and handy for newbies. With weapon calibration and tech enhancement, its attack can reach over 22,000, making it the key force for jungle and city attacks in mid-game stages. Due to its all-rounder status, the CAS066 loses a bit of traction by late game as mastery in a specific attribute (eg. attack, air defence, tank) becomes more important. But its strong overall stats make it a good choice to strengthen any weak parts of your fleet, or even to store your resources.
KCCPV2.0 Cruiser
If you're struggling with firepower at the start, KCCPV2.0 is a great choice. You can snag this beast by signing the dawn treaty in the early stages of the game, then building it at a pretty low cost. It has great damage capacity, and will be an asset to you as you grow your fleet.
KCCPV2.0 – light attack cruiser
Weapon system: KCPPV-ST-3-700C Ultra Heavy Siege Torpedo Launcher, KCPPV-SM-16X450 Hexadeca-Fire Missile Launcher Array, SG-1120B and SG-1120C Generic Cannon
This model boasts outstanding performance in sieges, and effective damage against large warships and bases, which is complimented by its easy access and low shipbuilding costs. Due to the existence of special warships that can directly destroy KCCPV2.0 cruisers, it's important to place this unit in the back row, with plenty of frigates or frontline cruisers to protect it while it does its damage. Avoid using it for regular offensive means, but be sure to deploy it for siege wars.
What are ship attributes?
Every ship has a total of 11 attributes, and they can be a little tough to get your head around at first. Here's a breakdown of each of them, and what they mean.
Firepower – this is your basic attack stat. Note that firepower varies for different enemies (eg. anti-ship fire, siege fire, and air defence) – these become important in the late stages of the game, as you engage in siege and defence battles, and need to be more tactical with your choices
HP – HP, of course, stands for health points. If your ship loses HP during battle, you can send it to a base and it will be repaired automatically. Alternatively, you can go to the ship management page and tap the wrench button on the right. If it runs out of HP, the ship is destroyed
Armour – this is your ship's defence, dictating how well it can take a beating. Ships with high defense can be placed on the front row of fleets to defend those with low defence and high attack
Cruising speed – this calculates the basic speed of your ship, outside of warp routes
Warp speed – after placing an operation circle, your building or fleet can reveal warp routes. Certain ships can then use these routes to travel at warp speed, which is a key method for sneak attacks when going after enemy bases later in the game
Active service limit – the unit limit on that model, i.e. how many of that unit you can have at one time
Storage – only applicable to transport or utility ships, this shows the capacity of the ship inventory
Mining level – only applicable to utility ships, this calculates the ship's ability to mine. The higher the level, the better
Engineering level – also only applicable on utility ships, the higher the level, the better
How can I increase a ship's stats?
If you want to improve a ship's stats, such as combat strength, armor, power, and more, you can do so by enhancing blueprints. Each system can be upgraded separately (armor system, weapon system, etc.), then changes are implemented through the use of tech points. Here are a few ways you can go about it.
Battles – whenever you defeat an enemy, the ship will earn EXP, this can be used to increase the ship's level and gain tech points
Missions – completing missions provides you with EXP packs, which can also be used to upgrade a ship's level. This method is useful for transportation and utility ships that shouldn't engage in battles
Luck and recharges – you have the ability to draw to get drop boxes, which can contain EXP packs or tech points. You can recharge for more chances to draw. Check below to find out more about drop boxes
If your ship is struggling to defeat an enemy, be sure to retreat right away. Think of every one of your ships as an indispensable asset, especially early in the game. Be sure to invest plenty of resources and tech points in constructing and upgrading your ships.
What are Drop Boxes?
Drop boxes are purchasable items that can contain ship blueprints, EXP packs, tech points, and more. If you're a prudent player, you can buy archives from the United Tech Corporation, or if you're feeling lucky you can take a shot at buying encrypted tech files. When a drop box produces a copy of an existing ship blueprint, you have three options. You can choose a different type of blueprint under the same category, ignore the tech point amount, or choose another currency – research points. For 15 research points you can receive a drop box with a ship blueprint guaranteed (though it can still drop a duplicate blueprint).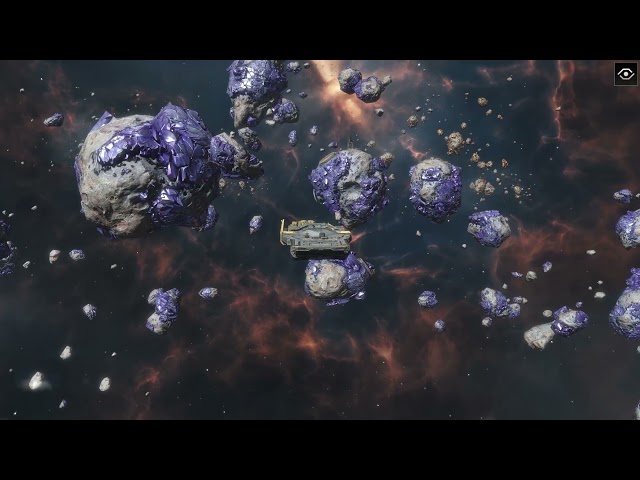 What is the trading post?
If you're struggling to snag yourself the more advanced ships and are having a hard time out in that big, scary universe, the trading post may be the place for you. Unlocking blueprints and researching tech files to get new ships is mostly down to RNG and a hefty sprinkle of luck, whereas the trading post can offer a more reliable option. You can find the trading post that is occupied by your union out on the Expanse, then send any ship out there in order to make contact and purchase new units. There are three types of ships you can buy from the trading post; NOMA 330 – light armored survey ship, the Grim Reaper – high-speed frigate, and the Argus – tactical destroyer.
What is Lagrange Pass and how do I activate it?
Another useful tip is to activate Lagrange Pass as soon as possible. The Lagrange Pass will give you access to multiple proxima coins, drop boxes, and the ST59 Battlecruiser blueprint, all of which will give you substantial help in the early stages of the game. Active points are required to activate Lagrange Pass, and there are plenty of ways to get these.
You gain active points from logging in every day, and will earn ten active points for every action point used. Action points are used in most movements, such as sending ships out, building outposts, and setting up operation circles. You also gain one active point for every enemy ship destroyed. This is the most difficult option, especially early game. With caution, you can battle low-level cities, fight wild enemies, or go for siege operations with your union team mates to rake the points in. Just remember, ships are extremely valuable, and it's best to avoid putting them in danger until you've got more options and resources.
If you want to test out these techniques and gather your own powerful fleet on an adventure across the galaxy, you can download Infinite Lagrange from your mobile store of choice for free.