After Sakurai confirmed the release of Kingdom Hearts on Switch last year during the final Sakurai Presents presentation – where Sora was revealed for Super Smash Bros Ultimate – the series finally makes its way to Nintendo Switch next month… with a catch. Four different games are coming to Switch; Kingdom Hearts HD 1.5 + 2.5 ReMIX, Kingdom Hearts HD 2.8 Final Chapter Prologue, Kingdom Hearts III + Re Mind (DLC) and the all-in-one Kingdom Hearts series collection.
However, none of these are native and are only Cloud versions of the titles. Meaning that you can only play them over the internet, on hardware somewhere far away, so they can't be played offline. Also, much like streaming Netflix, the quality of the game is highly dependent on your internet, the quality of the servers, and how many other people are playing. Compression artefacts, visual downgrades, and input lag are just some of the issues this causes.
Not only this, but you're only renting Cloud versions for as long as the service is active. Therefore, if and when the Switch eShop shuts down in a few years, so does your licence to play these games. That hasn't stopped Square Enix from charging full price for the titles though, with the complete collection coming in at $79.99/£79.99. While we might – if we're generous – say that Kingdom Hearts 3 was only possible this way, the previous Kingdom Hearts games could absolutely run on Switch, so this is disappointing, to say the least. Moreover, it feels like Square Enix is leaving money on the table and unnecessarily upsetting fans. So, when is the Kingdom Hearts Switch release date?
When is the Kingdom Heart Switch release date?
The Cloud versions of the games Kingdom Hearts HD 1.5 + 2.5 ReMIX, Kingdom Hearts HD 2.8 Final Chapter Prologue, Kingdom Hearts III + Re Mind (DLC) and the all-in-one Kingdom Hearts series collection all arrive on Nintendo Switch on February 10, 2022.
Is there a Kingdom Hearts Switch trailer?
There is, but we assume that the footage in the trailer isn't being captured from a stream to a Nintendo Switch. In fact, the trailer itself confirms that it is development footage.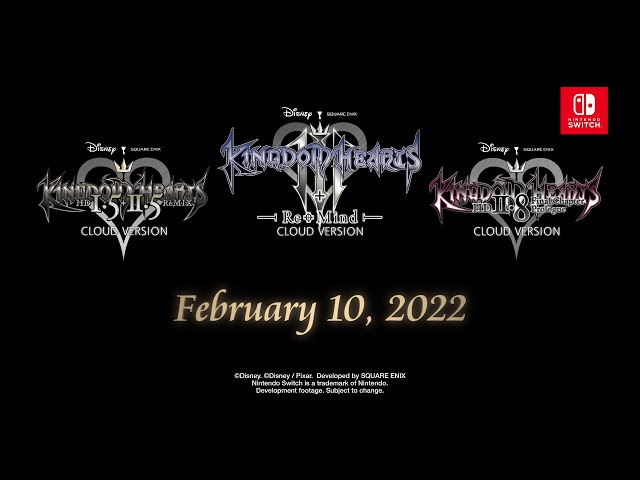 Is there a Kingdom Hearts Switch demo?
Mercifully, there is, in fact, a demo for the Kingdom Hearts games on Switch. So if you have a very strong internet connection and do not mind renting a game, then you can try out the Cloud versions of these titles and see if they work well enough for you to happily part with at least £40 for games that came out many, many years ago.
Will there be a Kingdom Hearts Switch physical version?
Nope, as of right now, Square Enix has only announced the Cloud version of these titles, including the much older Kingdom Hearts games that were originally released on the Playstation 2. We would love to see a physical collection of each title before Kingdom Hearts 3 at least, but that's not the case right now.
We hope we haven't been too harsh, but asking to pay nearly one hundred bucks to rent shoddy versions of games from almost two decades ago is, frankly, not good enough. But if you have a stable internet connection and money to burn, you crack on. In the meantime, we'd highly recommend playing these games natively and spending a lot less money for the pleasure, over on Playstation or Xbox. If you're in the market for much cheaper games that you can actually keep, be sure to check out our bumper guide to the best Switch RPG games instead.