Kirby fans rejoice, the much-adored gelatinous goofball is back with a brand new game, and this one looks really promising. As the first 3D adventure in the series, Kirby and the Forgotten Land looks like a mash-up of Kirby and Super Mario Odyssey, and we're more excited than a Waddle Dee with a bandana.
Nintendo announced the game back in 2021, and though details are still a little bit slim, the official Nintendo Twitter account recently treated us to a few new trailers that give us a better grasp of Kirby's newest escapade. Breaking away from the regular 2D formula, Kirby is now free to explore in the third dimension and face new, challenging threats.
You don't have long to wait either, as Kirby is coming sooner than you might think. However, if you need something to play while you wait, check out our guide to the best Switch platformers to get a few jumps in before Kirby's new game arrives.
When is the Kirby and the Forgotten Land release date?
Nintendo revealed recently that Kirby and the Forgotten Land launches worldwide on March 25. That's not long to wait at all, and comes only a few weeks after the release of Triangle Strategy for Nintendo Switch.
Kirby's back for an unforgettable adventure! ⭐

Use the tough puff's powerful copy abilities to defeat formidable foes and rescue the Waddle Dees when #Kirby and the Forgotten Land soars to #NintendoSwitch on March 25, 2022.https://t.co/OiYqKfHQ4a pic.twitter.com/c2S8N8Zqhz

— Nintendo of America (@NintendoAmerica) January 12, 2022
Kirby and the Forgotten Land Kirby and the Forgotten Land Nintendo $59.99 Pre-order Network N earns affiliate commission from qualifying sales.
What is Kirby and the Forgotten Land?
From everything revealed so far, Kirby and the Forgotten Land looks to be a 3D platformer set in an unusual world, featuring a mix of nature and civilisation that still retains a lot of the cute elements the series is known for. Kirby must face off against a group of enemies called the Beast Pack, which includes the gigantic enemies Gorimondo and Tropic Woods.
You might save the Waddle Dees, but the Beast Pack won't go down without a fight! Face off against huge bosses and use #Kirby's copy abilities to take them down! pic.twitter.com/Kminaupivu

— Nintendo UK (@NintendoUK) January 12, 2022
Kirby has to explore new worlds to rescue the kidnapped Waddle Dees, using his powers to do so. Like previous games, Kirby can gain abilities by copying them from enemies, with Kirby and the Forgotten Land promising new exciting abilities just waiting to be discovered.
In #Kirby and the Forgotten Land, there are new copy abilities to discover! Blast those varmints as the Ranger or dig down deep with the Drill – the choice is yours! pic.twitter.com/mu2hHfVFAn

— Nintendo UK (@NintendoUK) January 12, 2022
Is there a Kirby and the Forgotten Land trailer?
You bet! As of the Nintendo Direct on February 10, we got an awesome trailer showcasing the wonderfully weird journey we can expect to be munching our way through in the coming months.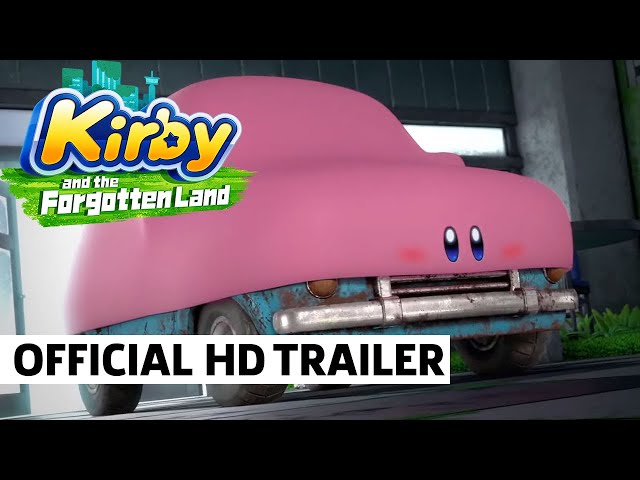 The trailer also introduces us to the brand new 'Mouthful Mode', which allows you to take on all new forms. Inhale a car to zoom around, a vending machine to attack with juice cans, a traffic cone which you can use to pierce pipes, a scissor-lift to reach new areas, and much more. Of course, Kirby inherits properties dependant on the object he inhales, allowing you to explore with exciting new moves, different from his usual copy abilities.
It also showcases how, as you rescue Waddle Dees, Waddle Dee Town continues to develop, giving you access to more resources – including a weapon shop, that allows you to evolve familiar copy abilities. These evolved abilities not only give Kirby a wider range of attacks, but also change his adorable appearance.
Does Kirby and the Forgotten Land have co-op?
Nintendo has confirmed that local co-op will appear in Kirby and the Forgotten Land, so you and a pal can work together to take down the Beast Pack. While the first player will control Kirby, friends will take control of Bandana Waddle Dee.
Need a helping hand? Grab a friend and take on the Beast Pack together in local co-op as #Kirby and the spear-wielding Bandana Waddle Dee! pic.twitter.com/GHnEJtGOVr

— Nintendo UK (@NintendoUK) January 12, 2022
Be sure to check back here for more information on Kirby and the Forgotten Land, as we'll update you with everything we learn before release. While you wait, be sure to check out our guide to the best Switch casual games and enjoy some downtime.