The heyday of the Wii was truly something. A DS in every backpack, and a Wii in every home, the Wii and Wii Sports were a cultural phenomenon that still holds a lot of brand identity nearly 15 years later. It seems Nintendo has finally realised that the masses want to waggle around a tennis bat as their favourite Mii again, so here we are, back on the courts over a decade later, reviewing Nintendo Switch Sports.
A spiritual successor and a sequel of sorts, Nintendo Switch Sports (which I really wish was just called Switch Sports) brings back the previous modes of tennis, bowling, and chambara (or sword fighting as it was known) from Wii Sports and Wii Sports Resort. But it also introduces a few new tricks, with volleyball, badminton, and football now on the menu.
The biggest omission here for me personally is golf, which was a staple in our household. Though Nintendo has promised that this will arrive in an update later in the year. It seems that Nintendo is treating Nintendo Switch Sports as a live-service title like Splatoon, and we already know that it will hold tournaments throughout the year with exclusive unlockable cosmetics. But therein lies the problem, I can't review the future of a game.
Full disclosure, while I've been playing Nintendo Switch Sports for a couple of weeks now, the online servers don't go live until tomorrow. Meaning, I've had no way to strenuously test online play, multiplayer modes like 4v4 football, or get to grips with the unlockable customisation features, as they're earned through online play. I,ve managed plenty of games of tennis, football, and the rest in my own home. But, I haven't uncovered much more than I could already say in my preview.
As such, our review today covers everything we can talk about so far, but omits a final score. I'll update it early next week with several hours of online play under my belt with my final impressions, as it feels disingenuous to score a game without experiencing such an essential part of the package. So for now, here's my experience with the title so far and its many different local multiplayer modes.
First up is volleyball, a slower-paced sport than most, and one that focuses a lot on timing. Here the motion controls don't feel quite as consequential, but instead, you're looking for the perfect time to jump, pass, or spike the ball. It's entertaining enough, and more of a game of patience than quick reactions. While I really wish we had button mapping for these sports, volleyball in particular felt like a title that could work just as well on a controller.
It encourages coordination and communication and playing it with the family got a bit heated on several occasions as we started blaming one another for failed spikes. Thanks to the weight of the ball and the analytical pace, volleyball is a great alternative and probably the best sport to start with for players new to series and motion controls.
Badminton is also great, with the motion controls definitely taking a front seat. This mode feels almost akin to ping pong from Wii Sports Resort and the level of control the Wii Motion Plus offered. Here, your movement with the Joy-Con is nearly mirrored on screen, and the floaty descent of the badminton gives you time to angle and properly assess your hits. It takes a minute to properly understand the controls, but once you find the knack, it's extremely satisfying.
Volleys get intense and it never feels outside of your control, even if the motion controls are occasionally a bit wobbly. The controller still always registers a swift movement with the intent to strike, so providing you don't throw your Joy-Con wide to one direction, this is a swift mode where the motion controls accentuate the gameplay by adding subtle directional feedback to your swipes.
Swordplay is now chambara, or just foam sword fighting where you must attack your opponent until they fall in the water. This is another sport where your Joy-Con very accurately mirrors your actions on screen, and here it's essential to learn how to block and strike properly, and when to attack your opponent. Just bashing away with your sword leaves you open to attacks, and a few good strikes mean you're in the water.
Instead, it feels like a duel focused on wits and patience, where both parties must pay attention to how the opponent is playing, and try to properly counter it. While all the sports look great (more on that later), chambara has by far the prettiest arena, with the action taking place on a podium above a pool, in what looks like a shopping centre with a little cafe. Until you see it in motion I don't think screenshots get across just how gorgeous this title is, and if I have to pick the standout arena this would be it.
If there's one game I think will be improved by online play, it's chambara, as the unpredictable nature of a human opponent will show the layers to this sport. I managed a few games during the online beta test many months ago and had a blast, as learning how my opponent was playing was half the battle. However, my brief online experience then is not indicative of the final product, and I can't use that to judge the game today.
Now, football is perhaps the mode I was most nervous about. Both because you can't pay me to play a game of Fifa (each to their own, sorry), and also because Mario Strikers is getting a new title just a few short months after Nintendo Switch Sports. So, smartly Nintendo has managed to create a football mode that's distinct and interesting enough to stand on its own and still be entertaining. I hate to just compare games to other games, but stick with me, Nintendo Switch Sports version of football almost feels a little bit like Rocket League without the cars.
Using both controllers, you run around the pitch to chase a large and very buoyant ball, taking aim very tactically and trying to strike it with precision. Your kicks can be fired in different directions with a swift movement of the controller, with a stark difference between an upwards kick and a sidewards kick and a bit of room for nuance in between. The large ball means there isn't much chance to just quickly pass between you, though if you do need to pass, one player can run ahead and call out with a button press that forces your little character to exclaim that they're free much like the badge system in Triforce Heroes.
Outside of returning classics, I think football impressed me the most because it isn't quite what I expected, but it works so well. Nintendo Switch Sports is carrying on the Wii Sports legacy, and that means that the game should always be more approachable than complicated. Nintendo clearly wants families playing this, and the version of football we have here isn't quite as turbocharged as Mario Strikers, but instead, is just a really fun and easy to grasp distillation of the sport that still leaves a lot of room for some heated moments, depending on how accurate your kicks are.
The final two sports are the returning champions of bowling and tennis, both of which prove exactly why they return in moments. Bowling looks and feels great, remaining as satisfying as ever in classic mode with a few new twists. In local multiplayer, there's now the option to play simultaneously as well as taking it in turns, so as long as you don't swing your controller into your brother's leg, this is a great option for impatient players. There are several different challenge modes to explore as well, and when playing the online test a few weeks ago, I even got to try out the 64 player knockout mode. Safe to say, a bowling battle royale is an absolute blast.
There's also a single-player mode that places obstacles on the track, testing both your bowling skills and the motion controls. It feels incredibly natural to add a curve to the ball, and the controls to shift your player and your angle are lifted straight from the Wii. Everything feels exactly how it should, and I can't wait to truly get to grips with it and battle it out online against some friends.
Personally, when I think of Wii Sports, I think of tennis. It's the quintessential showcase for both the Wii and Wii Sports and is so easy to understand and play that whole families can quickly compete and get angrier than Novak Djokovic at Australian customs. Nintendo Switch Sports once again feels closer to the enhanced precision of Wii Sports Resort, with your controller and swing having a really satisfying influence on your shots. Understanding the timings and the sort of strikes needed is so intuitive and immensely satisfying, and simply waggling the controller won't get you very far.
Thanks to the quick nature of tennis, as well as the accurate motion controls, this feels like the best sport out of the box, though it's much the same as it was back on the Wii. It's incredibly fun to master playing doubles, using both of the characters to smash past your opponent and just sneak the tennis ball back within inches of the line. I look forward to testing more of this online, as providing the online experience is smooth, I can see myself losing hours to this mode.
As mentioned, Nintendo will add golf in an update later on in the year and that honestly feels like a big omission, but I'm grateful it's on the way. Plus, the idea of Nintendo Switch Sports getting the same sort of regular updates as something like Splatoon is a great idea. Nintendo confirmed that there will be regular online tournaments in which players can unlock new customisation features, and they intend to support this game for the foreseeable future.
In a nice touch, if you don't have Nintendo Switch Online you can still play offline against NPCs to earn the same items as the players in online tournaments can earn. Clearly, the focus is on multiplayer and online, but it's nice to know that nobody gets left behind. While I didn't try out the online during our preview session and online servers weren't available during the review period, I did take part in the Nintendo Switch Sports online beta test several weeks ago and came away very impressed with the results.
However, I again want to reiterate the caveat that my current experience with online modes comes from a closed beta with a controlled number of participants. I'll update this review properly next week with a full breakdown of the online modes and performance. Optimistically though, Nintendo's recent server changes that produce such great online modes in titles like Mario Party Superstars are clearly going to be getting a proper workout here, and I hope it all holds up.
I just want to quickly touch on performance, as while I've mentioned the graphics (which seem to be using impressive AMD upscaling technology) it also runs like a dream in every single mode. It doesn't matter how many players or how much is happening, the game runs buttery smooth. And in my brief experience of the online beta test, I again only have good things to say. Certainly, when it's all properly live I'd like to test a 4v4 football match to really stress test things, but in terms of both the graphics and the dream of a stable framerate, it's all looking good so far.
There seems to be some furore online about the lack of Mii in Nintendo Switch Sports, so let me reiterate, there's an option to use your Mii, so don't worry. This is just alongside the new avatars, and even when using a Mii as your head, you still unlock and can equip the huge library of customisation options just waiting to be found by digging into the game's many modes. Basically, with so many different ways to play each game, things to unlock, and the promise of more down the line, this is going to be a really beefy package.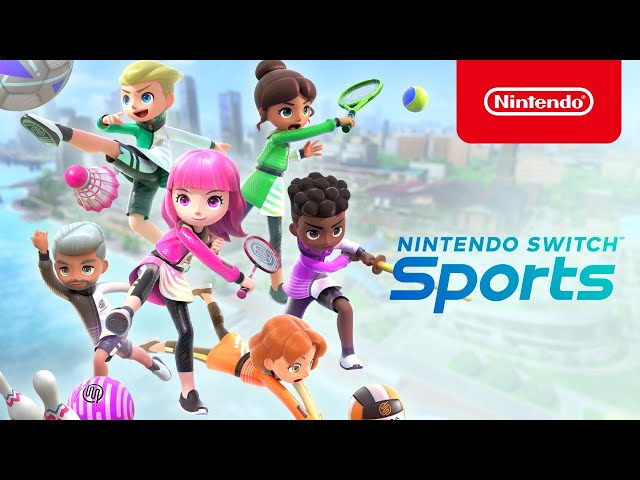 I was cautiously optimistic about Nintendo Switch Sports, as I wondered how the new sports would separate themselves, and honestly, if Nintendo could ever recapture the pure lightning in a bottle magic that was the original Wii Sports, so I'm very happy to admit that I came away very impressed. The spirit of Wii Sports is alive and well, but Nintendo Switch Sports could usurp it, so we can't wait to really dig into the online modes and come back with a definitive verdict.
While I still need to get to grips with the different online modes, uncover just what customisation features are waiting to be discovered, and see how fun it is playing with friends, the base here is fantastic. I wish button mapping was an option though, as it feels like Nintendo made strides recently to push for accessibility options where possible. Right now though, Nintendo Switch Sports has been given all the care and attention it deserves, and is a shining example of magic a AAA Nintendo title can achieve, so hopefully, the online experience impresses us as much.
Nintendo Switch Sports review – final thoughts
Hello folks, we're back after a long weekend of smashing opponents online in Nintendo Switch Sports, having put in plenty of time with every single different activity. Online definitely livened things up somewhat, but it also comes with its own issues.
Firstly, I can happily say that my online experience was rock solid and silky smooth. No disconnections, no long waits for matches, no slow down, and controls continue to feel responsive no matter which sports you play. Nintendo's switch to more effective servers this last year has clearly been a fruitful one, and I look forward to more games from Nintendo continuing this trend of consistently great online gameplay.
So, what does online mean for the sports on offer? Well, it makes fiercely competitive titles like tennis, badminton, and chambara a lot more fun. Badminton especially has really shone through, as the intuitive feel of moving the controller around, the ability to aim and arc your shots, and the quick nature of the sport, serve it so well. When a volley ends up running long as you're down to the final points, it's incredible stuff.
Bowling also works great online, with the 16-player knockout mode being as addictive as I thought. I've been glued to it and moved up into the pro ranks, where eventually obstacles are placed on the lanes to make things even tougher. I still wish the controls were a tiny bit more responsive, and I really wish we still had 100 pin bowling, but this is a blast online.
Football also takes on a new life, both good and bad. As predicted, tactically running around opponents, aiming your kicks, and satisfyingly scoring a goal after sneaking down the other half of the pitch is fantastic. But working alongside other people can quickly get frustrating. The only way to communicate is to ask people to pass to you, so skill is often left by the wayside. Though, hopefully, as you move up the ranks, this becomes less of an issue.
One sport that isn't helped online is volleyball. It's a slow, methodical, and finicky interpretation of the sport in the first place, and the game struggles to communicate to you what the exact right timing is. So, playing online with other people is often a mess. Most players struggle with the timings needed to perform a proper block or pass, and the rest of the time you stand idly waiting for the ball to come towards you. It's just dull, and the fact it's here over classic sports like golf, archery, or even something similar like basketball is a weird choice.
My main issue with online play is how difficult it is to play with friends. Nintendo introduced an invite feature recently where you can simply see people in your friends list playing a game, or even online playing something else, and you can invite them to come and play with you. You can even use this on Nintendo Switch Online titles like Mario Golf 64, so I have no idea why I can't just invite my pals to play. Instead, you need to host or join a room, send out a passcode, and wait for everyone else to find you and join manually.
Finally, cosmetics. Considering how important local multiplayer was to the original Wii Sports, I do think it's a bit rubbish that these items can only be earned through online play. There's an option for people without Nintendo Switch Online, as when you head over to global play, the title loads up 'trial mode', where offline players can battle it out against bots, and earn a measly two items a week from the fourteen that are generally available.
There are currently two sets of cosmetics available, a standard and a cute set, each with twelve items first, and then when all the items in one set are unlocked, two additional bonus items become available. Offline players have absolutely no hope of grabbing these, so I hope things get opened up a bit more. It's a bit shady to lock items behind the online play in a retail purchase, so it's disappointing to see that even when Nintendo tries to fix a situation, they do so in a frustrating way. Also, while Nintendo gave us the option to use Miis, they can't equip many of the cosmetic items you unlock. I really wish I could give my Mii a hat or some glasses, but it's just not possible.
The cultural impact of Wii Sports can't be overstated, and won't be recreated. It was free with every single Wii, a roughly (at the time) £150 console. Even at a discounted price, I'm certain that Switch Sports can only hope to recreate a slither of those glory days, even with the best sports and features behind it. After a weekend of substantial online play I both have hope for the future when modes like golf are added, and concerns about the longevity of the game for offline players – or anyone likely to get sick of the current selection.
It's clear that Nintendo cut additional sports and modes to focus development on bettering the online performance, and while there's a vague roadmap ahead of us, I think Nintendo Switch Sports might have been better served with a more complete package released later in the year. It's huge fun with the right people, playing online with friends or strangers who pose a challenge can start a fierce battle of skill and wits that really reignites the spirit of the old Wii Sports.
It's also incredibly polished, with visuals and performance both providing stellar results at every opportunity. I hope we're playing Switch Sports for years to come, but it's up to Nintendo to ensure this game gets the content and attention it deserves.
Nintendo Switch Sports review
Nintendo Switch Sports scores a few points for successfully revitalising the heart of the original Wii Sports, with impressively gorgeous graphics and wonderful online performance. I only hope it can keep up pressure in the second half, by eventually adding enough content and sports to make it feel like a full package.