Following on from the Bike Unchained series out of Red Bull, Offroad Unchained swaps out the scramblers for rally cars, jeeps, and all manner of mud-running vehicles up for the challenge. This isn't to say things are too different from the dirt bike series, especially in the racing sense, but the rally element aims to get you trading paint with your fellow racers as frequently as you change place.
So, if you've played previous Unchained titles, expect more of the same. In fact, I can save you a lot of reading time here, and tell you if you enjoyed them, and you like rally cars, then you will probably enjoy this. For everyone else, me included, it's a little trickier, and while the game certainly goes a long way to make itself easy to pick up, it might go a little too far.
Right out of the gate, the mechanics are not exactly what I was expecting going into a mobile racing title, especially one supposedly centred around rallying. Having played a good deal, perhaps an embarrassing amount, of Warped Kart Racers recently, it was strange to return to a portrait-orientated racing title, having enjoyed the width of the Family Guy racer's landscape tracks.
Racing, to me at least, just feels more natural in widescreen, and while this didn't feel like a problem in the bike-orientated Unchained titles – due to their slender frames – it's more noticeable here. It's an especially peculiar decision in a rally racer, with the track only giving you just enough room for duelling car doors with one other driver, taking away some of the chaotic catharsis of ploughing into multiple opponents so vital to the genre.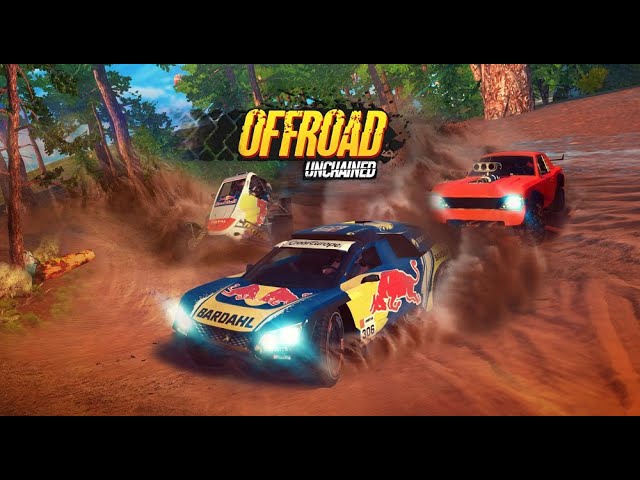 Still, the portrait aspect doesn't ruin the experience entirely, it's just one of the more confusing ideas found in Offroad Unchained's central mechanics. Unfortunately, it's not the only one though, and I also find myself struggling with the metaphorical scales when trying to balance my impression of the control scheme.
Starting with the positives, Unchained is certainly more approachable than most rally racers. With just a few flick of the finger controls, you learn all there is to know within a one-lap tutorial, including how to drift, how to boost, and how to dodge. The dodge mechanic is an interesting inclusion that we'll touch back on later, but for the most part, the gameplay makes sense, and gets you involved pretty quickly.
Unfortunately, for me, the cons weigh out a little heavier. My main issue is that drifting just doesn't feel that fun, it's far too easy to master, and the real challenge comes from manoeuvring various course obstacles. At this point, it feels that Offroad Unchained, much like Mario Kart Tour, plays much more like an endless runner title than it does a racing game, promoting speed over control.
The dodging, I admittedly don't really understand. The problem is, it just works out as being kind of annoying to have to dodge things every now and then, it might genuinely add an extra bit of risk for using your boost at a certain time, but that's the only time it doesn't feel like just a bit of an annoying gimmick, and one ripped needlessly ripped from the runner genre.
That lack of control factor feels at play too in the rallying, that is to say, it doesn't feel much like a rally game. Sure, you're off-road, and the trucks are big, and there's bumping, which is for sure what rally racing is by definition, but it just never feels like it. There's just a little too much hand-holding to ever test your skills, and even in online mode with the competitive racing format, you never feel in control enough to take the race by the cuff and put yourself ahead of the pack.
These gameplay issues are an even greater shame as there's a generous amount of content on offer, all of that well-designed with the faintest whiff of a narrative used to justify continuous racing, as well as some interesting customisation options for your offroader of choice. This slightly adds to the disappointment for myself, but those who enjoy the series will surely revel in the hours of available free-to-play goodness.
In terms of a piece of stellar marketing for a brand in a sport always eager for young new fans, Offroad Unchained does its job well, providing easily understood mechanics, a cast of characters that offer motorsport industry representation, and some variation in off-roading locations. Unfortunately, it doesn't quite do the same job of making an enthralling rally game, featuring gameplay that for the most part feels like Mario Kart Tour in trucks, with little scope for technicality.
While there's fun to be had in blasting around the desert bowls and mountain reserves, this is a rally racer more fit for endless runner fans than those looking to trade some paint off-road. Fans of the series might enjoy the rally element, but it ultimately doesn't live up to the chaos the genre is known for.