Nintendo has announced Mario Strikers Battle League for the Nintendo Switch. It's the third game in the Mario Strikers series, and the first new Strikers game in 15 years. It features an eight-player local co-op mode on one Nintendo Switch console, or up to 20 players can join the Strikers Club online mode.
Announced during the February Nintendo Direct, the Mario Strikers Battle League release date (known as Mario Strikers Battle League Football in Europe) is set similarly to other Mario sports titles, filling a gap in early summer. The game features some light RPG elements, with different equipable gear that affects characters' stats, and a big new special move called a Hyper Strike that can get you two goals instead of one.
Mario Strikers first started on the GameCube with Super Mario Strikers, which was reasonably well-received. After that came Mario Strikers Charged for the Wii, which was similarly well-received. Let's hope that Battle League Football is at least as good as those two. We've also got our Mario Golf: Super Rush review if you need some Mario sport fun ASAP.
When is the Mario Strikers Battle League release date?
Nintendo announced in their latest Direct that the Mario Strikers Battle League release date is set for June 10, 2022. The game is known as Mario Strikers Battle League Football in Europe (don't worry they're not releasing two games!).
Mario Strikers Battle League Mario Strikers Battle League Nintendo $59.99 Network N earns affiliate commission from qualifying sales.
Is there a Mario Strikers Battle League trailer?
There sure is. Shown in the February Nintendo Direct, the reveal trailer features cinematics and gameplay, and you can watch it below if you're interested.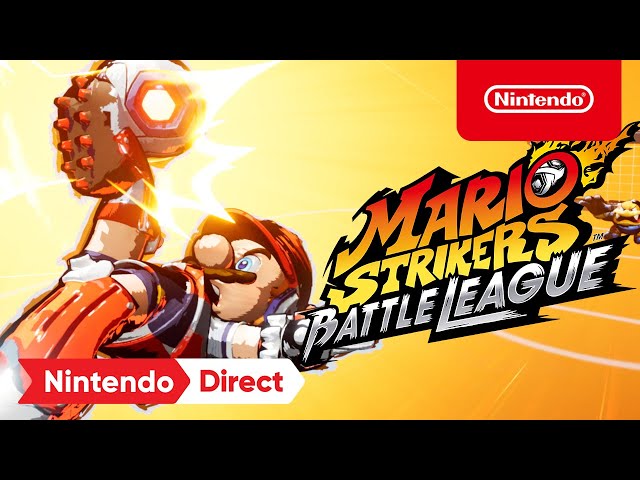 What's the gameplay like in Mario Strikers Battle League?
Well, it's football (soccer, not the other football), but not like you know it. As you'd expect, there's dribbling, passing to teammates, tackling the opposition, and shooting. But there are a few twists.
Like Mario Kart, there are items you can use like shells and banana peels. There's also a special move you can activate by grabbing an orb that appears on the pitch, which lets you unleash Hyper Strike, a special shot that can earn you two goals in one.
You can also customise your team with gear, changing stats like speed, strength, and pass accuracy. Up to eight players – four players on each team – can play on one console, while Strikers Club mode lets 20 players compete together to make their club the best.
That's everything, then. We have all the the Nintendo Direct February 2022 news you need, like the Xenoblade Chronicles 3 release date, the Fire Emblem Warriors: Three Hopes release date, as well as a guide to some upcoming Switch games, if you're wondering what's in store for the rest of the year.