Welcome to this week's Top Mobile Games of the Week, presented by ROG Phone 6. This week, we're looking at some of the best relaxing Android games, including relaxing city-planner Townscaper, wholesome idle clicker Cats & Soup, and end-of-the-world simulator Idle Apocalypse.
Gone are the days when PC gamers had all the fun of those high refresh rates and dazzlingly high quality screens. The ROG Phone 6 clocks in at a maximum refresh rate of 165Hz, making it one of the fastest and sharpest displays available. Here's how this unique display can make these three games even better.
Townscaper
Townscaper is a real work of art, a virtual toy that sits in the palm of your hand. No set goal, no complex gameplay to learn, just gentle motions and tactical responses that allow you to create something beautiful.
Build a colourful town block-by-block, and watch as the game turns each little cube into a quaint village. You'll be able to add stairs, bridges, arches, and houses, filling your town with greenery or simply building upwards. Soon enough, larger structures will emerge, furnishing your town with cathedrals, cities, or intricate networks of canals.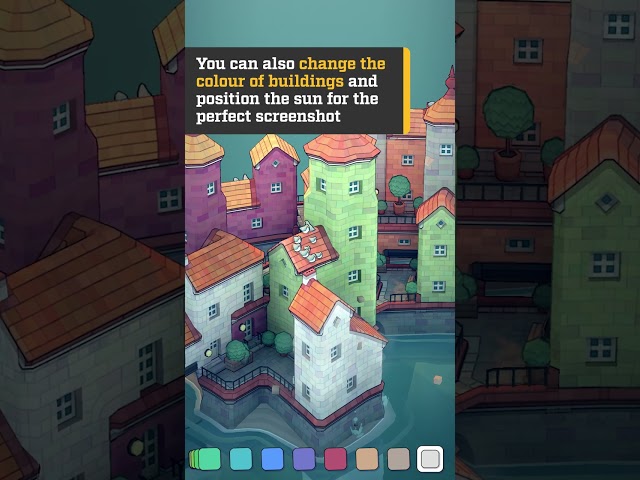 Townscaper is a game all about the beauty and fluidity of movements and creation. A stuttering screen or an unresponsive touch-rate just wouldn't do it justice, so the ROG Phone 6 really comes into its own here. Every delicate sweep of a finger will be registered instantly thanks to the game supporting 165hz displays, and the dazzling screen helps those colourful buildings come to life. With a game like Townscaper, it might be the difference between watching a film on TV and then seeing it at the cinema.
Cats & Soup
Who among us doesn't love a game with cats in it? Well, in Cats & Soup they're the main event. The game very much does what it says on the tin, and provides an endless stream of wholesome goodness and adorable kitties, right in the palm of your hand.
Each cat has been lovingly rendered in a hand-drawn art-style with satisfying chopping, cooking, and blending sounds as they work hard to make lovely bowls of soup. Each bowl rewards you with more and more in-game currency which you can then spend on things like costumes and treats for your feline friends.
The nature of Cats & Soup is such that the ROG Phone 6's crystal clear screen can make it all a much smoother experience. Each cooking station can be upgraded thousands of times, and more can be built as you expand your empire of cats. The scope of your operation will continue to get bigger, so you want to be able to keep a close eye on all your little chefs as they toil away. Cats & Soup also supports high refresh rates, meaning you'll be able to react and respond to each individual event, while also zooming out and watching the big picture all come together.
Idle Apocalypse
The end of the world has never been so much fun, as Idle Apocalypse provides a hilarious, ridiculous, and terrifying take on Earth's final days. You'll be able to run a cult, summon demons, control all manner of beasts, and build tall fortresses for protection, all while the app runs in the background.
Tap away and craft your tower, collecting materials and building various functional rooms such as mines, kitchens, and factories. You'll be able to control multiple monsters to do your evil bidding and upgrade them along the way. What's more, every time you put the game down, you'll still be earning loot for the next time you pick it up.
A speedy, clear, and responsive screen is perfect for idle games like this one, as when you log back in after a few hours you'll be overwhelmed with various loot drops and stacks of wealth to pick up. It can all look a bit of a mess on standard screens, but the ASUS ROG Phone 6's 165Hz display is clear enough to keep you focused, enabling you to see each resource at the split-second it's produced. Not to mention all the bright and brilliant colours of Idle Apocalypse will knock your socks off.
When playing mobile games, why not use a phone made for gamers – the ASUS ROG Phone 6 comes with a plethora of unique and exclusive features that make gaming on mobile better than ever.
Want your game to be featured in a future Mobile Must Plays article? Get in touch today to find out more about how you can get involved!