The highly anticipated character Goddess Elizabeth finally makes her way to hit mobile RPG The Seven Deadly Sins: Grand Cross. Her fashionably late arrival (in the western world, at least) comes as a part of the Liones Festival event in the latest update, which went live November 10. Luckily, we've got the lowdown and everything you need to know about Goddess Elizabeth and the latest event.
SSR [Holy Warrior] Goddess Elizabeth has previously released to great acclaim and overwhelming popularity in the Korean and Japanese versions of the game. This is likely due to her skills, which include resurrecting allied heroes and creating a shield for herself and her allies, which negates many attacks.
The powerful defensive Goddess will be available with SSR "Virtual Body Doubles" Lostvayne Meliodas via the Liones Festival Draw. Additionally, players will be able to unlock new character SSR [Knighthood of Scraps Disposal] Captain Hawk and five other characters just by playing the story missions. There is also a bingo event and Bartra's Birthday Quest for time-limited celebration shenanigans. The full information about all of these events can be found just below.
Here is the full list of characters and events appearing in the update:
New Character: SSR [Knighthood of Scraps Disposal] Captain Hawk – Players can earn up to six characters just by playing the game. During the event period, increases all stats of the hero by 50% (except for PvP) so players can easily clear the story missions.
Bartra's Birthday Quest – Experience the limited-time quest, which includes an original story and rewards to collect upon completion.
Happy Bartra Day! Bingo Event – A new limited-time Bingo Board, where rewards such as [Knighthood of Scraps Disposal] Captain Hawk and its costume is now available for players to complete.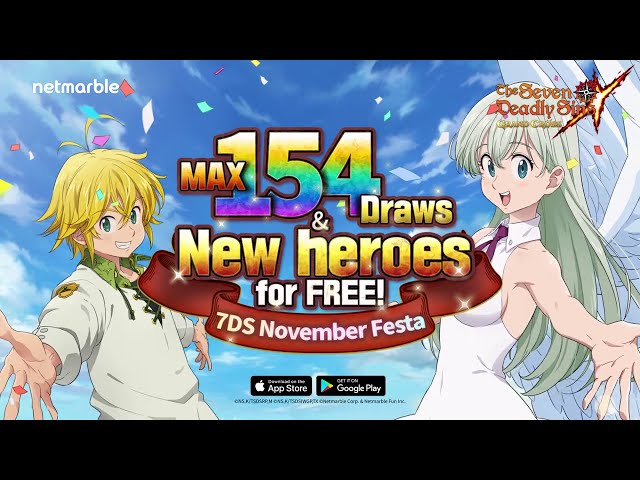 Event Death Match Lamek – An all-new quest is available that allows players to collect Lamek Skins that can be exchanged for SSR [Knighthood of Scraps Disposal] Captain Hawk and Tavern Furniture, and other valuable items. Players can participate three times a day to earn rewards.
Black Friday Selection Bundles – total 3 bundles on sale and each one has 3 slots that players can pick things for each slot and customise their own bundle.
If you like – or like the sound of – The Seven Deadly Sins: Grand Cross, why not try out some of the best mobile RPGs? We've carefully curated this selection, so you're bound to enjoy them.