Netmarble is bringing its incredibly popular Seven Knights series over to the Nintendo Switch next month with Seven Knights: Time Wanderer. Unlike Seven Knights Mobile, Time Wanderer features an original story that focuses on Vanessa, the eight member of the Seven Knights. We had the chance to check out the game ahead of its November 5 release date to see what it can bring to Nintendo's platform.
In this turn-based RPG, Time Wanderer tells the story of Vanessa as she journeys through time using her sentient hourglass known as Sandy. Vanessa and Sandy are joined by characters from the mobile game as they attempt to make their way back home. The game is structured around eight acts, each taking place in a different part of time and space.
There are 15 heroes in the game that you can add to your party. You can have up to five heroes join your party at any given time, and you're able to swap out any of these heroes in the Room of Sand hub world. The hub world allows you to upgrade your heroes, set a unique formation for combat, and equip your heroes with any weapons and armour you've found on your journey.
The combat also differs from the mobile game, opting for a real-time turn-based system. During combat, a gauge on the left side of the screen will run its course. You have to buffer in your attacks before the timer runs out, otherwise you forfeit your turn and will have to take damage from your opponent. This might not sound too difficult on paper, but when you have a party filled with characters, knowing exactly what attacks to buffer in during this short period can get tense.
After watching some of the story unfold in Time Wanderer, it became abundantly clear this isn't a standard mobile to Switch port. Featuring voice-overs for every line of dialogue, no gacha mechanics, and a story with a defined ending, this is a very different game from Seven Knights Mobile. As a result, Time Wanderer is a premium title and is priced as such. Each hero has their own set of costumes that you can purchase with real money, but this is the only form of DLC available in the game.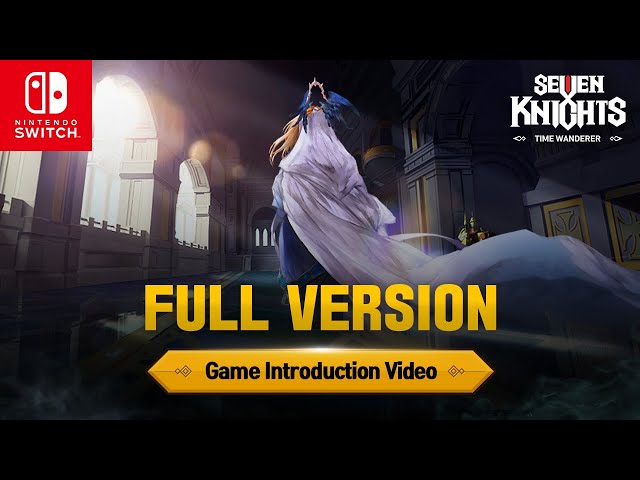 Netmarble has spent a large amount of time focusing on the game's lore, giving each of the heroes their own unique backstory to explore. On your journey you'll find special items known as Ego Stones. You can bring these stones back to the Egonyx, allowing you to travel back in time to unveil the backstory of one of your heroes. As Vanessa, you have the opportunity to talk to the past versions of your party members, rewarding you with items while also gaining the opportunity to learn about your heroes.
Netmarble chose to bring the Seven Knights series over to the Switch due to its familiarity with mobile gaming. "We've always wanted to explore expanding, but we are a mobile game company first," says Chastity Irizarry, the PR representative from Netmarble. "The Nintendo Switch is a good fit for us." When asked about the possibility of Time Wanderer making its way to other platforms, Irizarry had this to say: "I think anything is possible, especially with Netmarble. But right now, this is our first foray into console gaming. You'll have to wait and see."
Given the scope of this premium title, it's not surprising to hear that Time Wanderer will not feature any crossover with the mobile game. Though Seven Knights Mobile will continue to receive regular updates, Time Wanderer is a standalone adventure with a complete story. "We want players to have all the content readily available so they can explore everything after they've invested in the game."
Fans of the Seven Knights series won't have to wait long as Time Wanderer will launch on the Nintendo Switch eShop on November 5. If you're looking for a unique turn-based RPG, Time Wanderer could very well be the next game you pick up.