May is looking stacked for fans of Square Enix's mobile titles as a range of events and new content is coming to Final Fantasy Brave Exvius, Dissidia Final Fantasy Opera Omnia, and more. This also includes the first ever in-person event for one of Square Enix's global titles.
Both Final Fantasy Brave Exvius and Dissidia Final Fantasy Opera Omnia are bringing in content from the recent remaster of Crisis Core. Summon Zack Fair and his mentor Angeal Hewley as neo vision units from now until May 17 to add them to your roster. There's also an accompanying daily free ten summon campaign running from now until May 24 that can help you bag the featured characters for your collection.
You can also get Zack and Aerith's weapons and costumes in Dissidia Final Fantasy Opera Omnia between now and May 11. Quina from Final Fantasy IX joins the playable character roster this month too, alongside her featured weapon.
If you're a fan of War of the Visions Final Fantasy Brave Exvius (WOTV FFBE) and you're based in LA, it's time to get hyped. The development team are heading over to Los Angeles for the first ever WOTV FFBE Global version in-person event on June 25. You've only got until tomorrow to register your place, so make sure to grab your ticket now on the official website.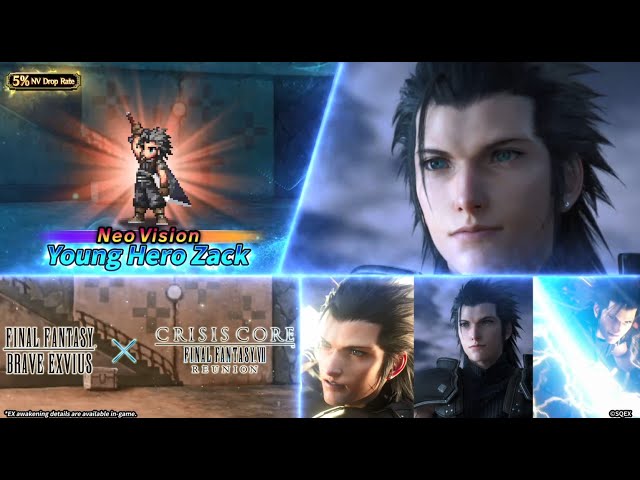 The Dragon Quest franchise is getting some love too as the True Dragon Quest IV event continues in Dragon Quest Tact. From now until June 4, you can challenge Aamon in a high-difficulty boss battle to earn exclusive S-rank weapons.
That's everything you need to know about the Square Enix mobile game updates for May. We've got plenty more Square content for you to check out, like our Crisis Core: Final Fantasy VII Reunion review and our Final Fantasy Pixel Remasters review.