Legendary Taiwanese vigilante Liao Tianding is taking the action on the go, as the award-winning, side-scrolling beat 'em up, The Legend of Tianding, heads to iOS. That's right – pretty soon you'll be able to fight for justice in the streets of Taipei and experience the riveting adventures of the iconic folk hero, any time, any place.
Having seen massive success and praise since its release on PC, Playstation, Xbox, and Switch, this hyper-intense, action-packed title has snagged numerous awards, including Best Narration from the 2022 Taipei Game Show and Best Game Design from the Valencia Indie Summit 2022. The Legend of Tianding pre-orders are now open for iOS, at a price of $6.99 USD / £5.99 GBP.
If you pre-order now, you've still got a little while to hone your skills in tanto, waist sash, and fast-paced kung fu combat before you dive into early 20th century Taipei, as the Legend of Tianding release date is not quite here yet. However, we're sure this beat 'em-up battling bonanza will certainly be worth the wait.
When's the iOS The Legend of Tianding release date?
Originally hitting PC, Playstation, Xbox, and Nintendo Switch in 2021, The Legend of Tianding is now set to smash its way onto iOS on March 2, 2023. You can pre-order it now through the Apple App Store to prepare for that awesome, action-packed goodness ahead of time.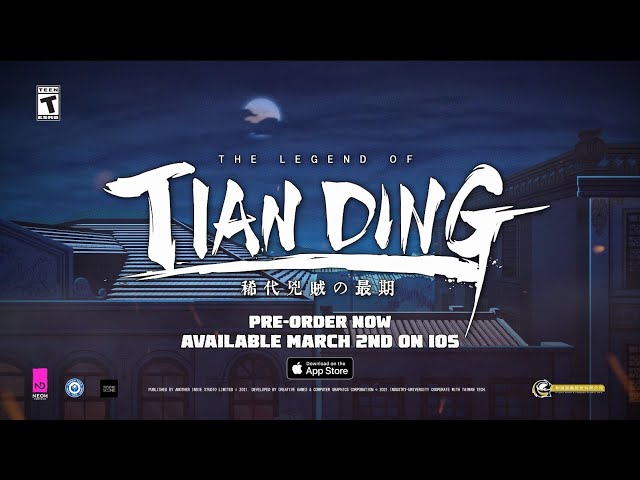 What's The Legend of Tianding gameplay like?
Evolving around finely-tuned, technical combat, The Legend of Tianding sees you take control of the legendary Taiwanese vigilante, Liao Tianding, as he fights for justice in the streets of early 20th-century Taipei, robbing the rich to feed the poor as he evades capture by the Colonial Japanese authorities occupying the city.
Steal weapons from your enemies, master powerful aerial combos, equip handy talismans, and use grappling hooks as you zip around the gorgeous, stylistic battlefields, based on the Dadaocheng area of early 1900s Taipei city. Along your adventure, you can use touch-screen controls to kick colonialist butt, taking on powerful foes and impressive bosses with a range of dynamic abilities and brutal attacks.
Please note that to experience the enhanced mobile performance running at 120 frames per second of The Legend of Tianding, Neon Doctrine suggests that the minimum required device is the iPhone 13 Pro.
That's all we've got on The Legend of Tianding's release date and pre-orders for iOS. If you're looking for more fightin' fun, be sure to check out our lists of the best Switch fighting games and the best ninja games on mobile and Switch.