The one-man studio at Greenboy Games has launched its latest Game Boy title, Where is my body? after a successful Kickstarter campaign. In this 8-bit point-and-click adventure game, players are tasked with finding a missing body. The developers wanted to bring a genre of game not typically seen on the Game Boy.
Where is my body? is broken down into two chapters: The Lab and The City. As a disembodied floating hand, you must solve a series of puzzles and mysteries to be reunited with your body. Greenboy Games was inspired by classic adventure games like Lucasfilm Games' Maniac Mansion.
Greenboy Games specialises in creating games for Nintendo's first portable device, stating that its mission is to "keep alive the origin of portable video games." This isn't the developer's first attempt at creating Game Boy games, with titles like Lunar Journey, Leo Legend, Submarine 9, and Micro Doctor successfully shipped around the world. Greenboy Games prides itself on selling these games in physical cartridge form, rather than as a ROM which would be easier to distribute.
The Kickstarter project raised €24,231, smashing its initial goal of just €4,000. By reaching the €15,000 stretch goal, backers will receive a cardboard box that will fit perfectly on any Game Boy fan's shelf.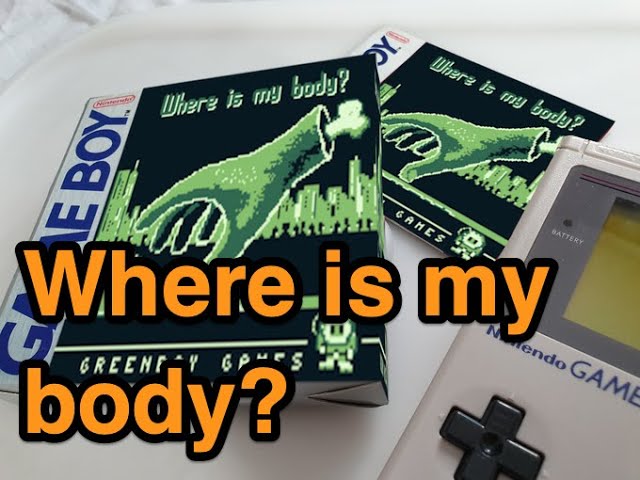 You can pick up a copy of Where is my body? for €49/£44.50/$57.50 at the developer's website. The game comes in two variants, Western and a limited Japanese edition. Where is my body? is compatible with the Game Boy, Game Boy Colour, and Game Boy Advance, allowing you to play this adventure game on any of your favourite handhelds.
Looking for something a little bit more modern? We've got a list of the best mobile RPGs that should scratch that adventure game itch. On the plus side, you won't have to pull out your Game Boy just to play these games.