This year's Whitethorn Games winter showcase has delivered plenty of reveals, including new games, release dates, and other exciting snippets. The publisher is highly regarded for its lovely titles, such as Calico, Lake, and Wytchwood, and is set to add some more adorable games to its catalogue in the coming months. That's the sort of news to really warm you up as we wait for Spring.
The Whitethorn Games winter showcase revealed three exciting titles, giving us plenty to look forward to. First up is the cooking adventure Magical Delicacy for PC and Xbox, coming to Gamepass on day one, teased as a sort of Cooking Mama-vania with food preparation and exploration gameplay. Then there's the mobile game SkateFish, another wild crossover that tasks you with pulling off killer tricks to impress the local aquatic life. Last but not least is Kernal Hearts from Ephemera Games. This last one has a bit less detail at the minute, and we're not sure what platform it's coming to, but the cryptic message "sign up to slay God" on the official Kernal Hearts site has our minds racing.
There's good news for puzzle fans too, with a Switch release window of 2023 set for Japanese alphabet-inspired puzzler Kana Quest. Better still, the release date trailer confirms there's a dog to pet, so I will be picking this one up for sure. The showcase also gave us new trailers for fellow Nintendo Switch 2023 arrivals, including plant-filled puzzler Botany Manor, Castaway-inspired god sim Mythwrecked: Ambrosia Island, and a voice cast reveal for the upcoming in-house developed epic RPG Whalefall. What a lucky lot we are.
Before rounding out the Whitethorn Games winter showcase, Usability and Accessibility Specialist Britt Dye shared a short update on the work the publisher has been doing to make its games playable for all. With plenty of accessibility features planned for the upcoming titles, we're really pleased to see Whitethorn doing its best to shine a light on inclusivity in gaming.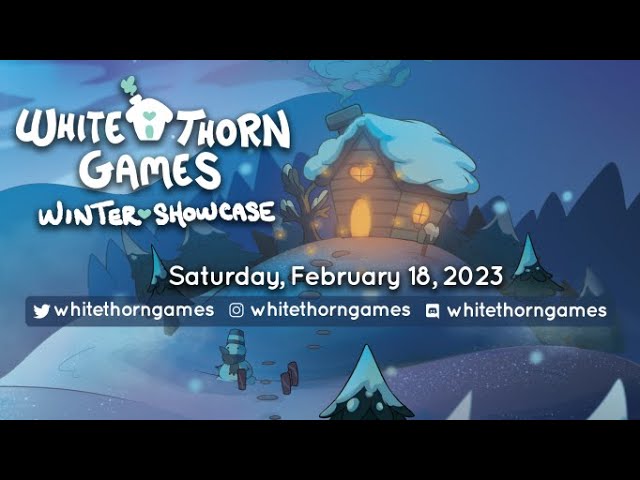 Finally, Whitethorn Games used the last few moments of its presentation to share some recent developments following an increasingly busy few months for gaming news. That includes the recent arrival of Calico Pawsome Edition on Switch, providing even more lovely kitty friends, as well as a reminder of the Princess Farmer arrival on Android and iOS, plus brain-boggling visual novel RE:CALL making its way onto the Nintendo Switch eShop.
With that, you're up to date on all the big reveals from the Whitethorn Games winter showcase. For more wholesome titles, check out our picks for the best life games and the best farm games.