During the latest Animal Crossing: New Horizons Direct, Nintendo announced plenty of new features, both brand new and returning, to the adorable game. Almost 18 months after release, content has slowed down significantly for Animal Crossing: New Horizons, so many fans were hoping for a sizable update to draw them back in.
The original reveal trailer showed a player exploring the museum, but a new icon was visible. This had the silhouette of Brewster, the coffee-loving pigeon, a long-requested addition that was present in previous games. So it seemed Brewster would be setting up shop inside the museum, and in a neat touch, the Direct was on October 15, which happens to be Brewster's birthday.
The presentation lasted roughly 20 minutes, with plenty of new information on Animal Crossing: New Horizons, with new content expected to arrive from November. Hopefully, this isn't the end of the additional content, as the title has sold over 30 million copies. That's a lot of people just waiting to dive back in.
All The latest details from the animal crossing new horizons direct:
BREWSTER
The coffee-loving bird is finally making his way to Animal Crossing: New Horizons, alongside his classic cafe The Roost. Now situated within the museum, you can run into island residents here. Then, use amiibo figures and cards to invite characters, some of which may even bring company. Multiple players can visit at the same time, so why not enjoy a cup of coffee together!
KAPP'N
That's right, you can once again take a boat tour with Kapp'n, getting serenaded with sea shanties. You can visit mysterious islands, some of which have different seasons or times of the day. Here you'll be able to encounter bugs, fish, and various items you wouldn't find at your time of year.
Harv's Island
Harv wants to set up a plaza for some shops! If you spend some bells, you can help some of the islands occasional visitors to set up a permanent shop. This includes Saharah, Redd, and more. Reece and Cyrus will also have new special customisation options available for you to use, adding some new details to existing furniture items. Katrina is also back, and ready to read you your fortune. Then, Harriet is on hand to update your style with some brand new customisation options for your hair.
Nook Inc
New group activities are available at the plaza, including group stretching. You can use motion controls and the Joy-Con to actually simulate exercising with your villagers! What a great way to start the day.
Island Ordinance
Returning from Animal Crossing: New Leaf, you can now change how your island operates. With the Early Bird ordinance, you can make shops open earlier and villagers wake up earlier, or if you're more of a night person you can use the Night Owl ordinance to keep everyone up late alongside you.
Home Services
More exterior options give you new ways to customise your home, while storage expansions have got even bigger! Pay to increase your storage from 2400 to 3200, 4000, and even 5000 item options.
Nook Miles
There are plenty of new things to unlock with nook miles! Now you can start cooking with DIY recipes. Tomatoes, wheat, sugar cane, potatoes, carrots, and more vegetables are available. So you can make a delicious meal like minestrone soup. You can place these dishes on your kitchen counters for everyone to see.
There are loads of other great new unlockable features, like a pro decorating license, which adds lighting and ceiling decor. There's also now an accent wall available to give one wall a different pattern.
Bridges and inclines have now been increased to ten each. There are also nine new fence types, including block, park, and log. Some of the new fencings can also be customised.
Pro Camera App
Try out the new handheld camera, where the view aligns with eye level. You can also now use tripod mode so you can be in the picture with your favourite villagers.
Custom Design Patterns+
You will now be able to use patterns for flooring and wallpaper, just like in previous Animal Crossing games. Meanwhile, more patterns can now be worn as clothes.
New customisation
Brand new hairstyles are coming, as well as the ones available from Harriet over at Harv's island. Also coming are 11 new reactions, so there are plenty more ways to interact with your friends and pose for photos.
Island life 101
A new app for your Nook Phone provides tips on how to make the most of your island. New players will hopefully find this a great resource when getting to grips with all the things Animal Crossing players can do!
Outdoor storage
A brand new shed is coming that connects to your home storage, so you won't get caught with your pockets full quite so easily. This can be placed anywhere on the island that is the most convenient for you. There is even a new automatic bell dispenser, making taking cash out that much simpler.
New Songs from KK
KK is back and has 12 new hits. KK Break, KK polka, and many more. You can even enjoy them on a music box, a newly added furniture item.
Gyroids
The funny little figures are finally back! When you find gyroid fragments you can plant and mature them, they will turn into a gyroid overnight. They make unique sounds with near endless combinations. They can even be customised to match any room's atmosphere.
Nooks Cranny
Newly added furniture types are on the way, including items for ceilings. There's even brand new furniture coming just in case you managed to collect everything.
Other additions
You can now walk through narrow spaces at your home
Invite villagers to your home, or visit theirs
Ladders can now be placed permanently in one spot
Animal Crossing New Horizons: Happy Home Paradise
That's right, Animal Crossing is getting a paid DLC bringing an absolutely huge amount of new features to the title. You can now take part in paradise planning, and design vacation homes for characters, helping to coordinate their dream lifestyles! The goal of paradise planning is to help characters acquire their dream vacation home by choosing the specific island, as well as the home to decorate.
You can work with recommended furniture, add lighting to create depth, and spice up walls with new wallpaper patterns. You can even decorate outside, by placing furniture, building fences, and planting trees. The exterior can also be modified, as well as the season and the time of day. The sky is the limit! It's not all for nothing though, as you can earn Poki to get rare furniture, that may be hard to find on your island. You can even design homes for two villagers sharing a space.
Nintendo revealed you can use animal crossing amiibo figures and cards to invite specific villagers and create their dream holiday home as well. You can even use these new techniques in your own islands after you've learned them. Pillars, partitions, soundscapes, and new lighting options are available once you have unlocked them. You can also invite your residents to the archipelago, and if you work hard enough, you can remodel your villager's homes on your own island.
The Animal Crossing: New Horizons – Happy Home Paradise paid DLC expansion also launches November 5 for the price of £22.49. However, it will also be available as part of the Nintendo Switch Online Expansion Pack which is launching soon. This adds new consoles and games to the Nintendo Switch Online service and will be available for the price of £34.99/€39.99 for 12 months, or purchase a family membership for £59.99/€69.99 for 12 months and share your membership with your loved ones.
There's even a brand new amiibo card series, these launch on November 5 and include 48 cards with new characters, some of which have never been available before.
When is the 2.0 update?
The latest, and last major free upgrade to Animal Crossing: New Horizons launches in just a few weeks, on November 5. On the same day, the Happy Home Paradise paid DLC will also become available for all owners of Animal Crossing: New Horizons.
Where to watch the Animal Crossing October Direct
You can watch the full Animal Crossing Direct right here.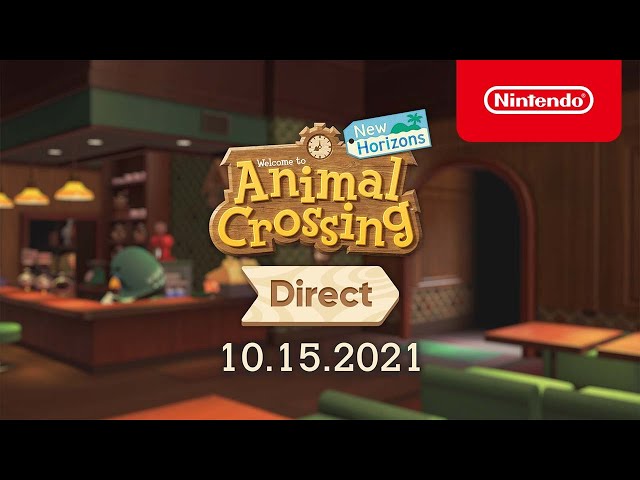 Meanwhile Switch owners, if you've picked up the lovely OLED Model, make sure to make the most of the device with our best Switch OLED games guide.