Winter has arrived in Call of Duty: Mobile with Nuketown Russia, a snow-covered version of the map made popular with the original Black Ops. It launches alongside a new featured event, 'Core Town', which provides you with weapon XP cards, Chill spray, a Hot Head sticker, and an Ink Spiller calling card. It's part of Call of Duty: Mobile's Season 13, which introduced a wealth of fresh content on December 22.
The whole event goes by the title Winter War, and delivers new maps, events, weapons, characters skins, and even another multiplayer mode to the mix. As usual, you can also expect to see a new battle pass boasting neat rewards aplenty. The fan-favourite map Raid received a holiday makeover first, featuring "an abundance of snowfall and holiday surprises", while the newly-introduced Nuketown Russia takes place in snowy Chernobyl.
Season 13's new multiplayer mode, Grind, plays like a combination of Kill Confirmed and Hardpoint, requiring you to collect dog tags from fallen players, then carry them to set locations dotted around the map. It's said to offer "tactical chaos at its finest." Season 13's themed events include the Holiday Bonanza and On the Brink.
Highlights of the latest Call of Duty: Mobile battle pass include 'Dark Vision' Ghost, 'Mountain Drab' Adler, 'Safehouse' Park, 'Siberia' Golem, 'Pack Warrior' GKS, 'Top Dog' BY15, and the 'Pack Leader' Man-O-War. Check out the video below for an action-packed overview of the Season 13 battle pass.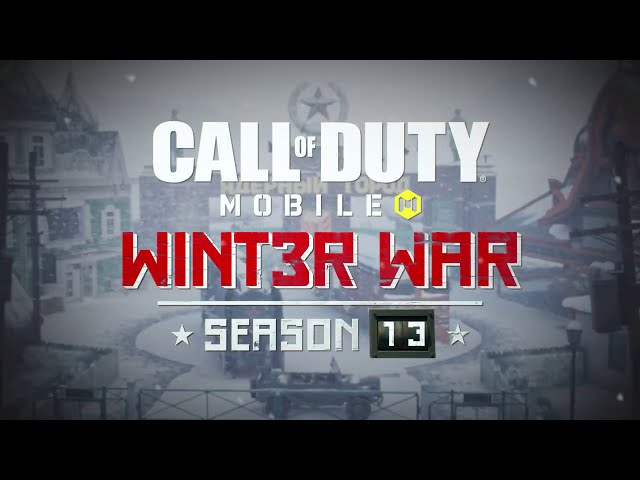 In terms of new weaponry, you'll have to complete tricky challenges in order to unlock the QXR submachine gun, which is "destined to shred your enemies." Another mythical weapon is also slated to arrive during Season 13 – a magma-powered PeaceKeeper MK2.
Here are the full Season 13 patch notes. And, if you want to catch up on what you've missed so far, here's our Call of Duty: Mobile update guide.