It's been twenty years since Digimon World launched on the PS1, and we still love nothing more than heading out with Agumon on a new adventure. While never having reached the heights of other early noughties franchises, Bandai Namco has consistently offered new ways of becoming a champion in the digital world thanks to some great Digimon games.
To help you find a new game to play, we've searched for all available Digimon games on mobile and Switch, so you can get a good hit of nostalgia while playing something new. From card games to narrative RPGs, there are some exciting experiences on offer, with even more in the pipeline. All you need to do is decide on your favourite Digimon before making the leap back into the digital dimension. Patamon is the right answer, by the way.
With that out of the way, it's time to get into some Di-Di-Di-Digmon games.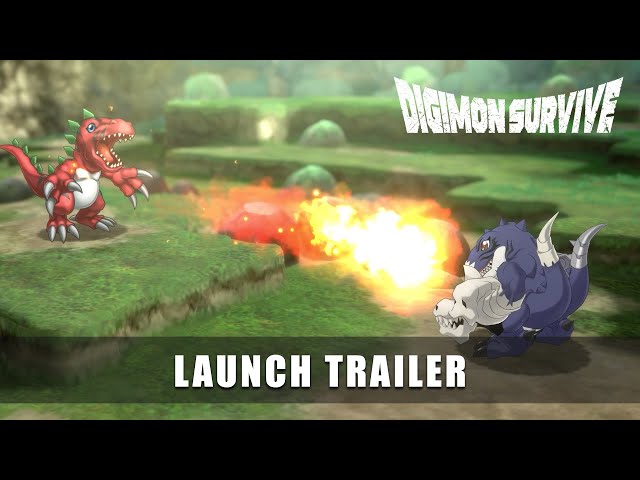 Digimon Survive – Switch
It took longer than we had hoped for it to arrive, but when it did, we couldn't put this one down (just check out our Digimon Survive review if you don't believe me). A more mature game than anything we've seen from the series before, Digimon Survive matches an incredible 50+ hour plus narrative with intense tactical battles to create a monster-orientated experience like no other we've played and no other on this list.
Digimon Story Cyber Sleuth: Complete Edition – Switch
One of the most comprehensive Digimon games in years, Cyber Sleuth is a vivid imagining of the franchise's digital world, with a captivating narrative, and countless 'mon mates. In this double package, you get both Cyber Sleuth games, with hours and hours of content between them, for the price of one. Despite what the title suggests, this isn't much of a detective game, but it is by far the best Digimon battler in years.
The complete edition for Switch includes all Cyber Sleuth DLC, too, so you can properly engage with the most recent iteration of the Digimon Story series without missing a beat. There's even a new game plus mode, where you can carry over your precious Digimon for a suped-up challenge having mastered the main game.
Digimon Story Cyber Sleuth: Complete Edition Digimon Story Cyber Sleuth: Complete Edition Nintendo $49.99 Play Now Network N earns affiliate commission from qualifying sales.
Digimon World: Next Order – Switch
Digimon World: Next Order originally came out on PS4 back in 2016, but now we finally get to play it on Nintendo Switch. The game tasks you with looking after and training two adorable (or a lil ugly if that's what you're into) digital monsters after you get transported to a mysterious world.
On your journey, you must invite the creatures you find back to the hub city to help the place return to its former glory, all while battling off evil and working out why exactly you got sucked into this digital plain. Here's our Digimon World: Next Order Switch review.
Digimon Card Game Tutorial App – mobile
Ok, so we're stretching things a little here, but there's no better way to learn your way around the Digimon TCG than the official app. Here you'll find tutorials, a practice battle mode, and a litany of tips and tricks, so your duelling skills are ready for gaming outside of the digital world.
There isn't much to do once you've completed all the tutorials, but if you have fun with the TCG, be sure to check out the links below for some physical decks.
Here are some upcoming Digimon games we're looking forward to as well.
Digimon: New Generation – mobile
A new era is coming in Digimon: New Generation, but that doesn't mean series favourites like Patamon, Agumon, and the gang won't be back in the fold. This all-encompassing Digimon game takes the format from Digimon ReArise and gives it a new lick of paint, with better graphics, an easier-to-use UI, and more ways to evolve your 'mons.
Not to miss out on a piece of the pie, Tencent is slowly rolling out the new mobile Digimon experience to try and emulate other mobile hits from popular franchises. New Generation has already seen a soft launch in Eastern markets, to some acclaim, marking a return to RPG battle basics with all the good stuff included. We hope to see it come to North America and Europe soon.
Those are all the available and upcoming Digimon games available on Switch or mobile. So, while you're waiting for Digimon: New Generation, why not jump into another online world with our guide to the best mobile RPGs?