Two of the things I love most in life are retro games and horror, so when you bring the two together, I just know that I'm in for a good time. The likes of Clocktower, System Shock 2, Resident Evil, and Alone in the Dark come to mind when I think about retro horror games. They all have their place in history, and their presence is still felt to this day through their influence on the generations that succeed them. However, I do wish I could experience pixelated horror a bit more often.
Don't get me wrong, I love the recent Resident Evil entries, The Evil Within, and Outlast, to name a few, but they don't offer that wave of nostalgia. Well, luckily for me, Teeebowah Games heard my prayer for not just a retro-style horror game, but one with the charm of Nintendo's Game Boy. Fishing Vacation is the first GB-styled horror game I've played, excluding The Simpsons Treehouse of Horror, which is arguably one of the best Game Boy games of all time.
As the name suggests, Fishing Vacation involves you standing at the end of a pier, where you throw out your line and wait for the fishies to bite. Well, you might just end up swimming with them instead, if you catch my drift. The story takes place in an idyllic mountain setting where you and your buddy are ready for the fishing trip of your lives after you get the keys to their uncle's cabin.
One small problem, their uncle is nowhere in sight and the landscape and ecology are different from what you remember (mind you, a lot can change in ten years). Still, that's no biggie, right? You're here to catch some fish, and with more than 30 different species put there in the blue, you just never know what you're about to reel in.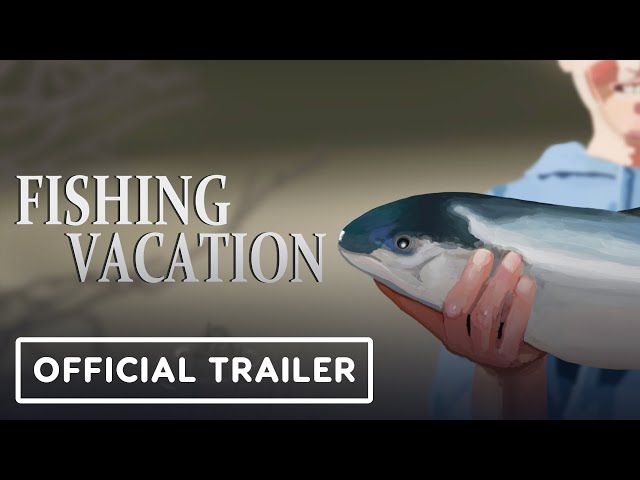 However, I must stress that while Fishing Vacation is marketed as a horror game, it lacks scares. Don't get me wrong, the environment, atmosphere, and sound lend themselves to the genre wonderfully, they don't make the game scary. Instead, Fishing Vacation is an endearing game with a story that's more likely to amuse you than terrify you.
The fishing in this game is charming, so much so that the initial eerie atmosphere disappears. Usually, this is something I'd mark a horror game down for, but Fishing Vacation does its core mechanic so well, for the most part, and the Game Boy era aesthetic only adds to the charm on the display. Furthermore, as this is, for all intents and purposes, a retro game, the controls are straightforward and easy to grasp. Plus, the game tells you what each button does as soon as the game loads up. No need to press them all to do some guesswork.
However, there's one gripe that I have, and that's the consistency of making a catch. Many times I line up the bar perfectly, only to not even get a nibble. It gets somewhat frustrating, especially when it means you're essentially stuck until the game has mercy on you. The fact that I have also reeled in fish from terrible lineouts only adds to my frustration, as it supports a lack of consistency. Luckily, the fishing is fun and engaging, so I frequently don't even realize how many minutes roll by in-between catches.
With that one negative out of the way, I need to return to showering praise on Fishing Vacation. Not only does it look and feel like a retro game, it sounds like one, too. The second I started my first playthrough, I could feel those big ol' nostalgia waves come over me. The music helps to set up the atmosphere, immediately letting you know that this vacation isn't about to be all rainbows and butterflies. Still, the game then does a 180 and offers some upbeat sounds that might kid you into thinking all is well. It's not, but ignorance is bliss, right?
Also, much like games of old, the runtime for Fishing Vacation isn't long at all, with the average playthrough lasting between 30 minutes and one hour. This, of course, depends on your luck when it comes to fishing. Either way, one playthrough doesn't truly mark the end of your time with Fishing Vacation, for there are three endings to discover, helping to keep you coming back for more.
All in all, Fishing Vacation is a gem that gives retro horror fans a brief reprieve. Yes, we like longer games with intriguing stories and mysteries, but sometimes you need a short and concise experience like this. I recommend that horror, retro, and fishing fans give it a try – at just $1.99 (£1.69), you certainly get your money's worth.
If you want to see what else you can catch, go and check out our list of the best fishing games on Switch and mobile.
Fishing Vacation Switch review
Fishing Vacation is a fine throwback to the videogame days of old, with a short yet full run time and three endings, you get your money's worth. Whatsmore, the game is charming, offers a foreboding atmosphere, and has a story that's sure to keep even the most seasoned horror fans intrigued.