Huntdown will finally leap to mobile devices one year after its release on PC and consoles. Finally, you can take the bounty-hunting mayhem on the go and cause carnage from anywhere!
You can download the game through both the App Store and Google Play. If you choose the former, you will be able to save your progress across all your Apple devices, including Apple TV. Since its initial release, Huntdown has proven to be a hit as it boasts a Metacritic rating of 86% and nominations for Indie Game of the Year and Excellence in Multiplayer at the 2021 SXSW Awards. The pixelated world is the perfect game for those that miss the days of good old action movies.
Coffee Stain Publishing and Easy Trigger Games have ensured that Huntdown has been optimised for mobile devices, so there is no excuse not to dive in when you can hunt down pesky gangs from anywhere. If you would like to give the manic title a try before purchasing, there is a demo available without a single micro-transaction to be seen.
"It's amazing to watch Huntdown's development come full-circle, as we'd always planned for it to be a mobile game from the offset," Easy Trigger co-founder and director Tommy Gustafsson says. "We're so glad to be able to bring it home after such a positive reception, and give people the chance to pick up and play wherever they go."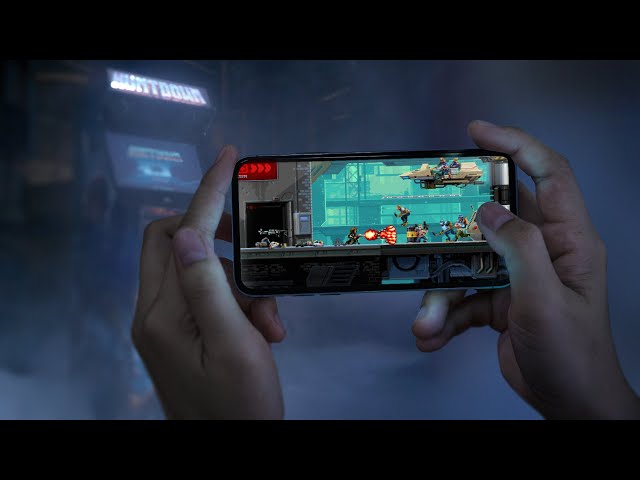 If you are a fan of action and have always fancied the idea of being a bounty hunter, perhaps it is time for you to dive into Huntdown. Takedown numerous criminals and restore order to a cyberpunk-themed concrete jungle, alone or with friends. There are 20 levels available in various city locations such as alleys, streets, and rooftops. Oh, and if that wasn't enough to take you back to the action-packed '80s, then the soundtrack will certainly launch you back to the celebrated decade.
Should you be after other titles to play with friends, you may want to check out our best mobile multiplayer games guide to see what's out there.