Our Mini Football guide will help you put your best foot forward in Miniclip's latest casual football game. It's an easy one to pick up and play, but long-term success demands strategic thinking aplenty and no shortage of skill on the pitch. Progressing through your career will take time and effort, but you'll always be rewarded with new players and the ability to play in increasingly impressive stadiums. And with all that comes bigger paydays, which in turn allows you to afford your dream players.
Your main goal here is to build up your very own football team and acquire high-level players in order to boost your overall score, win matches, and scale the leaderboards. At the same time, you'll also want to make your team unique to you by upgrading player stats and customising your logo and gear.
Playing the game regularly will get you plenty of rewards, but you can maximise your earnings with a few simple steps. Our guide contains everything you need to know to get started and ultimately become a football legend.
EVERYTHING IN OUR MINI FOOTBALL GUIDE:
MINI FOOTBALL DOWNLOAD: HOW TO GET IT ON IOS AND ANDROID
Downloading Mini Football on iOS and Android couldn't be easier. If you're in the mood for some casual football fun, all you have to do is make a quick trip to the App Store or Google Play to grab the game for free. Once you've got it downloaded, you'll be good to start your footballing journey.
MINI FOOTBALL APK: HOW TO BYPASS ANDROID APP STORES
If you'd rather avoid digital storefronts, that's definitely an option with Mini Football. The game's APK is currently up on trusted site APKPure. Downloading it on your device shouldn't take long, and once the install process is complete, you'll be ready to go.
MINI FOOTBALL PC: HOW TO PLAY ON THE BIG SCREEN
While Mini Football isn't currently available on PC via BlueStacks or NoxPlayer, it is up for download on Memu Play.
MINI FOOTBALL TRAILER: CHECK OUT HOW IT PLAYS
Mini Football's latest trailer highlights some of its biggest selling points, including its fast-paced football action and extensive customisation options. You can also get a good look at its cartoony art style and character designs, as well as the game's management systems and variety of featured stadiums. From the trailer, it looks to be casual, mobile-friendly, and colourful.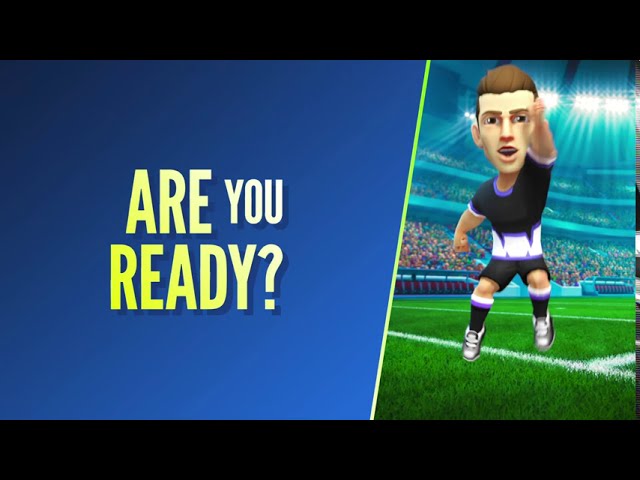 MINI FOOTBALL GUIDE: HOW TO PLAY
Your goal in Mini Football is to win matches and gradually purchase better players. Here's how to do that:
Mini Football's controls are dead simple. You can run using a virtual stick found on the left side of the screen
The three buttons on the right side of the screen are mostly contextual. This means that you can sprint, shoot, pass, switch, or tackle depending on whether you have possession of the ball or not
When you're first starting out, the AI isn't too bright, so you should be able to tackle them with ease or even take them down with a well-timed slide
When you're ready to go for a goal, you'll have to aim towards your target using the virtual joystick. The relatively slow speed of the players makes this an easy feat to accomplish
If the AI is getting a little too close to your goal, it's perhaps time to take them down with a slide tackle. Be warned, though: messing this up can result in your player getting a yellow or even red card
If your goalkeeper does his job, you'll take control of them and have to decide whether to pass to a nearby player or boot it out towards the middle of the field. The latter option is generally less risky, especially when you're taking on a higher-level team
When you're starting a new match, you'll have to pay an entry fee. This varies depending on the stadium you want to play at. The more expensive the entry fee, the higher the payout for winning. That said, you'll only have access to the basic 'Old Town' stadium when you first start out
MINI FOOTBALL: HOW TO CUSTOMISE YOUR TEAM
Customising your team is a huge part of Mini Football. Here's how to tweak formations, customise kits, and more:
From the main menu, click on the 'Equipment' tab, then tap on the little pen icon next to your team's icon to change its name and country. You can alter the icon itself by tapping on it from the same menu
Within the 'Equipment' tab, you can select your team's jersey, shorts, shoes, and more. You can earn additional cosmetic items, players, and more from Packs, essentially this game's version of Ultimate Team packs or loot boxes
From the 'Team' tab on the main menu, you can quickly swap in players and mess around with formations. Always consider how your placements impact your team's score, which you can see in the top left of the 'Team' tab
Mini Football makes it very easy to see exactly who is an attacker, midfielder, defender, or goalkeeper within the 'Team' tab. You can jump between each category to speed up the process of sifting through your players
You can unlock different formations as you continue to progress, and, again, always play around to see what effect different formations have on your team's score
Mini Football: How to upgrade your team
Even the lowest-level players can be useful in Mini Football. Here's how to quickly and efficiently upgrade your team:
From the main menu, tap on the 'Team' tab to view your current team and formation. You'll then be able to see which members of your team you can upgrade, and for how much
Prices can vary quite a bit, but it's always worth investing the Coins into improving your players and getting your team's overall score up
That said, you can't just upgrade players as you feel; instead, you'll need to use them on the field before you can buff their skills
Mini Football tips, tricks, and cheats
Here's some handy info that should help kickstart your football career:
Slide tackles: slide tackles are arguably a bit ridiculous in Mini Football, and they can be easily abused if you're smart about things. During higher-level play, you'll need to be as aggressive as possible, and this means you'll often come close to getting hit with a yellow or dreaded red card. That said, the AI ref is very forgiving, and a wise tackle can make the difference between a win and a loss, so don't hold back
Formations: a well-planned formation is essential for higher-level play. As soon as you unlock a new formation, you should test it to see how it works with your current team, comparing and contrasting with alternate teams and formations when required
Gems: the best way to earn a bunch of Gems early on is to log in with your Facebook account. This will automatically net you 100 Gems. After that, you should watch as many daily ads as you can to boost your Gem count
Coins: thankfully, it's much easier to earn Coins than Gems. Winning matches will win you plenty, but if need be, you can also watch daily ads to bring in some extra on the side
Opening Packs: earning a pack in Mini Football is just the beginning – you'll also have to wait for them to open. This can take hours of real-world time, but you can speed up the process by watching an ad or spending some Gems
And that's it for our Mini Football guide. If you're a major football fan, you'll probably enjoy our list of the best mobile sports manager games.