If you were looking for a means of improving your skills as a pet owner, you've come to the right place. Our My Talking Tom Friends guide will help teach you the basics of the new simulation, which, as the name suggests, sees Talking Tom and his friends all move in together so they can play games, eat their favourite meals, and get plenty of sleep.
It's a simplistic and minimal experience, but that's by design. This isn't for the Call of Duty: Mobile or Mobile Legends players among you. It's for those that like more laid back experiences like The Sims or Animal Crossing. Your primary concern here is the wellbeing and happiness of your pets; though this can occasionally make little sense, like whacking Tom over the head with a plastic mallet to cure dizziness.
Discrepancies like that aside, if you do want to take better care of your pets, we can help you do that. This My Talking Tom Friends guide will help you keep your pets happy and healthy, unlock stuff faster, and more. You can also learn whether or not it's worth your time by checking out our My Talking Tom Friends review.
my talking tom friends guide – how to look after your pets:
My Talking Tom Friends download: How to get it on iOS and Android
You can grab the My Talking Tom Friends download on iOS and Android via the App Store and Google Play respectively. This Tamagotchi-like sim doesn't discriminate on platform.
My Talking Tom Friends APK: how to bypass Android app stores
If, for whatever reason, you'd rather bypass official app stores altogether, you can grab the My Talking Tom Friends APK on Android via APKPure.
My Talking Tom Friends PC: How to play on your desktop or laptop
Wish there was a My Talking Tom Friends PC version? Well, while there isn't an official version, you can still play it on your desktop or laptop via an Android emulator. Here's a link to My Talking Tom Friends on two of our favourites:
My Talking Tom Friends online: Can you play with friends?
You can't currently play My Talking Tom Friends online, and there's no social component. You're just going to have to make do with digital friends in this one, we're afraid.
My Talking Tom Friends trailer: check out the game in action
If you're not sure whether or not My Talking Tom Friends is for you, why not check out the trailer, below, for a taste of it in action?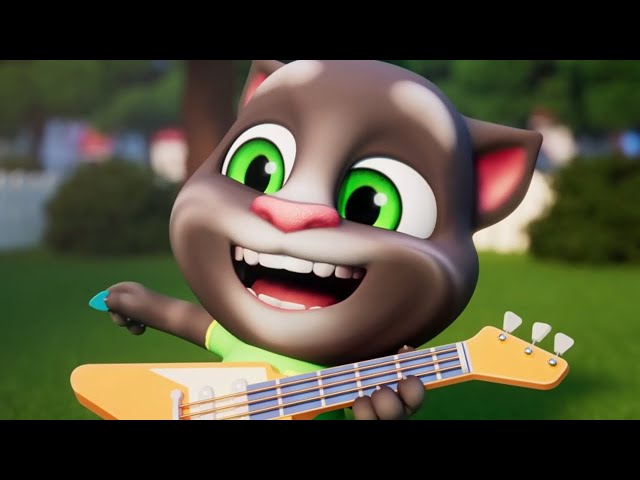 How do I keep my pets happy and healthy?
The same rules apply in My Talking Tom Friends as they do in real life: keep them entertained, well-fed and rested, and ensure they get plenty of sleep. However, this isn't real life. We can't imagine your pet dog ever wants to ride a skateboard or sing a song, and you're going to have to deal with a lot of that here.
Here are a few tips to help you ensure they're always in tip-top condition:
Their thought bubbles will tell you what they want
Your pets are pretty good at telling you what they want and keeping themselves busy, so it's rarely a challenge to figure it out. In fact, you only need take a glance at the bubbles that appear above their heads, as these will give you an indication of what they want to do in any given moment.
They might display another pet, who they want to converse with, or display a football icon, indicating that they want to play with the football. Either way, simply drag your pet to the friend or item they want to interact with and drop the pet on top of that item.
You can even speed up this process by tapping on the thought bubble itself, which will teleport your pet directly to the item that they want to interact with. It's handy stuff.
Pay attention to red bubbles, as these are urgent
It's important to note that there are two different types of thought bubble though: regular and red. Regular thought bubbles were detailed in the previous section, and pretty much reveal your pet's wants in any given moment.
But what of their needs? Well, that's where the red thought bubbles come in. These are a little more urgent, as they indicate that your pet is tired, needs to eat, wants a wash, or needs the toilet. You can't really leave them waiting when these icons pop up, so you need to react.
Fortunately, the same rules apply in that you can tap on the bubble above their head to quickly teleport to the item that they need to interact with. We thoroughly recommend doing this when a red bubble appears, though we're not entirely sure of the consequences if you don't.
Use the handy button on the bottom right of the screen to check on your pets
The button on the bottom right of the screen provides a really handy means of checking on your pets in a speedy manner, and we thoroughly encourage you to use it as often as possible.
Tap through your pets and take a glance at their thought bubbles to see if there's anything they want to do, or are busy. Ideally, you want them all busy at any given moment, though we'll get into the why of that shortly.
Take a scan around the house for any potential issues
Your pets won't always alert you to potential issues; at least quickly. There might be rubbish lying around, for example, that can cause a health hazard. Fortunately, you can just assign a pet to the problem to clear it up.
It's always worth just scanning left and right across the house to see if there's anything that's not quite right, and addressing it as quickly as possible.
How do I progress efficiently?
In this section, we're going to focus on efficiency in My Talking Tom Friends. We've got a bunch of tips to help you progress faster, unlocking all of the toys, costumes, and more.
Go on road trips whenever possible
Progression in My Talking Tom Friends is tied to going on road trips in the bus, which takes you to several different destinations, though there doesn't seem to be any actual difference between them.
Each destination seems to be identical, with your pets running inside a store and grabbing five free goodies. These consist of toys, food, and various other items that allow you to progress.
But how do you unlock road trips? Well, you simply do stuff. Most activities your pets can perform provide you with a currency with a bus on it. Collect enough of this and you'll be able to send them out on an adventure to get all of the rewards.
Track your pets' growth
Each pet can achieve three stars in five different areas:
Puzzles: we presume this relates to activites like playing Snakes and Ladders and interacting with the microscope
Football: this is likely an indicator of how good they are at sports, like playing football and basketball
Cooking: this speaks for itself
Socialising: talking and playing with your fellow pets will improve this
Art: this is likely a sign of creativity, and likely includes playing instruments and drawing stuff
You can track your pets' progress at the chalk board. If a pet isn't doing anything in a given moment, check where they need to improve and get them to do a related activity. It unlocks new costumes and more.
Watch ads to get free stuff and speed up activities
You see that robot vacuum cleaner that's ensuring the house is always in tip-top condition? Well, if you tap on it, you can watch an advertisement. If you watch it to the end, you get to spin for a free reward. We watched around 12 ads using this method, and could continue to watch more, so it's not clear if there is a limit on how many ads you can watch.
You can also watch ads to speed up activities that your pets perform, from playing with toys to sleeping. The latter is probably the one that you'll want to skip, as it can take a while for your pets to wake up and you won't progress as fast while they're sleeping.
Place toys in your house to give your pets more options
As you progress, you'll unlock new toys that you can place in the house to give your pets more options in terms of activities. These range from footballs to basketball hoops and microscopes. Whenever you unlock a new item, we thoroughly recommend placing it in the house to ensure that your pets always have new items to play with, and no one is ever left without anything to do.
Unlock new pets
There doesn't seem to be any rhyme or reason to unlocking new pets, so we can't really help you to achieve it. What we do know is that it happens pretty often while playing, so we can only presume that the more activities your pets perform, the faster you'll unlock a potential new pet.
Why is this important? Well, more pets mean you can perform more activities at once, meaning more rewards faster.
Play minigames for extra rewards
Many of the activities your pets perform feature minigames that you can play for extra rewards. This includes a Guitar Hero-like minigame, basketball, Snakes and Ladders, and more.
Many of these minigames feature numerous different levels, including more challenging 'Pro' variants. They're a lot of fun, so we recommend diving into them whenever you don't have anything to do as there are plenty of rewards up for grabs.
In the living room, you can tap on the console to quickly view all unlocked minigames at any moment, and play them from there.
Purchase cosmetic items
As you play, you'll earn gold coins that you can spend on cosmetic items for your house. Usually, this is just different coloured interactive items, like the bed, wardrobe, and more. Find something that suits your style.