Nintendo of America confirmed today that the N64 title Pokémon Snap is finally gracing the Nintendo Switch Online + Expansion Pack very soon. Pokémon Snap is part of the original batch of games revealed during the Nintendo Switch Online N64 games announcement, alongside classics such as Banjo Kazooie and The Legend of Zelda: Majora's Mask.
If you've never played it before, Pokémon Snap is a spin-off of the main series titles where you play as a budding photographer called Todd. With the help of Professor Oak, Todd goes out into areas filled with Pokémon, following an on-rails path in his buggy like a sightseeing tour. From here, you take photos, interact with Pokémon, and even solve puzzles to get rare Pokémon to appear. Pokémon Snap's Nintendo Switch Online debut is very welcome to the team here.
Getting the perfect Pokémon picture is the aim, and Professor Oak will judge your photography prowess based on how close the Pokémon is as well as if they are in the centre of the frame and other deciding factors. It's a charming and addicting gameplay loop, and the better you get, the more levels you unlock. It also holds up remarkably well, so be sure to take this legendary game for a spin.
Pokémon Snap is seared in the memory of many 90s babies as it let players see Pokémon interact with the environment for the very first time, and in full 3D no less. Check out the announcement trailer below to see why Pokémon Snap remains one of the best N64 games ever made.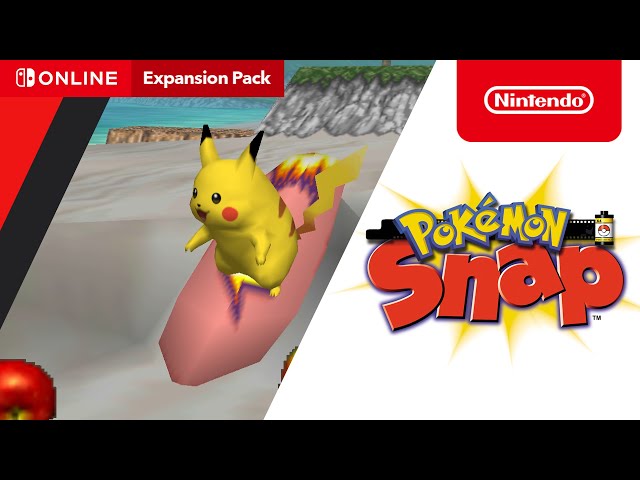 When is the Pokémon Snap Nintendo Switch Online release date?
Pokémon Snap arrives on the Nintendo Switch Online + Expansion Pack service on June 24, 2022.
That wraps up every game announced for the Nintendo Switch Online service so far, so with any luck, a Nintendo Direct will fill us in on the upcoming games soon. We have to get Goldeneye 64 soon, right? Check back on our Nintendo Switch Online N64 games guide for all the latest details or see what the latest entry holds with our New Pokémon Snap review. Meanwhile, check out all the latest news from Square Enix's exciting Final Fantasy VII 25th Anniversary stream, including some surprising announcements.