Listen up SOLDIERs, exciting things are coming, or at least, we think they are, as there's a Final Fantasy VII 25th anniversary broadcast today, and it's certainly got fans (including those of us at PT) excited to see what could be in the works at Square Enix – because anytime the Japanese publisher has something to say, we listen.
In fact, news of the Final Fantasy VII 25th anniversary broadcast is very welcome after no Square Enix games made an appearance at Summer Game Fest 2022's opening night – though that's not to take away from the numerous announcements that did pop up during Geoff Keighley's two-hour showcase.
As to what we can expect from the FFVII 25th anniversary celebration stream, we don't know for certain, but our editor holds out hope for a Crisis Core remake or remaster, something that many are likely to welcome with open arms if that's the case. Nonetheless, the best way to be in the know is to tune into the event and watch it unfold before your eyes.
What time is the Final Fantasy VII 25th Anniversary broadcast?
The broadcast is now over! If you missed all the exciting news, make sure you check out the YouTube stream below: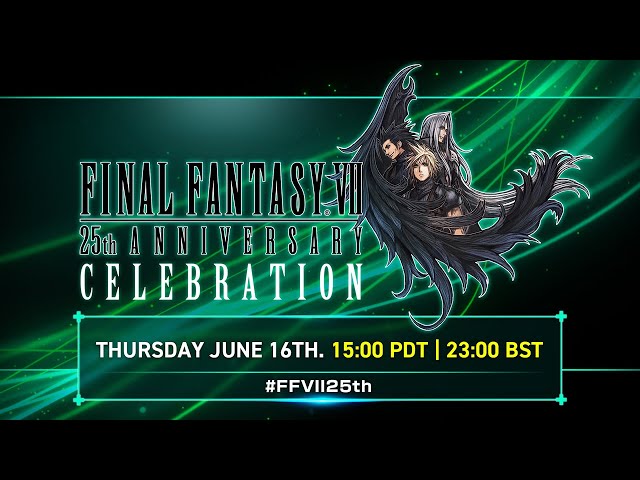 What are the Final Fantasy VII 25th anniversary announcements?
Season three is underway for Square's hit battle royale game, FFVII: The First Solder! You can find now play as a machinist, venture onto the Midgar plate, and use news weapons and materia.
We finally have news on Final Fantasy VII: Ever Crisis, the latest mobile game in the series, the closed beta is due to begin later this year. Learn more about this unique new title in our Final Fantasy VII: Ever Crisis release date guide.
It just keeps getting better and better, as it turns out our editor Ruby was right, a Crisis Core remake is on the way, and it's coming to Nintendo Switch this winter.
While you wait for the new releases, why not keep yourself busy with our picks for the best Final Fantasy games on Switch and mobile or our Final Fantasy 7: Ever Crisis release date guide.