It's coming up to a year since Nintendo and Game Freak first released Pokémon Scarlet and Violet onto the Nintendo Switch, and while the companies kept the fandom alive with new tera raids and the addition of some new Pokémon, here we finally are with some major new content. The Teal Mask is the first of two DLC packs, with the second DLC – The Indigo Disc – arriving in Winter 2023.
Previously, Game Freak dramatically expanded the titles Pokémon Sword and Shield with DLC, with the Isle of Armor and The Crown Tundra updates adding new Pokémon, new features, and fun, fresh areas to explore featuring some different climates. Crucially, the team also included slight updates to the game, such as new battle items, new ways to catch legendaries, and even mechanics to change or increase Pokémon's stats.
Why do I bring this up? Well, Pokémon Scarlet and Violet might be better games than Sword and Shield from a gameplay and design perspective, but when it comes to performance, Scarlet and Violet are on the back foot. Fans have already given generation nine lots of outrage, as Scarlet and Violet quite simply look bad and run even worse. Game Freak's ambition of a truly open-world Pokémon game is an admirable one, but the execution is… sadly a bit Gloom-y.
So, here we are nearly a year later, and while Game Freak has already fired off several small and iterative updates to Scarlet and Violet's performance, now the DLC feels like an opportune time to address some bigger performance issues and generally tighten up visuals across the board. Sadly, The Teal Mask is no different from the base game – with more bugs than the safari zone – and the visuals often look like Missigno got run over by an ugly car.
But before we really go mask-off with our opinions on the visuals and performance, there's so much to love in this DLC. The Teal Mask starts with your character going on a school trip and heading to the region of Kitakami. New character Briar invites you, alongside the suave Jacq, and before long, you're in the Japanese-inspired area of Kitakami and taking part in its famous mask festival.
Kitakami is probably about 1/8th the size of the Paldea map, with enough room to explore but a more refined and concise area. It also has a new Pokédex featuring 200 Pokémon, with Game Freak adding some from the past with this update, alongside a total of seven brand new Pokémon. Returning lines include Kommo-o, Chandelure, Milotic, Vikavolt, and more. There are still a few glaring omissions from the Pokédex at large, but we know Nintendo and Game Freak are set to add even more with The Indigo Disc, including every previous starter Pokémon.
The new Pokémon here are great and add some fun new abilities and moves that just might shake up the meta. The main story of The Teal Mask revolves around a legendary Pokémon called Ogrepon, an adorable grass-type creature that uses different masks to hide her face. However, the different masks allow Ogrepon to gain a different secondary type, and even change ability. It even has a signature move called Ivy Cudgel, which changes type alongside your choice of mask.
Luckily, there's even more to it than that, and while I don't want to give away too much, Ogrepon is one of the most endearing legendary Pokémon in a hot minute and has become a firm pick in my team ever since. Seriously, their story is heartwarming, the creature itself is so cute, and the design of both Ogrepon and its masks is top-notch. It's also a reminder of just how great legendary encounters can and should be.
As much as I like newer additions like Walking Wake, having them just pop up in a raid is a bit boring, honestly, and a missed opportunity to get fans on board with these new creatures, while also further entrenching them into the Pokémon world. There's something so satisfying about seeing a Pokémon interact with the culture or geography of an actual area in Pokémon, and it's something missing in a lot of the more static encounters over the last few years. I'm so sick of legendary beings just arriving in our Pokémon box like a boring email.
Alongside the new legendary Ogrepon are three other Pokémon called The Loyal Three. Called Okidogi, Monkidori, and Fezandipiti (I will not be typing these names again if I can help it), the new additions all sport the poison typing alongside secondary types, and these combos are quite a lot of fun. Meanwhile, they play a fun and surprising part in the story that again I don't want to spoil.
The whole narrative of The Teal Mask is really fun, and it's anchored by the squabbling siblings Kieran and Carmine. These two drive the story, and your protagonist is generally interacting with them to get through this adventure. Kieran, in particular, is a nice addition, as while both characters have stellar designs (in my opinion), I think Kieran's character is endearing and likable, and goes through somewhat of a fun arc from a petulant child to a more understanding young adult.
Outside of the main storyline, there are also a few fun little quests dotted around, including one involving a sightseeing paid of billionaires. Also, when you catch 150 Pokémon from the Kitakami Pokédex, you can also go on a photography quest involving the fun new character Perrin. If you approach her on Mossui with over 150 captures under your belt, and this budding photographer asks you to help her take photos of one particularly rare monster.
I'll try not to spoil this moment, as the encounter and the creature are a really interesting twist, but this monster has become my second favorite part (Ogrepon my beloved) of the entire DLC. The mission to find them involves taking photos of several Pokémon hidden in a wooded area, and it's this type of clever and engrossing mission that is exactly what should be populating the Pokémon world.
The Teal Mask definitely feels like the first half of a greater whole, but as a narrative and as a holiday break from the Paldea we know and love, I absolutely adore exploring Kitakami. I should note that the smaller surface area seems to have allowed Game Freak to make a more detail-rich environment. The barren fields of Paldea are instead filled with vertical cave systems, rice paddy fields, and even the town of Mossui feels tighter and better populated.
If the whole of Paldea could feel as well designed as this, it would elevate the experience so much, but at the very least, I'm now excited to see what The Indigo Disc gives fans. Meanwhile, the story at play is satisfying and does an amazing job of endearing fans to Ogrepon, and even showcasing just how interesting the other new 'mon are. Dipplin, Sinistcha, and many more are great new additions, and there's a whole heap of interesting new moves and abilities alongside them.
Now, the Mamoswine in the room. Performance is still absolutely dire, and I mean headache-inducing. I genuinely had to stop playing on the TV because the juddering framerate made me feel nauseous. Similarly, textures look like something out of Goldeneye, and blown up onto a larger screen, it's simply unacceptable in a big-budget release from such a large company. Especially in the light of games like Tears of the Kingdom pushing the Switch so much further in gameplay, and visuals.
It's entirely possible for Scarlet and Violet to look and run great on Switch, but it's a case of allocated resources and time. I don't blame anyone at Game Freak, as it's a hugely talented studio. It's just clear that the team needed much more time to playtest, fix bugs, and smooth out the general experience. It's another reminder that perhaps Legends Arceus could have been our Holiday game for 2022, and maybe Scarlet and Violet would have been better suited to arrive this holiday instead.
My time through Kitakami has filled me with some of the same joy for the series I remember from the similarly Japanese folklore-inspired regions of Johto. The Teal Mask adds a region that feels alive with spirit and real characters, alongside a cast of fantastic new Pokémon and some really great missions that add more detail and variety to this world. Meanwhile, Ogrepon is the star of the show and sure to be a huge hit with fans whether they battle or not.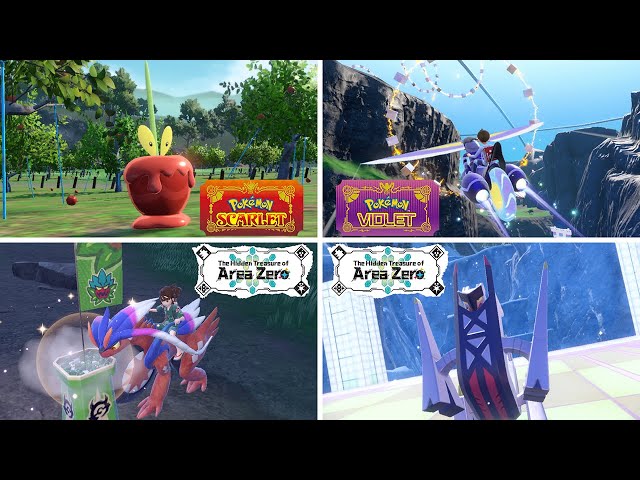 Sadly, I just can't excuse the performance, the ugly visuals, and the consistent bugs. I got a genuine headache playing The Teal Mask on several occasions, and the poor visuals betray the more vertical and interesting geometry. Plus, The Teal Mask and The Indigo Disc DLC come as a package, costing $34.99, which is nothing to sniff at. Frankly, only Pokémon maniacs will be able to cope with the lack of upgrades, and Game Freak should be working on improving those above all else.
If you're heading off to Kitakami, then be sure to check out our great guides covering the strongest Pokémon, and Pokémon Scarlet and Violet mystery gift codes.
Pokémon Scarlet and Violet The Teal Mask review
The Teal Mask adds a variety of interesting characters and Pokémon to the ninth generation, and while Ogrepon is the clear star of the show, there's something to love about each addition. Plus, a focus on tradition and folklore add a richness to the area of Kitakami that is so great to see. But, wildly outdated visuals, inconsistent performance, and a litany of bugs mean that it's genuinely hard to recommend this DLC, especially for nearly the price of a brand new game.