To mark the celebration of Ramadan, the PUBG Mobile Golden Moon Bazaar is open for business, bringing new items, events, and even an Eid al-Fitr feast. The sprawling Bazaar is definitely up there as one of PUBG Mobile's most vibrant in-game spectacles, bringing Eastern delights for you to peruse at your pleasure.
Of course, the big draw is the new campaigns arriving in the game under the name 'The Tides'. This set of missions tells the story of a divided family forced to fight together once again after an unexpected attack from a common foe. No event is complete without a few freebies though, so you can pick up the complimentary Golden Moon crate until April 14, providing the Crescent Princess set and the Resplendent Prince set, plus a few other helpful goodies.
This jam-packed addition also adds some seasonal game modes, including the Golden Moon Showdown, where you can team up in groups of four for special rewards, while the Golden Moon Treasure store offers UC rebates for picking up event-exclusive items. Either way, there's plenty to keep you busy before the Golden Moon Bazaar packs up on April 30.
The arrival of the Golden Moon Bazaar is just the latest happening in a busy start to the year for Tencent's battle royale title. Already in 2023, we've seen the arrival of the PUBG Mobile build mode, via the new World of Wonders mechanic, as well as PUBG Mobile and Dolby Atmos teaming to bring top-quality audio to the shooter. With all this new content dropping years into PUBG Mobile's life cycle, it's clear that Tencent is still committed to offering its community the best battle royale experience possible.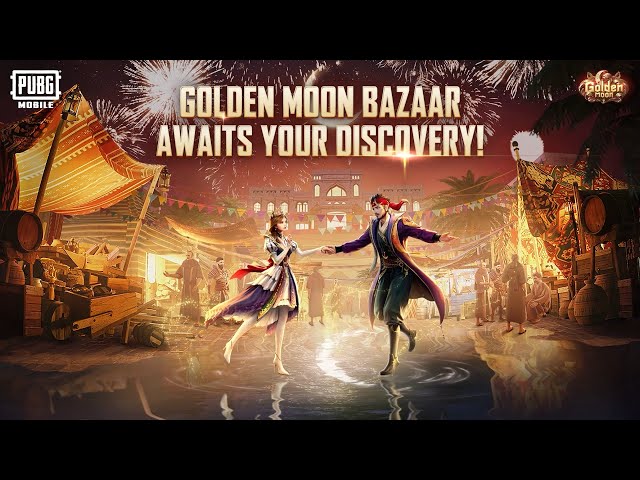 There you have it, all you need to know about the PUBG Mobile Golden Moon Bazaar event. For more in-game tips and tricks, check out our PUBG Mobile update guide and PUBG Mobile redeem codes.