For the March update, Nintendo has released three new games for the SEGA Genesis library as part of its Nintendo Switch Online + Expansion Pack offering. From out of this world adventures in Alien Soldier, to Light Crusader's land of magic and dragons, there's something for all of you retro-heads in the latest library additions.
With three new Sega Genesis games in Nintendo Switch Online + Expansion Pack, the whole collection is over twenty games strong, with plenty of variety and classic names among the titles included. It's not the only extra content coming to the expansion pack this month either, with the first round of Mario Kart 8 DLC arriving in the next few days.
For video game historians, it's well worth trying out Super Fantasy Zone, the other Sega Genesis game Nintendo released as part of the March games update. In the days before Sonic became Sega's superstar, Opa-Opa, the little spacecraft at the heart of Super Fantasy Zone was thought to be the developer's standout mascot. Still, we can't quite imagine Opa-Opa going up against Jim Carrey in a Hollywood blockbuster, so maybe it's for the best.
What Sega Genesis games are coming to Nintendo Switch Online + Expansion Pack?
The three games new to the Sega Genesis collection on Switch are Alien Soldier, Light Crusader, and Super Fantasy Zone. All are available to play now, and are at no extra cost to those with the Expansion Pack membership. If none of the trio of newly arrived titles piques your interest, the Nintendo 64 collection added F-Zero X earlier this month to add a good dose of high-octane racing thrills to the collection.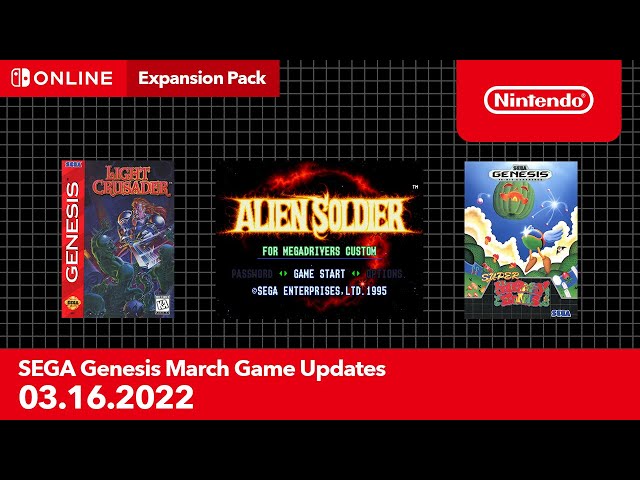 That's all you need to know about the recent addition of three new Sega Genesis games to the Nintendo Switch Online + Expansion Pack selection. If you can't get enough of the throwback thrills, be sure to check out our list of all the Nintendo Switch Online N64 games and find the warm slice of nostalgia you're looking for.