The Vampire Survivors team and poncle aren't slowing their roll any time soon, by the look of things. They scored two incredible wins at the BAFTA awards last night, and now have revealed a brand new DLC: Vampire Survivors Tides of the Foscari.
Let's take a look at what's coming, shall we? The Tides of the Foscari DLC brings us tons of stuff, focused around a new story set in an academy in a magical land, surrounded by forests and fae. Expect folklore and mythical tropes a-plenty here as you fly towards a new stage of combat. Com-bat, like vampires – get it?
The DLC includes 13 weapons, 21 achievements added to the roster, a new stage, eight characters, and a handful of fresh music tracks to feast our ears on. The new characters bring in the central trio Eleanor, Maruto, and Keitha, as well as some more friends.
Tides of the Foscari's new stage is Lake Foscari, a magical forest of mysteries with a lot more wildlife than we've seen previously. The new weapons include the snazzy SpellString, Flash Arrow, and a Prismatic Missile for us to use against the relentless waves of beasties. There's also new character animation making its way into the game, with two characters now moving more than just side to side. The Tides of the Foscari DLC takes flight across mobile, PC, and Xbox platforms on April 13, and costs a very humble £1.59/$1.99.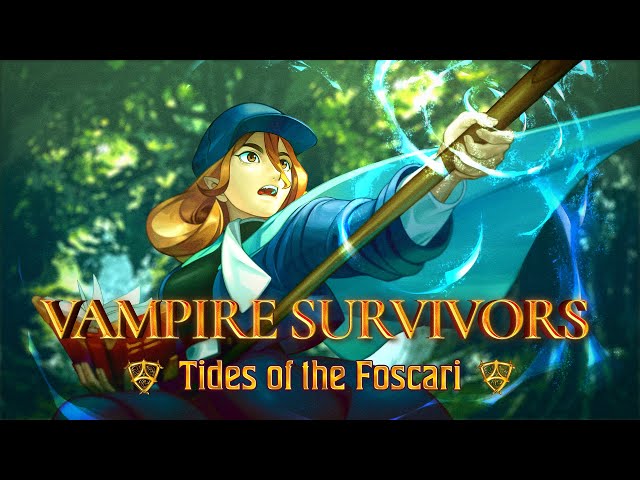 For anyone who happens to be at WASD this weekend, you can check out an early version of the new DLC at the Vampire Survivors stand, along with some garlic-shaped stress balls that are very on-brand.
One thing is for sure – we're unconditionally and irrevocably in love with Vampire Survivors and can't wait to sink our teeth into the new content. While we wait, why not check out these werewolf games and ghost games for more supernatural stories?