We had a wonderful time checking out the Indie Showcase finalists at Digital Dragons 2023, exploring so many different games from a huge range of genres and styles. But one game stood out to us on the conference floor – the unique, text-based socially engaged RPG known as We. The Refugees: Ticket to Europe.
Act Zero is an indie games studio based in Warsaw, Poland, and Ticket to Europe is the team's first project together. It tells the story of a wannabe writer (modeled closely after Act Zero's CEO Jędrzej Napiecek) who travels to North Africa to research their book about refugees that they hope will "change the world," only to discover just how little they understand about the lives of people fleeing their homes.
We. The Refugees: Ticket to Europe is currently out on Steam, and the dev team hopes to bring it to mobile devices and the Switch soon. We hope as many people as possible can play it, as this game tackles such an important issue and brings refugees' stories into the spotlight when they are so often glossed over in favor of tragic headlines.
Napiecek sat down with us at Digital Dragons to give us some more insight into his decision to found Act Zero and tell this particular story, especially coming from a screenwriting background. "I know nothing about making games, but I wanted to learn," he said. "I started as a QA tester on The Witcher 3, and that was the place where I met Maciej Stańczyk." Stańczyk is Act Zero's CTO and co-founder.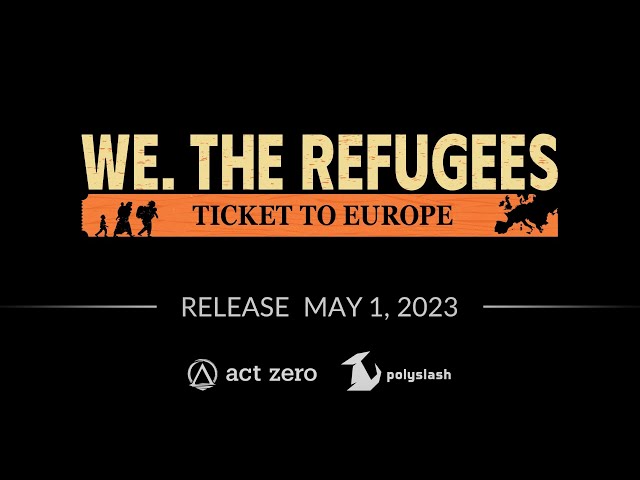 Not only did Napiecek want to learn to make games, but he wanted to make something impactful. Stańczyk shares his vision, so they started working together on the game that would become Ticket to Europe. It was around this time that Napiecek started to see stories in the news about people drowning in the Mediterranean Sea trying to reach Europe from Africa.
"I was trying to understand what your mind state has to be that you're standing on this lovely beach of North Africa, a place where a lot of people come for a vacation, to come to the conclusion that getting on this old boat and trying to cross the sea is the better idea than staying." Ticket to Europe's first version, a product of Napiecek's early research into the refugee crisis, began as a resource management simulator where you play as someone trying to reach Europe by boat.
"We made a prototype of [the resource management sim] and we went with this prototype to the Moria refugee camp." He said that it was clear almost immediately that the game needed to drastically change direction. Napiecek even said that his original idea was a "false and naive assumption" of the lives of refugees based on what he had researched and the narratives we're fed through mainstream media.
"On this sail through the sea, most of the people don't think about trading resources! I realized that it was very hard for me to write credible dialogues and create credible characters with the refugee as a protagonist because no matter how many books I would read about the subject or how many interviews I will conduct with them, I will never be able to fully understand what it's like to flee from a warzone country or lose your family in a bombing. Who am I to speak on their behalf? I'm just some guy from Poland who read some books."
Napiecek realized that he had a lot more to say on the relationship journalists and researchers form with refugees and the "confrontation of your theoretical knowledge and your expectations with the reality and the real person." Writing the game from this perspective also allows more of his audience to confront their existing knowledge, as the majority of players' lives are more similar to his than they are to the lives of refugees in Moria or elsewhere.
"I thought that it would be a more honest way to tell this story," Napiecek said. "In the end, this is a game that's a little bit about my failure in trying to make a game, but in the end I made this game about how hard it is to make some kinds of art about sensitive subjects."
Ticket to Europe is specifically a product of the modern Polish games industry. Not only did Napiecek and his business partner learn the trade from CD Projekt Red, one of Poland's biggest AAA studios, but another local company gave him the confidence to tell a meaningful story with a video game. "I was freshly graduated from film school, from the screenwriting department, and this was also when the game This War of Mine by 11Bit Studios was released. It's inspired me a lot and given me hope that games have matured enough to struggle with meaningful, serious topics."
Unlike This War of Mine, Ticket to Europe tries to focus a little less on the negative aspects of refugee life, while also remaining true to the experience of everyone the team interviewed. All of the game's illustrations are done in a comic book style with vibrant colors and bold lines, which is another way of challenging the player's assumptions about the refugee experience.
"When I went to the Moria refugee camp in Lesbos, I also expected that it would be a very hard experience for me emotionally," Napiecek said. "But to be honest, it was super positive. I didn't expect that those people would be so hungry for life. Of course, everyone there had some trauma, but it was like they were hungry for normal small talk conversations, to make jokes and just live."
As Ticket to Europe is a socially engaged project, 5% of the game's profits are going to charity. The first organization is the Hope Project, a charity established in 2015 that supports refugees arriving in Lesbos from Turkey. Supporting the Hope Project was an easy choice for Napiecek as they hosted him and his team at the Moria refugee camp while they were conducting their research.
"I know them – they are very good people and I saw how much work they are doing and how many obstacles are in the way. It's not some anonymous organization where I know nothing more than what's written on their website. They helped me at some point. I would like to help them back."
Since our discussion with Napiecek, Act Zero has chosen its second humanitarian partner, the Polish charity Ocalenie Foundation. Many of Ticket to Europe's supporters named this organization when the developers asked for suggestions, and its mission matches the message of the game.
On the game's Steam page, the studio said, "The 'Ocalenie' Foundation has been proving for years with its steadfast attitude and by saving human lives on the Polish-Belarusian border that they deserve all support. We have met these people personally and can vouch for their credibility. They are true heroes and we are sure they will put this support to good use. We hope that this will help them in fulfilling their mission at least a little."
We. The Refugees: Ticket to Europe is a small game making giant waves in the socially engaged gaming sphere and the real world, changing minds about the refugee crisis, who is qualified to tell which stories, and the power of games to work for good. We can't wait for this game to make its way to Switch and mobile, no matter how long it takes.
If you're looking for more text-based adventures, check out our list of the best visual novel games. We've also got some great suggestions for emotional, social change-driven games in our list of games like Life is Strange.