If you're a fan of crafting games with a touch of medieval fantasy, you're going to want to know the While the Iron's Hot release date. This upcoming title from Humble Games and Bontemps Games for Nintendo Switch and other consoles is all about collecting resources, crafting fine weapons, and adventuring through a world of brave warriors and freaky beasties. Yes, we're already hoping it's worthy of our list of the best fantasy games.
With pixelated graphics, a seemingly charming cast of characters, and an engaging crafting system, While the Iron's Hot already looks like the sort of indie game we at Pocket Tactics love to dig our teeth into. So far, it looks like a combination of fellow indies Terraria and Graveyard Keeper for fans of The History Channel's Forged in Fire. Considering how long it takes for contestants on that show to learn their craft, we're looking forward to getting the job done a bit quicker with Joy-Cons instead of molten hot fire.
We're used to top-tier indie games from Humble, and with the studio responsible for titles like Unpacking, TemTem, A Hat in Time, we're expecting great things once again. It's a debut for Bontemps Games, though, with the studio only forming in 2022. Either way, with what we've seen from the trailer so far – which you can check out down below – we're excited to craft some swords and hammers for the noble warriors of this game's fantasy world.
When is the While the Iron's Hot release date?
Get ready, smiths and smelters, with the While the Iron's Hot release date set for November 9, 2023. If you want to get a better idea of what to expect when the release date rolls around, check out the trailer below. Our favorite bit is when you get to make a bouquet for a new cow friend, but the weapon creation system looks pretty cool, too.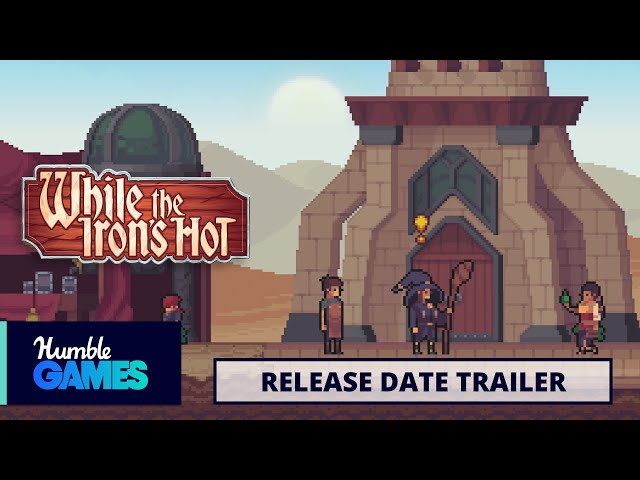 With that, you're up to date with the While the Iron's Hot release date for Switch. If you're looking for more time-turning historical games, check out our picks for the best samurai games, ninja games, knight games, and pirate games.