We're on the ground at MWC 2023 in Barcelona, taking a look at all the latest tech. One of the more out-there propositions is the new Xiaomi AR glasses. They're fully wireless, feature gesture inputs, and are just one part of the company's smart home plans.
The biggest selling point is clearly the fact that they're wireless, which brings up two key questions – latency and battery life. For the former, Xiaomi promises less than 3ms latency between a smartphone and the glasses, with full link latency as low as 50ms.
Sadly, Xiaomi didn't mention anything about battery life. Still, while they are light for this type of device, they're still heavier than normal glasses, so extended sessions may not be the sort of thing you're looking for.
In our demo, we got to see an augmented-reality videogame, with the player sat looking straight ahead into the "retina-level near-eye display" and controlling the phone near their lap. They were blasting away strange creatures from the table in a tower defence game that reminded me of Dome Keeper. It didn't look all that fun, but it does showcase the glasses' abilities – though I don't think this is what you really want to use them for.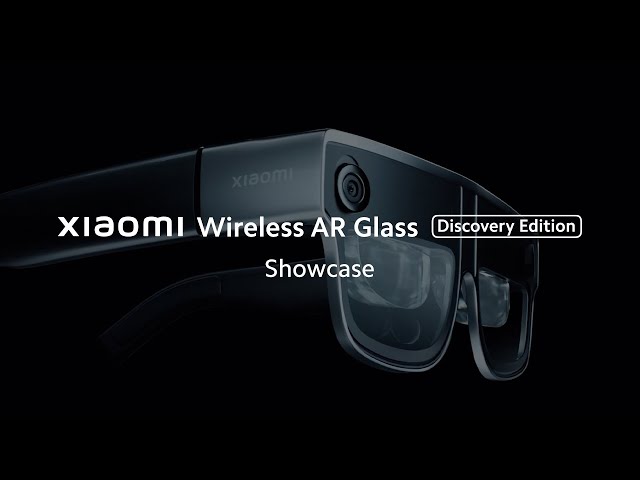 While our demo showed off a videogame, this doesn't seem to be Xiaomi's focus with its new AR glasses. As you can see in the product trailer, the ease of use and the way it interacts with a smart home take priority.
You can use an NFC chip on the side of the glasses to connect to a smartphone, drag and drop videos from your TV for a more immersive experience, or scroll through web pages with a flick of your hand.
Sounds cool, right? And I think that's the main thing right now. It's a cool addition to Xiaomi's tech takeover. As the company moves into transportation with its electric scooters and plans to make cars, alongside its countless smart home devices (many of which we're yet to see in the west), it can manufacture every bit of tech you use.
The whole Xiaomi booth at MWC 2023 is like a techy Ikea. There's the expected lineup of phones – the new Xiaomi 13 Pro, as well as offerings from Redmi and Poco – and then a nice row of mock-up rooms.
The entertainment room has an 86-inch TV (only available in China), a clever projector (sold out), and a water-vapour heating system that looks like a skinny cyberpunk fireplace. The living room has a clock, TV, air purifier, and some kind of mechanical cat-feeding tray. And then in the kitchen – well, there's loads of kitchen stuff, all of which are smart and Wi-Fi connected.
The question is, then, not whether Xiaomi's AR glasses are cool, it's whether they can interact with the rest of the home in a genuinely helpful way. Personally, I don't want to sit with a different pair of glasses on to play an augmented reality game – AR games have never been that much fun and I'm not sure they will be soon.
But, if I could look at things with my cyberpunk eyeballs and get key information, maybe that could be helpful; "oh look, the air purity in here is only three stars"; "oh no, the fireplace is out of water to vaporise"; "oops, the wi-fi connected cat-feeder hasn't been refilled in weeks" – that sort of thing.
Right now, however, you can see most of the practical stuff you want from a connected smart home without too much effort – you just look at your phone. What glasses can do beyond this remains to be seen, and until they're a little less bulky, a little more seamless, and a bit more stylish, this is nothing more than a cool concept. Which is fine and good, and Xiaomi knows it's the case. It's just a pretty cool thing.
There you have it, our hands-on with the Xiaomi AR glasses. Be sure to check out our other bits from MWC 2023, including the Xiaomi 13 Pro reveal, and the Honor Magic5 and Magic VS launch.